This page contains archived information and may not display perfectly
World RX - Fight for second and third in Drivers' Championship resumes in Germany
2017 World RX of Germany - Preview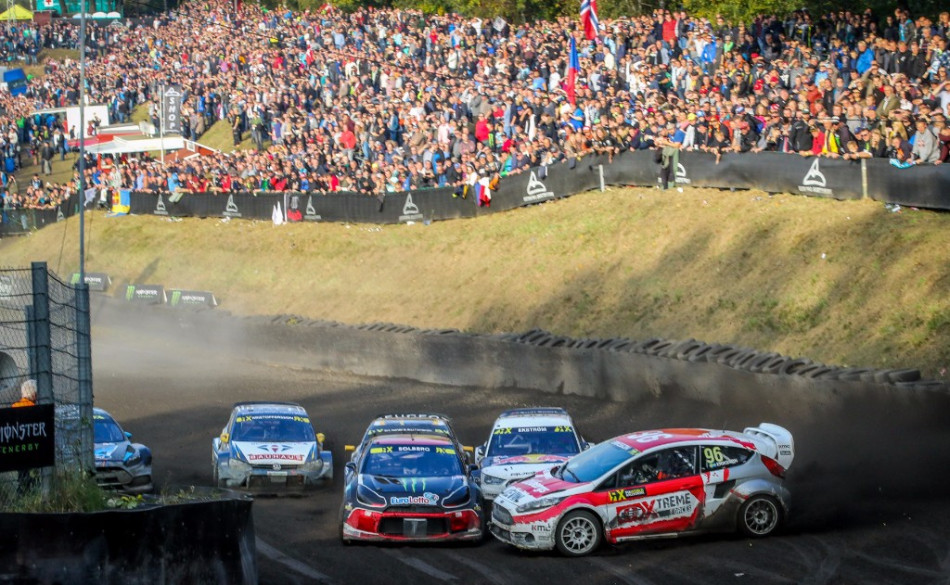 The 2017 FIA World Rallycross Championship presented by Monster Energy was won by Johan Kristoffersson at round ten in Latvia but the fight for second and third in the drivers' championship will resume at the World RX of Germany at Buxtehude this weekend (30 September-1 October). Only 15 points separate Petter Solberg, Mattias Ekstrom and Sebastien Loeb in the battle for the runner-up spot so it will be all to play for at the World Championship's 11th and penultimate event.
Germany RX also forms the final rounds of the FIA European Rallycross Championship for Super1600 and TouringCars.  Hungary's Krisztian Szabo currently leads Latvia's Artis Baumanis by twelve points in S1600, while in TouringCar 19 points separate Lars-Oivind Enerberg and Philip Gehrman at the top of the standings.
It is uncertain whether Solberg will be able to compete this weekend for PSRX Volkswagen Sweden. The Norwegian driver was injured in a semi-final accident in Riga where the former World RX Champion broke his collarbone.  Team Principal Pernilla Solberg took up the story: "The decision to move Dieter [Depping] to become one of our team's two permanent drivers in the World RX Teams' Championship is the first and foremost to make sure we are following FIA entry regulations.  This solution was Petter's own wish. He will try to make his own drive in Germany, but right now there are no guarantees he will make it."
Depping will make his World RX debut at his home round of the series. The German rally driver explained: "Luckily, Petter and Johan have given full support of their experience in rallycross and some very useful tips in areas like race strategy and the start procedure. My big thanks goes to Petter Solberg and his whole team, who are taking me under their wing for this competition. Of course my expectations are down to earth, but hopefully I can be good for a surprise."
Frenchman JB Dubourg will not compete in Germany as his partner is due to give birth to their child.  He will be replaced in the Peugeot 208 WRX Supercar by 2015 Germany RX winner and fellow countryman Davy Jeanney.  It will be the first event this season that Jeanney has contested since Germany 2016. 
 
In addition to the 18 permanent entries, Olsbergs MSE driver Sebastien Eriksson, who will make his second start of the year in a Ford Fiesta Supercar after competing at his home event in Sweden. "I'm really looking forward to competing in Germany this weekend in my Bluebeam Ford Fiesta," said the 24-year-old who usually races in America. "It will be my first time racing at the track – I've seen it during a test session, but I didn't get the chance to actually drive it myself. It looks fun – a real old-school rallycross circuit with a lot of gravel and some technical corners."
 
Poland's Martin Kaczmarski will compete in his Fiesta and Germany's Andreas Steffen will race in a similar car. Germany's Rene Munnich has added the home event to his schedule meaning that four German drivers will be competing in the headline Supercar category this weekend (Timo Scheider, Muennich, Depping and Steffen).
 
Thirty Super1600 cars will take part. Tedak Racing will field its Alfa Romeo MiTos for a second time, for Italy's Luciano Visintin and Davide Medici, and Germany's Seven Seeliger (Ford Fiesta) will race at his home event. Thirteen drivers have entered in the rear-wheel drive TouringCar category where Championship leader Lars Oivind Enerberg.will be joined by local racer Ralf Evers and 2015 TouringCar champion Fredrik Salsten who is returning to the category with his Citroen DS3 in his only event of the year.

The Estering is the oldest track in the World RX calendar with the circuit having hosted international events since 1973.  Set 30 miles south of Hamburg, the traditional German RX track is only 950 metres long but is one of the fastest with a long, downhill run between turns one and two. The 2014 event saw the closest finish in rallycross history when Solberg took the win over Ekstrom by a margin of just five thousandths of a second.  Last year's event was won by Kevin Eriksson after his iconic 'round the outside' move in turn one of the final.

Timetable
Friday 29 September
1600 Pre-event press conference in the press room (Dieter Depping, Timur Timerzyanov, Timo Scheider and Kevin Eriksson)
Saturday 30 September
0830 Photographers' briefing
0900 Practice: TouringCar and Super1600
1015 Practice: World RX practice
1200 Q1: TouringCar
Q1: Super1600
Q1: World RX Supercar
1330 Lunch break
1400 Monster Energy Rig Riot
1430 Q2: TouringCar
Q2: Super1600
Q2: World RX Supercar
Q3: TouringCar
Q3: Super1600
1630 Press conference with top three World RX drivers
1830 Autograph session – World RX - fanzone
Sunday 1 October
0900 Photographers' briefing
1000 Q3: World RX
Q4: TouringCar
Q4: Super1600
Lunch break
1245 Autograph session – fan zone
1310 Monster Energy Rig Riot – fan zone
1330 Semi-finals: TouringCar
Semi-finals: Super1600
TouringCar: Final
1500 Semi-finals: World RX Supercar
Final: Super1600
Final: World RX Supercar
1550 Podium
1610 Press conference: Top three World RX Supercar
1620 Press conference: S1600 winner and TouringCar winner
From a Cooper Tires point of view. Paul Coates, General Manager – Motorsport, Cooper Tire Europe: "The Estering rallycross track is another popular circuit and in previous years it has seen some of the closest finishes ever with Petter Solberg crossing the line five thousandths of a second ahead of Mattias Ekstrom in 2014. This may be one of the shortest circuits but the back straight is one of the fastest of the rallycross circuits where speeds can approach 180km/h. This track shows how the Cooper rallycross tyre brings together our extensive multi-disciplinary knowledge and technology to produce tyres that can race at high speeds and, at the same time, are able to cope with the quick changes between gravel and dirt surfaces."
Entries
World RX Supercar entry list
TouringCar entry list
Super1600 entry list