World RX crosses the Atlantic for landmark event
Preview of the seventh round of the 2014 World RX championship in Canada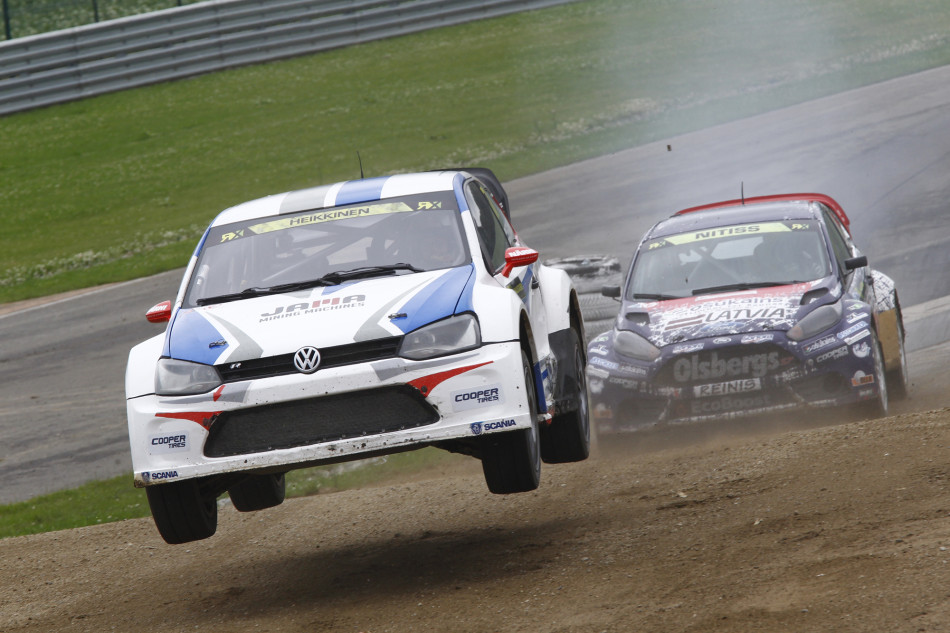 Friday 8 August will go down in history as the day the FIA World Rallycross Championship staged its first event outside of Europe as part of the annual Grand Prix Trois-Rivieres (GP3R) motorsport festival in Quebec, Canada.  The GP3R, which also forms a round of NASCAR Canadian Tire and Canadian Touring Car, will host the seventh round of World RX at the Trois-Rivieres street circuit and will see all four heats, semi-final and final run over one day instead of its normal two-day format.
Now in its 45th year, the GP3R always attracts tens of thousands of spectators as motorsport fans descend on Trois-Rivieres, set 85 miles north-east of Montreal to watch the week-long motorsport extravaganza. This year the event has been given a facelift as Canada becomes the first country outside of Europe to host a round of the FIA's newest World Championship. At 1.35 kilometres long, the Trois-Rivieres street circuit is comprised of 59% asphalt with the remaining 41% gravel/dirt section laid out within the local hippodrome.
During the mid-season hiatus 29 cars travelled to Canada including 10 cars that will compete in the RX Lites Intercontinental Cup. Nineteen Supercars will battle it out in the headline Supercar category including the Championship's six permanent two-car teams.  A new manufacturer will also be represented in the Supercar field as Vermont-based Subaru Rally Team USA have entered three-time European Rallycross Champion Sverre Isachsen. "I'm very excited for Canada and to compete again against some of the same teams and under the same race format from my years in Europe," explained Isachsen.  "We have put so much effort into developing the Subaru from scratch into something very competitive now, I hope for a good result."
Team owner at Subaru Rally Team USA, Lance Smith, added: "World RX of Canada is nearly in our backyard and we saw it as a great opportunity to gain further experience while testing our mettle against another set of talented drivers and teams. Although ultimately built to a different series' rule Sverre's car was generally built around the FIA regulations, so it has not been too difficult for us to enter."
VW Marklund Motorsport will make up a large chunk of the entry list in Canada with four cars taking part. Regular team-mates Topi Heikkinen and Anton Marklund (third and fifth in the driver standings respectively) will be joined once again by American Top Gear presenter Tanner Foust who makes his third World RX outing for the squad this year. Completing the line-up is former IndyCar and NASCAR star Patrick Carpentier who is a regular World RX commentator but will swap to the driver's seat for his home event. "I already have butterflies and can't wait to try the Supercar," said the French-Canadian who admitted that he's learnt a great deal about the sport since commentating on World RX for Canadian TV station RDS.  
Leading the driver standings by three points is former WRC Champion Petter Solberg for the PSRX Team, who has enjoyed the mid-season break travelling in Sweden with his motorhome as well as watching his son Oliver taking a win in the Swedish Crosskart Championship. "The rallycross is all happening in one day, when the track is being converted to include some dirt, just for us," explained Solberg who went on to add: "The circuit is going to be really interesting with some tight corners – typical of the sort you find on street tracks. Like the last time in Belgium, we go off the line and through a couple of corners before the first chance to take the joker lap – this means the action will be fairly intense in the early part of the first circuit. There are three jumps on each lap, which means we'll spend quite a while in the air. This kind of track won't flow in the way others have, it's really kind of stop-start, but by getting every braking point absolutely spot-on and not sliding too much, we can make some good time."
Joining Solberg in a second PSRX run Citroen DS3 Supercar will be Estonia's Sten Oja: a former North European Zone rallycross champion who has spent the past 12 months working as an engineer for the Torsby-based team.
After a sensational first half to the season, 18-year-old Reinis Nitiss is second in the drivers' standings for Ford Olsbergs MSE and will be joined by regular team-mate Andreas Bakkerud. Also joining the team as a wildcard entry in Canada is 20-year-old Finn Joni Wiman who will pilot a third Ford Fiesta Supercar.  Ford Olsbergs MSE continue to lead the teams' standings, 19 points ahead of VW Marklund Motorsport.
Following its first podium of the year, Team Peugeot Hansen will be eager to secure another top three finish as team drivers Timur Timerzyanov and Timmy Hansen embark on the second half of the season.  Timzerzyanov, who won last year's European Rallycross Championship, remarked on the high speed nature of the Trois-Rivieres street circuit: "I'm really looking forward to racing in Canada - the rallycross circuit has the longest straight of the season. I think the whole track will be high speed. It will be very much like a circuit race, so that style will be interesting. I have done two days driving in a single seater car in Russia to practice that type of style."
Former F1 World Champion Jacques Villeneuve is yet to reach a semi-final in this year's World RX and will be looking to rectify that on his home turf.  Competing alongside team owner Andy Scott, the Albatec Racing duo will be looking to make the most of a test planned on Thursday. "It's always a pleasure to race in Quebec, and I'm delighted that I not only get the chance to race the Supercar in World RX but also the Dodge Challenger in the NASCAR event," explained Villeneuve. "Although it's my home track, the rallycross configuration will be as new to me as will be to everyone else until the very first test on Thursday. I'm feeling quite confident ahead of the race and looking forward to driving in front of the enthusiastic home crowd." 
Monster Energy World RX Team will field two cars in Canada and will be fronted by Frenchman Davy Jeanney, as well as Henning Solberg in a second Citroen DS3 Supercar.
Representing Ireland as part of the LD Motorsports Team, Derek Tohill has been enjoying a short holiday in Canada in a bid to minimise the effects of jetlag. "I have travelled early to Canada with my family to take a holiday, prepare for the event and importantly to ensure to experience none of the effects of jet lag so I am at the top of my game! Of course, it will be great to have my family supporting me too," saidthe two-time TouringCar Champion.
Notable entries in the RX Lites Intercontinental Cup include Julien Febreau, French F1 commentator for Canal +. An accomplished rallycross driver, Febreau was brought up in Loheac and recently won on his Supercar debut in the French Rallycross Championship.  The Frenchman commented: "I've had a good look at the RX Lites in World RX and I must admit that I'm very impressed. The level is high and it won't be an easy task for me to reach the performances of some of the guys competing and in such a short period of time. But my main target is to have fun on track and to work well with the team." 
After a stunning display in the RX Lites Cup at Lydden Hill, which he went on to win, America's Mitchell DeJong will return for his second World RX outing this week. The 16-year-old will be accompanied by two other American drivers Tyler Benson and Austin Cindric, and will also be joined by regular RX Lites drivers such as Kevin Hansen, Patrik Sandell and RX Lites Cup leader Kevin Eriksson.
CIRCUIT INFORMATION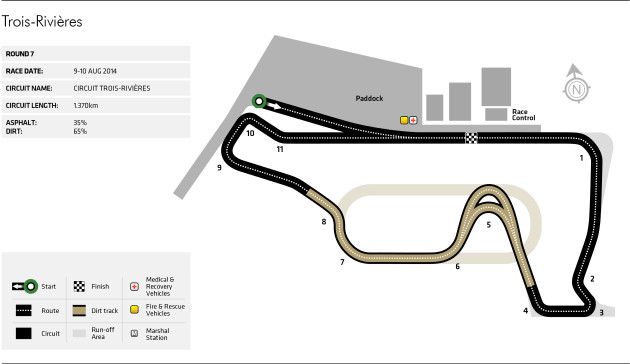 Name:                                                                          Trois Rivières
Length:                                                                        1.370 km
Composition:                                                             35% Asphalt and 65% Dirt
Direction of the track:                                             Clockwise
Number of laps in the Qualifying Heats:             4 laps
Number of laps in Semi-Finals and Finals:         6 laps
EVENT FORMAT
Each event will comprise of practice sessions, four qualifying heats, two semi-finals and one final. There will be four qualifying heats with a maximum of five cars starting abreast in each race over four laps.
HEAT 1:
Starting positions in the races will be determined by a draw that will be carried out beforehand
HEAT 2:
Race starters determined according to classification of heat 1. This follows the same format until heat 4. All qualifying heats will be timed and the fastest driver in each heat will be rewarded 50 points, second: 45, third: 42, fourth: 40, fifth: 39, sixth: 38 and so on. After the qualifying heats, there will be an intermediate classification according to each driver's total points scored in the four heats.
SEMI-FINALS:
There will be six starters arranged on a two-by-two grid and each semi-final will be run over six laps. The top 12 scoring drivers in the intermediate classification will qualify for the semi-finals. The winner, second and third placed drivers in each semi-final will qualify for the final.
FINALS:
Finals will also have six starters, arranged over three rows and will be run over six laps. The semi-final winner with the highest number of points in the event will start on the 'pole' side of the grid, followed by the other semi-final winner. The same procedure will be used between the two second-placed drivers and two third-placed drivers. The winner of the final will be the winner of the event. Positions one to six in the final classification will be according to the result of the final. The remaining drivers will be classified according to points scored in the event.
JOKER LAPS:
An alternative section of track that adds at least two seconds to the lap time, and through which every driver must pass once in each race, semi-final and final. Failure to take the Joker Lap is penalised by 30-seconds in the qualifying heats, and by being classified last and loss of points in a semi-final or final.
MEDIA INFORMATION/SCHEDULE OF EVENTS
Wednesday 6 August
1700 Virtual Grand Prix
1830 Cars gathered for departure for parade to town (Trois-Rivières)
1900 Cars depart for parade under police escort
1930 Autograph session in Trois-Rivières
Thursday 7 August
1800-1900 Drivers' Draw plus World RX press conference. This will be held in the IMG truck. Media are invited to attend this the draws are made for the race heats. After the draw, a pre-event press conference will be held with Jacques Villeneuve, Patrick Carpentier, Petter Solberg and Tanner Foust.
Friday 8 August
1130 Photographers' briefing. All photographers arriving on Sunday MUST attend this short photographers' briefing which will be held in the media room.  Photographers will be issued with a tabard after the briefing.
1210-1410 Free Practice
1450 Racing starts
2020 Podium, followed by press conference
FIA WORLD RALLYCROSS CHAMPIONSHIP CLASSIFICATIONS
The provisional classifications for all the Championship can be found on the following link:
http://www.fia.com/sport/championships/news/world-rallycross-championship
FIA WORLD RALLYCROSS CHAMPIONSHIP
Shortly after the finish of the sessions, results of the event can be found on the following link:
http://www.fia.com/championship/events/world-rallycross-championship/201...