World RX: 2023 FIA World Rallycross Championship gets underway in Montalegre this weekend
The lights are about to go green at the start of the 2023 FIA World Rallycross Championship – as the opening round of the spectacular all-electric series begins at the World RX of Portugal this weekend (3-4 June).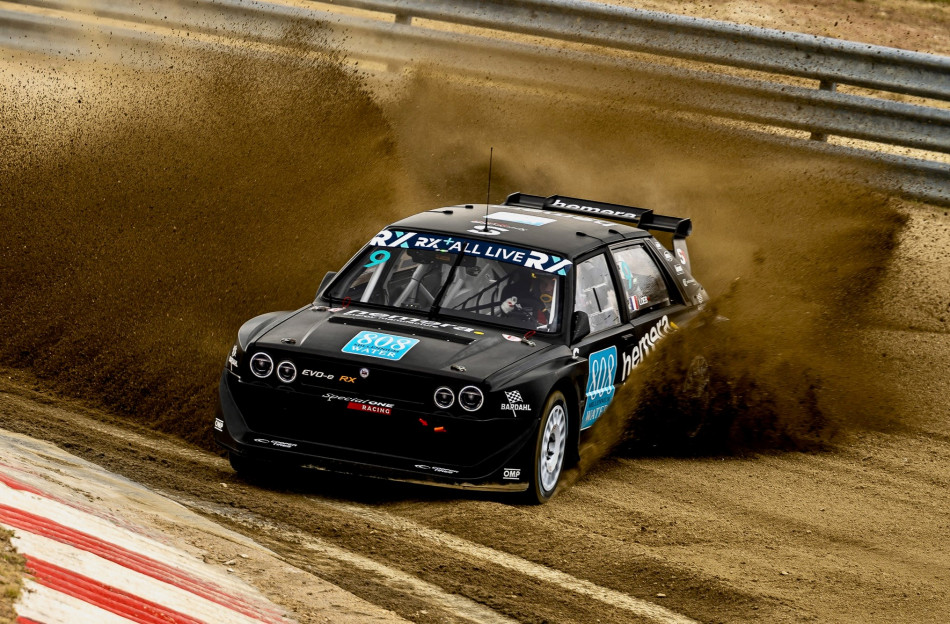 The event takes place at Montalegre, a classic rallycross track nestled high up in the picturesque Vila Real mountains of northern Portugal, which hosted the very first World RX event back in 2014.
The first of 10 rounds on the World RX calendar between now and the middle of November features several intriguing plotlines.
Defending world champion Johan Kristoffersson (Volkswagen Dealerteam BAUHAUS) is seeking a sixth title in 2023 – although the Volkswagen RX1e pilot has a host of high-calibre rivals all determined to stop him in his tracks.
Timmy Hansen (Hansen World RX Team) has finished runner-up to Kristoffersson in each of the past two seasons. Having missed out on the title in 2021 on a final day tiebreak, he is determined not to finish second again this year.
Hansen and his team-mate – fellow multiple event-winner and younger brother Kevin Hansen – will take to the track in a pair of Peugeot 208 RX1es, whose livery has undergone a 'back to the future' off-season makeover, with the addition of striking red accents in celebration of the team's previous successes.
Niclas Grönholm has earned a bit of a 'nearly man' reputation in recent campaigns, finishing third in the standings in 2021 and 2022 and only being denied a proper title shot in 2019 by a bout of appendicitis. The Construction Equipment Dealer Team star triumphed in Portugal last year and the year before, so is hoping to complete the hat-trick this weekend.
The Finn's CEDT stablemate Klara Andersson made history at Montalegre eight months ago in becoming the first female to score a podium result in top flight international rallycross history. Having signed off her rookie season with arguably her finest performance to-date at the World RX of Germany last November, the Swede will be eying race wins and the title this year.
Another newcomer to establish himself amongst the sport's grandees in 2022 was Gustav Bergström, who sped to three consecutive podium finishes for Volkswagen Dealerteam BAUHAUS and is now targeting the next step.
Ole Christian Veiby in the sister VW has his sights solidly set on breaking his World RX duck following an accomplished comeback that yielded top three results in half of the rounds, despite suffering from more than his fair share of ill-fortune.
Four-time Free Skiing World Champion Guerlain Chicherit indulged a personal passion project last year in reviving an automotive icon, the legendary Lancia Delta Integrale, and bringing the classic Italian hot hatch right up to the present day in the shape of the retrofitted, all-electric Lancia Delta Evo-e RX, which made its World RX debut in the season finale at the Nürburgring and proved to be competitive straight off the bat.
The Frenchman is lining up two Lancias under the Special ONE Racing banner in 2023, with a second car for compatriot Sébastien Loeb, who returns following four seasons away from the grid. During his previous stint in the series, the nine-time FIA World Rally champion achieved a brace of victories and 15 further rostrum appearances from 36 outings – the third-best podium strike rate in World RX history.
Completing the field in the All-Inkl.com Münnich Motorsport SEAT Ibiza RX1e is double DTM Champion Timo Scheider. The German, a veteran of 42 World RX starts, is renowned as a tough competitor on track, so will be sure to put up a fierce fight.
SECONDS OUT, ROUND TWO IN EURO RX
Alongside the eagerly-anticipated World RX curtain-raiser, Montalegre will also play host to the second round of the FIA European Rallycross Championship campaign – and following a rip-roaring season-opener at Nyirád last month, expectations are high for another thrilling contest.
In Euro RX1, five of the top six finalists from Hungary are back in action, with Jānis Baumanis bidding to maintain his winning start, while defending title-holder Anton Marklund – who was crowned champion for a third time in Portugal in 2022 – aims to convert his Ford Fiesta's raw pace into a tenth career triumph. The pair collided spectacularly on the exit of the Montalegre joker last September, and another close duel looks guaranteed.
In Euro RX3, Damian Litwinowicz arrives as championship leader after becoming a first-time winner at Nyirád, but the Pole is likely to face a stern challenge from Volland Racing team-mate Espen Isaksætre – not to mention a plethora of rapid Portuguese racers, with no fewer than ten homegrown heroes all hoping to make local knowledge count.
The weekend will get underway with official practice at 10:00 local time (11:00 CET) on Saturday (3 June).
All of the action will be broadcast live on RX+.
The full entry lists for this weekend's World RX, Euro RX1 and Euro RX3 races at Montalegre are:
FIA World Rallycross Championship – Round 1
1 Johan Kristoffersson (SWE) Kristoffersson Motorsport (SWE)      Volkswagen RX1e
9 Sébastian Loeb (FRA)          Special One Racing (FRA)       Lancia Delta Evo RX1e
12 Klara Andersson (SWE)     Construction Equipment Dealer Team (SWE)           PWR RX1e
17 Gustav Bergström (SWE)   Kristoffersson Motorsport (SWE)      Volkswagen RX1e
21 Timmy Hansen (SWE)       Hansen World RX Team (SWE)           Peugeot 208 RX1e
36 Guerlain Chicherit (FRA)   Special One Racing (FRA)       Lancia Delta Evo RX1e
44 Timo Scheider (DEU)         All-Inkl.com Münnich Motorsport (DEU)      SEAT Ibiza RX1e
52 Ole Christian Veiby (NOR) Kristoffersson Motorsport (SWE)      Volkswagen RX1e
68 Niclas Grönholm (FIN)      Construction Equipment Dealer Team (SWE)           PWR RX1e
71 Kevin Hansen (SWE)          Hansen World RX Team (SWE)           Peugeot 208 RX1e
FIA European Rallycross Championship Euro RX1 – Round 2
1 Anton Marklund (SWE)       Set Promotion (SWE) TBA
4 Stephen Hill (GBR)              Stephen Hill (GBR)      Proton Iriz
6 Jānis Baumanis (LVA)          RX Team Latvia (LVA)  Peugeot 208
7 Patrick O'Donovan (GBR)    Patrick O'Donovan (GBR)       Peugeot 208
22 Máté Benyó (HUN)            Korda Racing KFT (HUN)        Peugeot 208
23 Andréa Dubourg (FRA)      Andréa Dubourg (FRA)           Peugeot 208
24 Sivert Svardal (NOR)         Sivert Svardal (NOR)   Volkswagen Polo
33 Ulrik Linnemann (DKN)     Ulrik Linnemann (DKN)          Volkswagen Polo
38 Mandie August (DEU)       All-Inkl.Com Münnich Motorsport (DEU)      SEAT Ibiza
39 Zoltán Koncseg (HUN)       Kárai Motorsport Sportegyesület (HUN)       Audi A1
50 Attila Mózer (HUN)            Nyirád Motorsport KFT (HUN)           Ford Fiesta
55 Paulius Pleskovas (LTU)     TSK Baltijos Sportas (LTU)      Škoda Fabia
73 Tamás Kárai (HUN) Kárai Motorsport Sportegyesület (HUN)       Audi S1
77 René Münnich (DEU)        All-Inkl.com Münnich Motorsport (DEU)      SEAT Ibiza
88 Anthony Pelfrene (FRA)    Anthony Pelfrene (FRA)         Peugeot 208
91 Enzo Ide (BEL)        Enzo Ide (BEL) Audi S1
110 José Oliveira (PRT)          José Oliveira (PRT)      Peugeot 208
FIA European Rallycross Championship Euro RX3 – Round 2
6 Damian Litwinowicz (POL)  Volland Racing (POL)  Audi A1
8 Espen Isaksætre (NOR)       Volland Racing (POL)  Audi A1
12 Jens Hvaal (NOR)   Jens Hvaal (NOR)        Škoda Fabia
14 David Bouet (FRA) David Bouet (FRA)      Renault Clio
18 Zsolt Szíjj Jolly (HUN)        Speedy Motorsport (HUN)    Audi A1
30 Nils Volland (DEU) Volland Racing (POL)  Audi A1
33 Martin Kjær (NOR) Martin Kjær (NOR)     Škoda Fabia
58 Dominik Senegacnik (CZE) KRTZ Motorsport (CZE)          Škoda Fabia
75 Mario Barbosa (PRT)         Mario Barbosa (PRT)  Citroën C2
99 João Ribeiro (PRT) Volland Racing (POL)  Audi A1
103 Jorge Machado (PRT)      Jorge Machado (PRT) Citroën C2
104 André Sousa (PRT)          André Sousa (PRT)      Audi A1
105 Rogerio Sousa (PRT)        Rogerio Sousa (PRT)   Ford Fiesta
121 Tiago Ferreira (PRT)        Tiago Ferreira (PRT)    Peugeot 208
129 Antonio Sousa (PRT)       Antonio Sousa (PRT)  Peugeot 208
131 Balázs KÖRMÖCZI (HUN) Szada Ring Racing KFT (HUN) Volkswagen Polo
146 Joaquim MACHADO (PRT)          Joaquim Machado (PRT)        Audi A1
147 Leonel Sampaio (PRT)     Leonel Sampaio (PRT) Škoda Fabia MK2
149 Sergio Dias (PRT) Sergio Dias (PRT)        Renault Twingo