WIM - Mouton witnesses richly deserved podium for the all-female Kessel Racing crew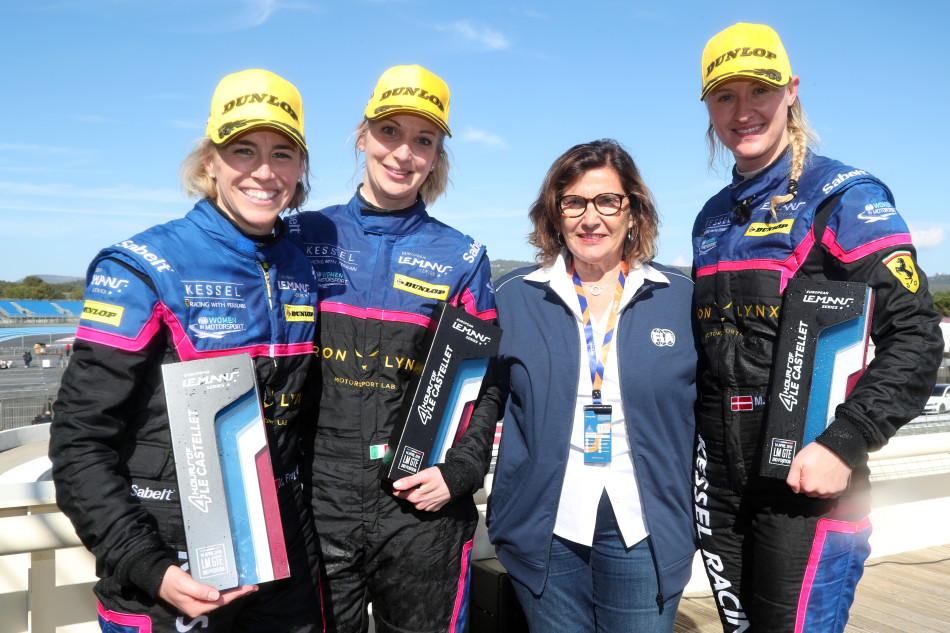 Michèle Mouton, President of the FIA Women in Motorsport Commission, was a proud onlooker at the opening round of the European Le Mans Series, witnessing the Commission-supported all-female Kessel Racing crew take an impressive podium placing at the 4 Hours of Le Castellet.
Michelle Gatting (26, Danish), Rahel Frey (32, Swiss) and Manuela Gostner (34, Italian) are the first all-female crew to contest the series and the trio powered their 488 GTE Ferrari to second in the category, kick-starting their exciting journey to Le Mans in fine fashion.
Having qualified fifth of the nine LMGTE crews, Michelle Gatting - who took the car to the chequered flag - said: "This is what we hoped and dreamed for. We always aimed to be on the podium and it happened; this was really a wonderful strategy from Kessel Racing. All the work we put into the pit stops and driver changes really paid off and the car was fantastic until the last three laps when it was a bit difficult with the puncture I had on the rear. But the car was amazing and this is only thanks to the team. It fitted together, everyone did a great job and it paid off and this is why we ended where we ended."
After their consistent performance in an action-packed race, Rahel Frey added: "It's amazing! We spoke about getting on the podium as it was our ELMS target, but we wanted to build up, we didn't expect it to happen so quickly. We are just so happy and it's the best moment to say thank you to the whole crew of Kessel Racing and the FIA Women in Motorsport Commission. It was brilliant to have Michèle Mouton and Cathy Muller here, and to perform so well in front of them makes me proud."
In conclusion, Manuela Gostner said: "This is the result of great teamwork for us three girls, but especially for everyone around us, supporting and working with us. In the end we have a big result."
Their six-round ELMS programme, brought together by entrepreneur, GT driver and Team Manager Deborah Mayer, forms part of the crew's build-up to the most famous endurance race in the world where the trio has already secured one of the coveted places on the 2019 entry list for the 24 Heures du Mans. When they take the start on 15 June, it will be the first time in 10 years that an all-female crew has competed in the event on the legendary Circuit de la Sarthe.
The second round of the European Le Mans Series takes the crew to Italy for the 4 Hours of Monza (12 May).

Photos : JEP/ ELMS.