This page contains archived information and may not display perfectly
WIM - Championship titles for women in motor sport
Anita Mäkelä and Flick Haigh celebrate momentous racing titles.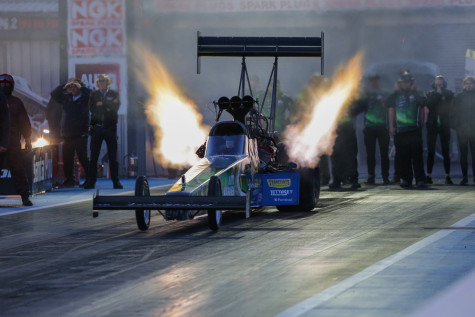 Women have claimed Championship titles in two of motor sport's most diverse disciplines this month, again demonstrating that there is a pool of top female talent across the sport. Anita Mäkelä claimed her third FIA European Drag Racing Championship title in the Top Fuel category, while Flick Haigh became the first woman to take outright victory in the British GT Championship alongside Jonny Adam in their Optimum Motorsport Aston Martin.
With two titles already under her belt, Anita went into the six-round season determined to regain her number one status. The Finn ultimately took three race wins in her 10,000 horsepower Top Fuel dragster, which is capable of accelerating from 0-100 km/h in about half a second! And she has no intention of taking her foot off the gas in 2019, as she explained to fia.com when reflecting on her latest title.
"We are carrying the number one on our car into next season and would like to keep it that way. That is our target for 2019," said the Finn. "I feel strong after winning my third FIA Top Fuel Championship and this is teamwork at its best. I´m only as good as my team. This tells I have the best team and with these guys, no battle is overwhelming. I´m so proud of them all.
"This year we were dominating in Top Fuel. When the car is working like it should, it feels kind of easy. Of course, we had some bad moments, but our target was always to win the Championship. It was our best season. Every time I put the helmet on my thought is: You have to beat them all if you want to win [the title]."
In a dragster with top speeds of around 500 km/h, Anita also holds the FIA European time/speed record over a thousand feet of 3.870s and 504 km/h, a statistic linked to her name since 2015.
In British GTs, 33-year-old Flick Haigh became the first woman to win a race and score a pole position in the senior category of the series earlier this year. Consistency, podium finishes and a second victory with team-mate Jonny Adam saw the duo then head into the Donington finale with a 27.5 point lead, with 37.5 points available for the win.  The Aston Martin Vantage GT3 crew only needed to finish sixth to be assured of victory and, after a challenging race, they took the chequered flag fourth overall from more than 30 cars. As such, Flick becomes the first female outright champion in the 26-year history of the British GT Championship.
"I am ecstatic, I have to pinch myself every morning and I don't think I have stopped smiling for days," she said. "It's a huge honour to have this title; it's an incredibly tough series and so competitive. I had two really tough seasons in '16/17 and nearly gave up completely as I was so disheartened. This year has absolutely exceeded all my expectations and I am just so proud of the whole team. Everyone has worked so hard all year on and off the circuit."
Reflecting on what it also means to be a female title winner, Flick added: "It means a lot in terms of hopefully spreading awareness that women are equal in motor sport. I have never been treated any different by anyone. I see myself as a driver; gender makes no difference in my eyes. I want to try and encourage more women into the sport."
Inevitably, there were challenges and defining moments en route to the title, the fifth round in Spa being one Flick particularly recalls. "I led the race from the start before a wheel arch guard flew off at Turn 3 and jammed under my rear tyre which spun me round. I flapped about thinking I had a puncture and lost so many places. The drive back through gave me so much confidence in the car and my ability. The fact I had panicked for no reason also taught me just always keep the car moving, stopping and worrying isn't going to win any races. It was a big learning weekend for me. When we then went to Brands Hatch, I had a renewed confidence and that win we had made the title possible and more real for me."
As to the future, Flick adds: "I am in talks with Aston Martin Racing, potential new sponsors and the team to come up with next year's programme. The end goal is Le Mans, however the pathway to get there is yet to be decided."
British GT photo: Jakob Ebrey Photography