Who will come out on top in the battle for the teams' title?
In addition to the much sought after drivers' crown, the best team in the FIA Formula 3 European Championship will be awarded the teams' title!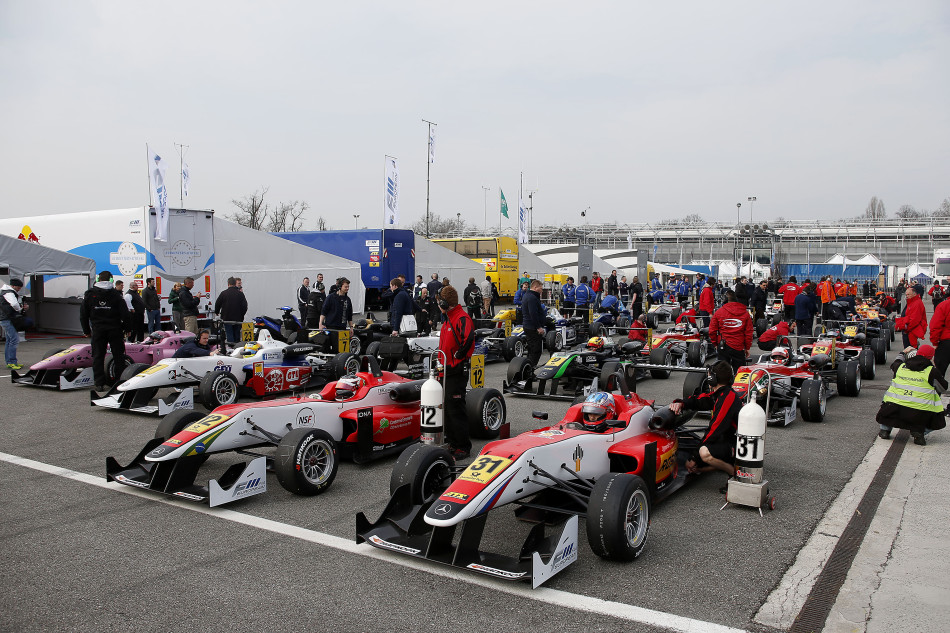 Motor racing is a team job in which the driver is just the top of the pyramid. To win he needs to have a strong team backing him up, in particular in Formula 3. In this accelerated motor sport teaching school the drivers are not the only ones who learn and accumulate experience. Engineers and mechanics also pick up the skills of their trade in Formula 3 before moving on to other branches of the sport like Formula 1, endurance and rallies. 
In order to highlight the best team the Fédération Internationale de l'Automobile (FIA) has set up a teams' classification in its FIA Formula 3 European Championship. To give the squads entered a level playing field between those running several cars and those with only one or two, only two drivers per team can score points. They will be nominated at the start of each meeting before the end of scrutineering and administrative checks.
Points will be awarded only to the nominated drivers with the same scale as for the drivers' championship: 25, 18, 15, 12, 10, 8, 6, 4, 2, 1. Only those nominated will score points for the teams' classification so if two of the drivers in question finish third and fourth behind a couple of non-nominated drivers, they will be awarded the points for first and second places.
Thanks to these regulations the battle between the teams looks like being a very open hotly-contested, one. The team manager entering more than two cars will have to make the right choice and this adds even more spice to the mix. At Monza, Prema Powerteam opted for Raffaele Marciello and Alex Lynn and scored a total of 77 points, twelve more than kfzteile24 Mücke Motorsport with Pascal Wehrlein and Felix Rosenqvist. The British team Carlin leads the second group with 38 points closely followed by Fortec Motorsports, ThreeBond with T-Sport and Eurointernational. As things currently stand, Van Amersfoort Racing, ma-con and Double R Racing fill the last three places.