This page contains archived information and may not display perfectly
F3 - Robert Shvartzman the rookie of the year
Robert Shvartzman (PREMA Theodore Racing) was the best rookie in the 2018 FIA Formula 3 European Championship season. The Russian who is supported by the Ferrari F1 team delivered in particularly fine style in the second half of the season and celebrated his first win at Spielberg. With two race wins and a total of 11 podiums in the 30 races he finished third in the drivers' championship.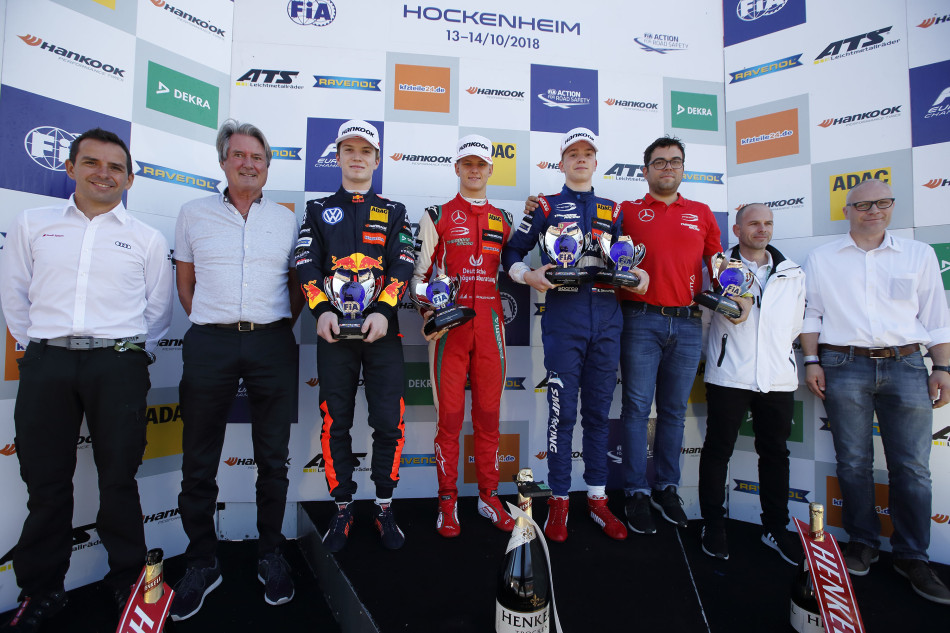 Robert Shvartzman advanced to single-seater racing during the course of the 2014 season and made his first steps at the wheel of a single-seater in the Italian Formula 4. In the following year he already was a front runner in the Italian and German F4 series'. In 2016 he made the next step – to Formula Renault 2.0 – to contest two seasons in this series, too. And once again he came third in the championship, in his second season.
Then, in early 2018, he travelled to New Zealand to prepare for his FIA Formula 3 European Championship debut by contesting the Toyota Racing Series. Down Under, the then 18-year old clinched his first title and on the way to doing so he outperformed – inter alia – Marcus Armstrong (PREMA Theodore Racing), one of his rivals and team-mates in the 2018 FIA Formula 3 European Championship season. Afterwards, Shvartzman who was born in St Petersburg made the biggest step in his single-seater racing career to date by advancing to the FIA F3 European Championship.
Having secured three top-10 results in the season kick-off at Pau, Southern France, he clinched his first podium at the Hungaroring. In the third third of the season he proved to be particularly successful: at the Nürburgring and the Red Bull Ring, the Prema driver clinched podiums in five consecutive races by finishing second and third respectively to then celebrate his aforementioned first race win at Spielberg. In the season finale at Hockenheim he won the rookie title by finishing second in the first race of the weekend.
"Having won the rookie title means for me that my team and I did a rather good job," beams Shvartzman. We made a particularly big step forward in the second half of the season but we also worked hard to achieve this goal. And I think that everything worked perfectly for me from this point in time."
Aloof from the racetrack Shvartzman regards himself as normal teenager who loves to go to the gym, meet friends and loves fighting sports such as boxing. He made his first steps in karting in Italy at the age of six and at the age of nine he moved completely to Southern Europe. "I also went to school in Italy. It wasn't easy at the beginning but I learned a lot in this period of time."
Currently he lives both in Italy and his home country, Russia. And he also enjoys support is promoted by partners in both countries. "I have been supported by SMP for quite a while and since a year I also have been member of the Ferrari Driver Academy. It's great that I can rely on so much support as it allows me to professionally pursue my goal to become the Formula One World Champion, some day in the future."