This page contains archived information and may not display perfectly
WEC: 2021 24 Hours of Le Mans preview
Round 4 of the 2021 FIA World Endurance Championship is the 89th 24 Hours of Le Mans.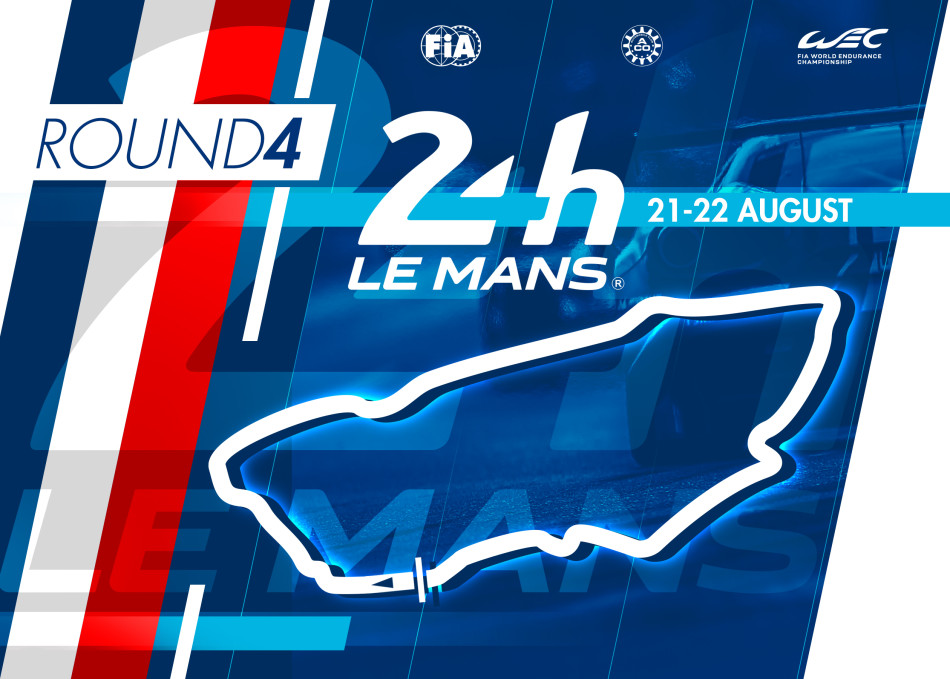 First run in 1923, the world's greatest endurance racing is the ultimate career goal for many drivers.  For 2021 the iconic event welcomes spectators back, who are set to witness the debut of Le Mans Hypercar machinery at Circuit de La Sarthe.
"Owing to its long and illustrious history of pushing man and machine beyond their limits, Le Mans is undoubtedly one of the crown jewels of motor sport and I'm proud that it's an important part of FIA-sanctioned championships,"  said Jean Todt, FIA President.
"Fans are obviously an integral part of this great event and the fact that many of them will be back this year is simply fantastic,"  he concluded.
Location: 
Situated 200km from Paris, Le Mans is located on the Sarthe River. Traditionally the capital of the province of Maine, it is now the capital of the Sarthe department and is a part of the Pays de la Loire region.
 

Circuit des 24 Heures
72019 Le Mans Cedex 2, France

Tel:       +33 243 40 24 24

web:     24h-lemans.com/en

Airports: 

Paris CDG – 234km / 146 miles
Paris Orly – 198km / 124 miles

ROUND 4 HIGHLIGHTS 
The 24 Hours of Le Mans will feature a grid of 62 cars for the 89th edition of the event with the full season FIA WEC entries being joined by competitors from the other endurance series from around the world –European Le Mans Series, IMSA WeatherTech SportsCar Championship and Asian Le Mans Series.
 
The race will feature 5 x Hypercar entries, 25 x LMP2 entries, 8 x LMGTE Pro entries, 23 LMGTE Am entries and a single entry in the Innovative Car class.
 
For the second time two entries will feature all female crews with support from FIA Women in Motorsport Commission. The #1 Richard Mille Racing Team Oreca-Gibson of Tatiana Calderon, Sophia Floersch and Beitske Visser will compete in LMP2.
 
The #85 Iron Lynx Ferrari 488 GTE EVO will feature season regulars Rahal Frey and Michelle Gatting, with Belgium's Sarah Bovey making her FIA WEC debut at Le Mans after taking two podiums for the Italian team in the Michelin Le Mans Cup alongside another FIA WIM supported driver, 17-year-old Dorian Pin.
 
Double championship points for 24 Hours of Le Mans will be awarded: 50-36-30-24-20-16-12-8-6-4-2 and 1 point for all other finishers.
 
33 of 62 entries at Le Mans are eligible for championship points.
 
1985 and 1986 FIA World Endurance Drivers Champion and five-time 24 Hours of Le Mans winner Derek Bell will be the Grand Marshal at the 2021 event.
 
24 competitors – the six best in each class – will go on to compete in the Hyperpole.  The session will determine the first six places on the grid for each class. 
A LOOK BACK AT 6 HOURS OF MONZA 
Mike Conway took the chequered flag to win the 6 Hours of Monza after a dramatic event that saw a close battle between Toyota and Alpine in the final two hours. 
The #7 Toyota GR010-Hybrid led for the majority of the race after starting from pole position but suffered a puncture and a technical issue allowing Alpine to sense victory. The #8 Toyota had suffered problems earlier in the race with Brendon Hartley bring the car in for two trips to the garage.
Porsche and Ferrari put on a stunning battle in LMGTE Pro as #92 Porsche of Kevin Estre and Neel Jani just beat the Ferrari 488 GTE Evo of James Calado and Alessandro Pier Guidi, with the Ferrari having to pit for a 'splash and dash' two minutes before the chequered flag. 
United Autosports USA took their second win of 2021 season in LMP2 with Phil Hanson, Fabio Scherer and Filipe Albuquerque finishing 57 seconds ahead of the no31 Team WRT Oreca-Gibson.  
The #83 AF Corse Ferrari secured the LMGTE Am silverware after a mighty battle from the back of grid, with Francois Perrodo, Alessio Rovera and Nicklas Nielsen securing victory ahead of the #98 Aston Martin Racing Vantage. 
CHAMPIONSHIP LEADERS AFTER ROUND 3
HYPERCAR
 
 
1st 

Brendon HARTLEY / Kazuki NAKAJIMA / Sebastien BUEMI

#8 Toyota Gazoo Racing - Toyota GR010 Hybrid 

75 pts
2nd

Jose Maria LOPEZ / Kamui KOBAYASHI / Mike CONWAY

#7 Toyota Gazoo Racing - Toyota GR010 Hybrid  

69 pts
LMGTE Pro
 
 
1st

Kevin Estre / Neel Jani 

#92 Porsche GT Team Porsche 911 RSR-19

76 pts
2nd 

Alessandro PIER GUIDI / James CALADO

#51 AF Corse – Ferrari 488 GTE EVO 

74 pts
LMP2 
 
 
1st 

Phil HANSON

#22 United Autosports USA - Oreca 07-Gibson

74 pts
2nd 

Anthony DAVIDSON / Antonio Felix DA COSTA / Roberto GONZALEZ

#38 JOTA - Oreca 07-Gibson

56 pts
LMGTE Am
 
 
1st 

Antonio FUOCO / Giorgio SERNAGIOTTO / Roberto LACORTE

 #47 Cetilar Racing - Ferrari 488 GTE EVO

54 pts
2nd

François PERRODO / Alessio ROVERA / Nicklas NIELSEN

#83 AF Corse – Ferrari 488 GTE EVO

52 pts
DID YOU KNOW?
2021 will be 89th edition of the 24 Heures du Mans. The first race was held in 1923
 
17.262 km (10.726 Miles) was the length of the original circuit in 1923. It was shortened in 1929 and again in 1932
 
The city of Le Mans has hosted the French Grand Prix on four occasions: 1906, 1921, 1929 and 1967
 
The fastest speed achieved on the Mulsanne Straight was 403.9kph / 251mph set by Roger Dorchy's WM-Peugeot in 1988.
 
5410km (3362 Miles) – the greatest distance achieved by a winning car (2010 Audi R15 TDI – Romain Dumas, Timo Bernhard, Mike Rockenfeller).  By comparison the winning car in 2020 completed 387 laps or 5273km (3295 miles).
 
After winning the 1967 race with A.J. Foyt and Ford, American Dan Gurney spontaneously sprayed champagne while celebrating on the podium.  This was the first occasion that this had been done and one that has become the traditional victory celebration.
 
In 2018 Fernando Alonso became the first Formula 1 grand prix winner to win at Le Mans since Michele Alboreto in a Joest Racing TWR Porsche WSC-95 in 1997
 
1997 was also the first of Tom Kristensen's record nine wins at Le Mans.
TIMETABLE
| | |
| --- | --- |
| Friday, 13 August    |   |
| 09:00 - 18:00 | scrutineering |
| Saturday, 14 August  |   |
| 09:00 - 13:00  | scrutineering |
| Sunday, 15 August  |   |
| 09:00 - 13:00 | Test Session 1 |
| 14:00 – 19:00  | Test Session 2 |
| Wednesday, 18 August |   |
| 14:00 - 17:00 | Free Practice 1 |
| 22:00 – 00:00 | Free Practice 2 |
| Thursday, 19 August  |   |
| 14:00 – 17:00  | Free Practice 3 |
| 21:00 – 21:30  | Hyperpole |
| 22:00 – 00:00   | Free Practice 4 |
| Saturday, 21 August  |   |
| 11:30 – 11:45 | Warm Up |
| 16:00   | race start  |
| Sunday, 22 August |   |
| 16:00 | chequered flag |
FIA OFFICIALS
FIA Chairman of the Stewards

Jean-François VEROUX 

Stewards

Tim MAYER 

Yves BACQUELAINE

Michael SCHWAGERL

Chris GEFFROY

Rikki DY-LIACCO

FIA Race Director

Eduardo FREITAS

FIA Technical Delegate

Manuel LEAL

FIA Sport Coordinator

Marek NAWARECKI

FIA Medical Delegate

Christian WAHLEN / Jacques TROPENAT

Chief Timekeeper

Cristóbal LOPERA

FIA Driver Adviser

Yannick DALMAS

FIA Media Delegate

Jeff CARTER
FIA WORLD ENDURANCE CHAMPIONSHIP CLASSIFICATIONS
The provisional classifications for all the championships can be found HERE.