This page contains archived information and may not display perfectly
W2RC contenders Al-Attiyah and Al-Rajhi top Baja Spain Aragon entry
Four-time Dakar Rally winner Nasser Saleh Al-Attiyah and Toyota team-mate Yazeed Al-Rajhi are the top seeds for the 2022 Baja Spain Aragón. The fourth round of the FIA World Cup for Cross-Country Bajas has attracted a bumper 92-car FIA entry and will take place in the blistering heat of the Aragón region of central Spain this weekend.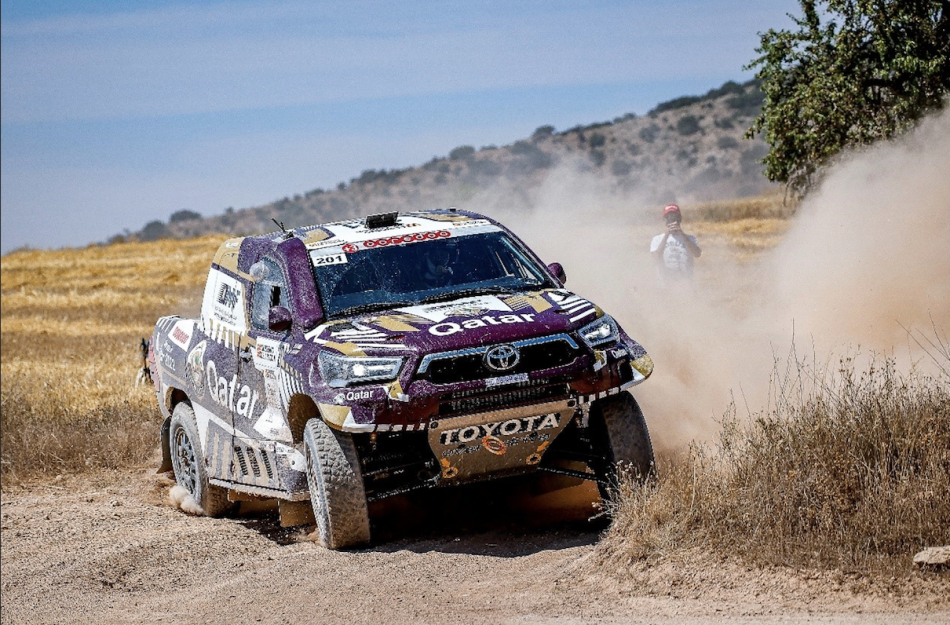 Thirty-five cars grace the entry in the T1 category, with a further 36 lining up in the T3 section for lightweight prototype machines and 21 entered in the increasingly popular T4 category at the Teruel-based event.
Al-Rajhi was triumphant with co-driver Michael Orr at the recent Italian Baja and that success has lifted the Saudi to within seven points of the pace-setting Czech driver Miroslav Zapletal (Hummer H3 Evo) in the Drivers' Championship. The closest title rivals present in Spain include the likes of Fernando Alvarez, Cristiano de Sousa Batista and Kees Koolen.
Al-Attiyah and French co-driver Mathieu Baumel may well start as the pre-event favourites on a two-day, three selective section event that features X-raid-built Mini John Cooper Works Rally cars for Argentina's Sebastien Halpern, Polish veteran Krzysztof Holowczyc and the Portuguese duo of João Ferreira and Alejandro Martins. The Qatari has won the event on four occasions (2008, 2016, 2017 and 2021) and the last three times with co-driver Baumel.
In addition to running Al-Rajhi and supporting Al-Attiyah's Toyota Gazoo Racing entry, Overdrive Racing has entered Hiluxes for Argentina's Juan Cruz Yacopini, Dutchman Erik van Loon and Brazil's Lucas Moreas.
Additional T1 competition comes from the likes of João Ramos (Toyota) and three PRK Sport Rallye Team Ford Rangers, driven by Daniel Villaron, Edgar Condenso and Santiago Colomer.
The South Racing Can-Am Team duo of Fernando Alvarez and Saudi female driver Dania Akeel head the massive T3 entry and currently hold first and second in the T3 title race.
Amongst their rivals in a formidable T3 field are the PH-Sport Zephyr trio of Mathieu Serradori, Jean-Luc Pisson and Lionel Costes and the talented Belgian Guillaume de Mevius in a G Rally Team OT3. Vanina Ickx, the daughter of Le Mans and Dakar legend Jackie Ickx, drives a second OT3.
FN Speed Team's Santiago Navarro has already clinched the FIA European Cup's T3 Bajas title and lines up in a Can-Am alongside Spanish team-mates Pau Navarro and Cristina Giampaoli. Nasser Racing has entered a Can-Am Maverick XRS for WRC star Dani Sordo and his co-driver Candido Carrera. Sordo has already taken part in the Qatar International Baja this season in the South Racing-run machine. 
Dutchman Kees Koolen currently has a two-point cushion over South Racing Can-Am team-mate Cristiano de Sousa Batista and a further two-point advantage over Kuwait's Meshari Al-Thefiri in the FIA T4 Championship.
The three South Racing drivers top a 21-car field that includes Nasser Racing entries for Uruguay's Patricia Gago and Lithuania's Emilija Gelazninkiene, Egidijus Valeiša in an SRT-run Can-Am, a Polaris RZR Pro XP for Poland's Tomasz Bialkowski and a Yamaha YXZ 1000 R in  the hands of Miguel Martinez.
Competitors will tackle 595.00km in a route of 874.40km.
Two selective sections of 205km and 230km are on the agenda for Saturday across narrow and demanding tracks in rural Spain, where hanging dust and favourable road starting positions are often crucial factors. On-stage action concludes on Sunday with a third timed test of 160km.
Baja Spain Aragón – leading entries:
| | |
| --- | --- |
| 200. Yazeed Al-Rajhi (SAU)/Michael Orr (GBR) | Toyota Hilux |
| 201. Nasser Saleh Al-Attiyah (QAT)/Mathieu Baumel (FRA) | Toyota Hilux |
| 202. Erik van Loon (NLD)/Sebastien Delaunay (FRA) | Toyota Hilux |
| 203. Sebastien Halpern (ARG)/Bernard Graue (ARG) | Mini JCW Rally |
| 204. Krzysztof Holowczyc (POL)/Lukasz Kurzeja (POL) | Mini JCW Rally |
| 205. Miroslav Zapletal (CZE)/Marek Sykora (SVK) | Hummer H3 Evo |
| 206. João Ferreira (PRT)/David Monteiro (PRT)         | Mini JCW Rally |
| 207. Juan Cruz Yacopini (ARG)/Fernando Acosta (ARG) | Toyota Hilux |
| 208. João Ramos (PRT)/Filipe Palmeiro (PRT) | Toyota Hilux |
| 209. Lucas Moreas (BRA)/Kaique Bentivoglio (BRA) | Toyota Hilux |
| 210. Alejandro Martins (PRT)/José Marques (PRT) | Mini JCW Rally |
Timetable of events
| | |
| --- | --- |
| Thursday, July 21 |   |
| Administration checks, Rally HQ, Teruel | 14.30-19.00 |
| Scrutineering checks, Rally HQ, Teruel | 15.30-20.00 |
|   |   |
| Friday, July 22 |   |
| Administration checks, Rally HQ, Teruel | 08.30-21.00 |
| Scrutineering checks, Rally HQ, Teruel | 09.00-21.30 |
| Pre-event press conference, Rally HQ, Teruel | 20.00hrs |
|   |   |
| Saturday, July 23 |   |
| SS1 – 205.00km | First car – 08.00hrs |
| SS2 – 230.00km | First car – 13.44hrs |
|   |   |
| Sunday, July 24 |   |
| SS3 – 160.00km | First car - 11.00hrs |
| Podium ceremony, Teruel | 15.00hrs |
| Post-event press conference, Teruel | 15.00hrs |
For more information, please visit the event website.
Details about the FIA World Cup for Cross-Country Bajas can be consulted on fia.com.