Virtual ceremony celebrates 2021 FIA Hill Climb Champions
The FIA Hill Climb Prize Giving was an opportunity to look back at last season, marked by the European titles of Christian Merli and Antonino Migliuolo, as well as the introduction of major new features, such as the Performance Factor, known as "Pf", and the special "Best Performer" awards.
The leaders of the 2021 FIA Hillclimb season were honoured at an awards ceremony held virtually, as it was not possible to hold a "live" gala event as originally planned.
The Italian Christian Merli made three appearances on the television set that served as a backdrop to the event and returned to his native Italy with several trophies: one for the European Hill Climb Champion in Category 2, one for the winner of the E2-SS Group and the new special "Best Performer" prize.
The principle of the latter is to reward the drivers who accumulate the most points in the scratch rankings of the season rounds, whereas the points for the Championship itself are, by tradition, awarded after each competition according to the Group rankings, and not the overall classification.
In the case of Category 2, the Championship and Best Performer honours both went to Merli.
In Category 1, the Best Performer award went to Switzerland's Ronnie Bratschi, who led the overall standings with his Group 1 Mitsubishi Lancer, but was not able to claim the European Championship title, which was won by Italy's Antonino Migliuolo. 
Migliuolo's string of victories in Group 3 gave him his first European crown, ahead of Group 5 winner Ales Prek of Slovenia, and Group 2 winner, Poland's "Dubai".
Other drivers receiving trophies included Simone Faggioli, winner of the Group E2-SC Group in Category 2 with maximum points, and the Ambruz couple, with Peter winning Group 4 among the closed cars and Anna the best female award.
The ceremony also celebrated the leaders of the FIA International Hill Climb Cup, reduced to three events in 2021 and won for the second time by Frenchman Sébastien Petit in Category 2, and Czech driver Karel Trneny in Category 1.
2021 FIA Hill Climb Best Performer – Category 1: Ronnie Bratschi (CHE)
List of FIA Awarded Hill Climb Drivers
FIA EUROPEAN HILL CLIMB CHAMPIONSHIP
Category 2: 1. Christian Merli (ITA); 2. Simone Faggioli (ITA); 3. Sébastien Petit (FRA)
Cat. 2 Group Winners: Christian Merli (ITA), Group E2-SS; Simone Faggioli (ITA), Group E2-SC
Cat. 2 Best Performer: Christian Merli (ITA)
Category 1: 1. Antonino Migliuolo (ITA); 2. Ales Prek (SVN); 3. "Dubai" (POL)
Cat. 1 Group Winners: Ronnie Bratschi (CHE), Group 1; "Dubai" (POL), Group 2; Antonino Migliuolo (ITA), Group 3; Peter Ambruz (SVK), Group 4; Ales Prek (SVN), Group 5
Cat. 1 Best Performer: Ronnie Bratschi (CHE)
FIA INTERNATIONAL HILL CLIMB CUP
Category 2: 1. Sébastien Petit (FRA); 2. Vaclav Janik (CZE); 3. David Dedek (CZE)
Category 1: 1. Karel Trneny (CZE); 2. Dan Michl (CZE); 3. Tonino Cossu (ITA)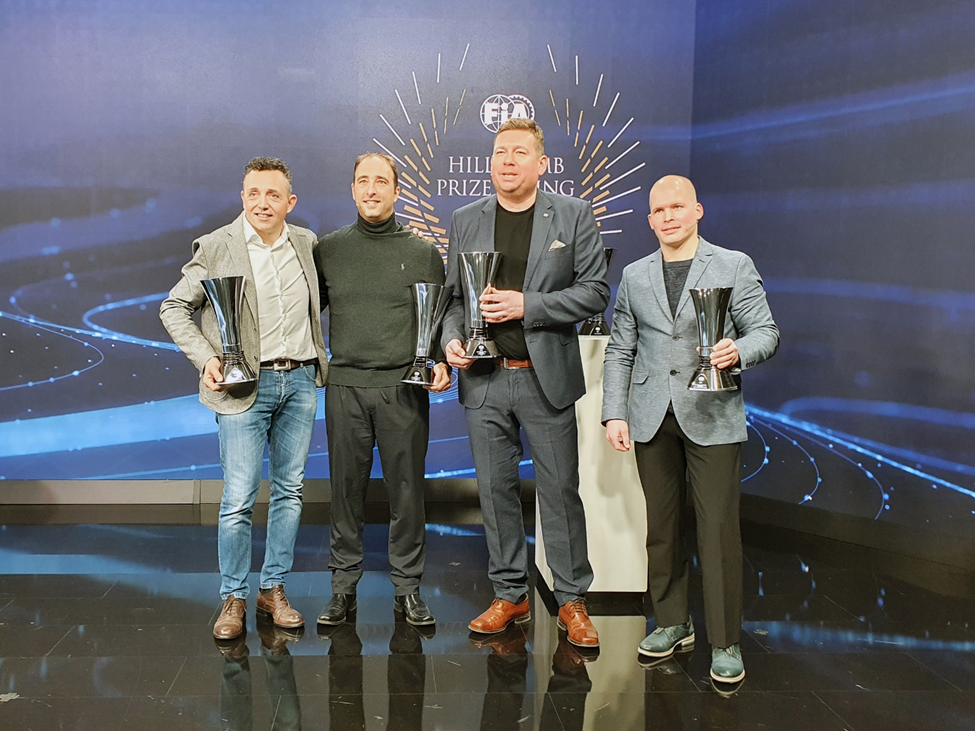 Whatch the full FIA Hill Climb Prize Giving Ceremony here