Victorious Vettel untouchable in Singapore
Red Bull driver romps to seventh win of season ahead of Fernando Alonso and Kimi Raikkonen.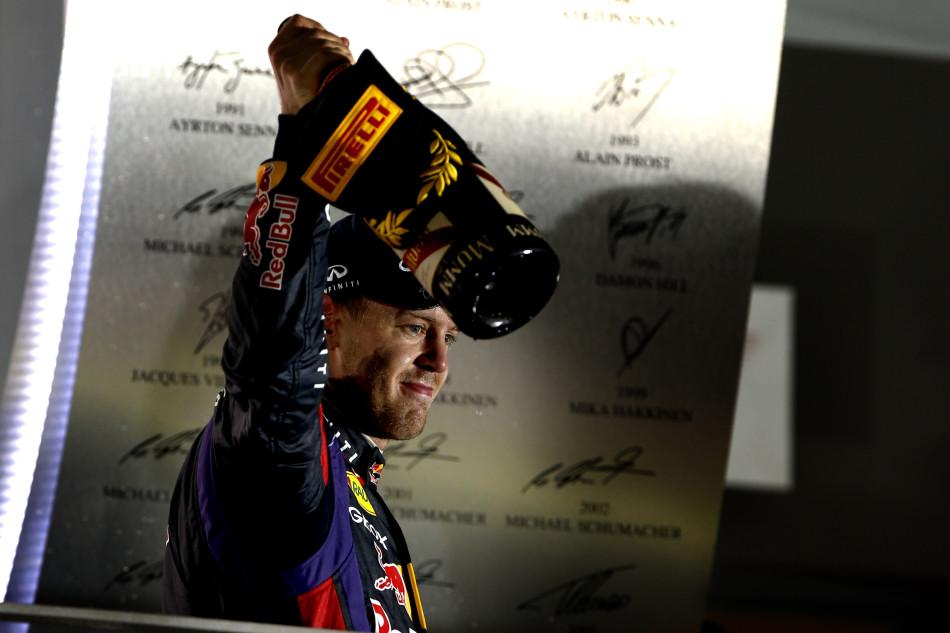 Sebastian Vettel powered to a comprehensive third Singapore Grand Prix victory in a row, finishing over 47 seconds ahead of second-placed Fernando Alonso and Kimi Raikkonen.
Vettel's seventh win of the season was secured soon after the start. He made a good start from pole position, but front-row rival Nico Rosberg got away better and passed the Red Bull driver on the approach to the first corner.
The Mercedes man carried too much speed in, however, and was forced to run wide on the exit.
The error allowed Vettel to retake the lead and from there the German simply drove away from the field. By lap 22, just after the drivers' first stop for tyres, the championship leader had carved out a 9.5 second lead over Rosberg, with Alonso third and Mark Webber fourth.
Then, two laps later, Toro Rosso's Daniel Ricciardo hit the wall at turn 18 and the safety car was deployed, maintaining a perfect record of safety car interventions at the circuit since the inaugural race in 2008.
At the front of the field, Vettel, Rosberg and Webber elected to stay out, as did Lewis Hamilton. A host of others dived for pit lane, however, including Alonso, Romain Grosjean and Raikkonen. It would prove a pivotal moment in the battle for the lower podium positions, if not the lead.
When the safety car left the track, Vettel found even greater pace than in his first stint and within a couple of laps he was 3.2 seconds clear of Rosberg. The Red Bull driver's race engineer Guillaume Rocquelin got on the radio and gave Vettel permission to "use his tyres" to build a gap. The German needed no encouragement and in a stunning period of racing he was often lapping more than two seconds quicker than the Mercedes. Just five laps after the safety car had exited, Vettel was over 14 seconds up on Rosberg.
As far as victory was concerned that was it. There was plenty of drama behind Vettel in the second half of the race, but it was all very far distant from the German and he cruised to a win that now leaves him 60 points clear of Alonso at the top of the Drivers' Championship standings.
"I didn't get going initially and then had to keep the inside clear to [Nico] but fortunately he went in a little bit too deep and I could get him back, which was crucial because then we had some very good pace," said Vettel of his 33rd career win. "With the safety car obviously it was difficult but then we seemed to come back. As soon as the safety car came in we had a very, very strong pace in the car. The car was incredible. I said to the team that this doesn't just happen like that, by accident or by luck. There's hard work behind it, which I appreciate, and it's just a pleasure to drive it around this crazy track."
Behind the winner, the order was changing. First Grosjean retired, a pneumatic problem forcing him out of the race. Then Rosberg and Webber made their second detours to pit lane. The Mercedes driver had a slow stop, and Webber stole in front.
It was only eighth place for Webber however, as ahead those who had chosen to pit during the safety car period rose up the order.
It was then that Alonso climbed to second. The Spaniard had already put in a stellar drive, rising from seventh on the grid to third as the field exited turn one and then cementing himself into podium contention. In deciding to race to the end on the tyres taken on during the safety car period, he was taking a risk but, typically, in his case the gamble paid off.
"It was a risky move but as I said, we are in a position in the championship where we have nothing to lose," said the Spaniard. "To finish second in the race or to finish fifth: it doesn't matter too much to be honest, so we push, we take care of the tyres. The car was performing really well in the race. And the fans pushed us a little bit to gain some extra tenths today."
It worked, too, for Raikkonen. The Finn was able to keep his tyres alive and even passed Jenson Button for third late on, making a bold move stick around the outside at turn 14.
"I could see that his tyres were going off, so I just gave some pressure and then I have to get past him because obviously some people changed to new tyres and they were catching us quickly," said Raikkonen. "I managed to pass him and pull away and luckily nobody managed to catch me in the end. So not too bad."
It was a different story further back. The McLarens of Button and Sergio Perez and the Saubers of Nico Hulkenberg and Esteban Gutierrez also tried to make the stratagem work, but closer to the chasing pack of Webber, Rosberg and Hamilton, they could not find adequate pace and the trio, on new tyres, soon closed in and got by.
Webber climbed to fourth and began to bear down on Raikkonen. In the closing laps, however, he was told to short shift and then a lap from home he reported that he had no power. With flames pouring from the back of his Red Bull he pulled over.
That meant Rosberg finished fourth, with Hamilton fifth in the second Mercedes. Felipe Massa finished sixth for Ferrari, with the McLarens of Button and Perez in seventh and eighth respectively. Ninth went to Hulkenberg and the final point of the day was taken by Adrian Sutil.
2013 Singapore Grand Prix – Race result
1. Sebastian Vettel Red Bull Racing 61 Winner 25
2. Fernando Alonso Ferrari            61 +32.6 secs 18
3. Kimi Räikkönen Lotus 61 +43.9 secs 15
4. Nico Rosberg Mercedes 61 +51.1 secs 12
5. Lewis Hamilton Mercedes 61 +53.1 secs 10
6. Felipe Massa Ferrari 61 +63.8 secs 8
7. Jenson Button McLaren 61 +83.3 secs 6
8. Sergio Perez McLaren 61 +83.8 secs 4
9. Nico Hulkenberg Sauber 61 +84.2 secs 2
10. Adrian Sutil Force India 61 +84.6 secs 1
11. Pastor Maldonado Williams 61 +88.4 secs
12. Esteban Gutierrez Sauber 61 +97.8 secs
13. Valtteri Bottas Williams 61 105.161+ secs
14. Jean-Eric Vergne Toro Rosso 61 + 113.512 secs
15. Mark Webber Red Bull Racing 60 +1 Lap
16. Giedo van der Garde Caterham 60 +1 Lap
17. Max Chilton Marussia 60 +1 Lap
18. Jules Bianchi Marussia 60 +1 Lap
19. Charles Pic Caterham  60 +1 Lap
20. Paul di Resta Force India 54 Accident
Ret Romain Grosjean Lotus 37 Pneumatics
Ret Daniel Ricciardo Toro Rosso 23 Accident