Vettel wins eighth in a row in US
Red Bull driver takes dominant eighth win of season to take record for consecutive victories.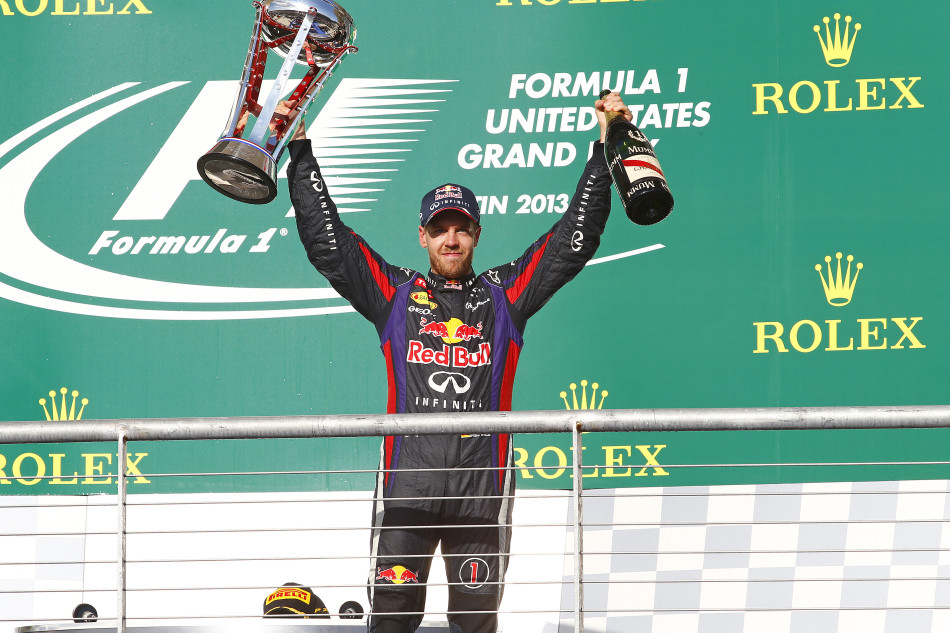 Sebastian Vettel took a commanding win at Austin's Circuit of the Americas to win the US Grand Prix for the first time and break Michael Schumacher's nine-year old record for most consecutive wins in a season into the bargain.
Starting from pole, Vettel cruised to victory at COTA, only being headed for two laps following his sole pit stop for the harder of the two tyre compounds on offer on lap 28.
After team-mate Mark Webber and brief leader Romain Grosjean then visited pit lane for their stops, Vettel resumed at the front and controlled proceedings until the end.
After landing his eighth win of the season, which sent him past Schumacher's 2004 mark, Vettel admitted the achievement was difficult to put into words.
"It's impossible to know what to say," he said. "The car was fantastic. It was a bit tight at the start; Romain had a good start [and] initially I didn't know whether it would be enough. It's tough judgement up the hill and then I just tried to focus on myself. We had incredible pace again in the car and could control the gaps. Eight in a row, I don't know what to say."
Behind Vettel the battle for second place was a nip and tuck affair between Grosjean and Webber.
The Australian had started alongside team-mate Vettel on the front row, but got away badly from the dirty side of the track and was passed by Grosjean and Mercedes' Lewis Hamilton as the field swept through the first turn.
Webber eventually seized third place from Hamilton on lap 13 with a pass at Turn 12 under DRS and set off after Grosjean.
And that was the shape of the Red Bull driver's race until the flag. He hassled and harried, pushed and probed but no matter what he tried Grosjean remained resolute, defending well and using his KERS judiciously as Webber tried to maximise the twin DRS zones in place at COTA.
"A good race," said a delighted Grosjean after scoring his sixth podium finish of the season and his best result since the Canadian Grand Prix of 2012. "I got a good start, I could pass Mark and almost got Sebastian. The car was working very well today. I'm very proud to represent Lotus and my guys that are working in Enstone. It's a fantastic team."
For Webber it was a bittersweet seventh podium finish of the season, the Australian admitting that losing out on pole cost him in the race.
"Pole position was very important yesterday, I knew it would cost me a better result today, so a little bit disappointed not to qualify better." he said. "We knew it was not going to be the easiest to get into turn one from there. We had a good launch, a good start, but then obviously we all wanted to be on the outside. I got a little bit boxed in and then I had to pass Lewis.
"After that it was not easy to pass Romain," he added. "He drove very well. He was very clean on the exit of eight, nine."
Behind the top three, Hamilton's fourth-placed finish ahead of Fernando Alonso, coupled with Nico Rosberg's ninth place gives Mercedes a slightly bigger advantage over Ferrari in the battel for second place in the Constructors' Championship. The now lead Ferrari by 15 points ahead of the final round in Brazil. Grosjean's second place leaves Lotus on 315 points, 18 behind Ferrari.
Nico Hulkenberg put in another good performance for Sauber to take sixth place. His eight points leave the Swiss team in seventh place in the teams' battle, 21 ahead of Toro Rosso.
Sergio Perez finished seventh for McLaren and behind him Valtteri Bottas took his first career points with an excellent drive to eighth place for Williams. With Rosberg ninth for Mercedes, Jenson Button claimed the final points position.
2013 United States Grand Prix – Race Result
1 Sebastian Vettel Red Bull Racing 56 1:39:17.148 25
2 Romain Grosjean Lotus 56 +6.2 secs 18
3 Mark Webber Red Bull Racing 56 +8.3 secs 15
4 Lewis Hamilton Mercedes 56 +27.3 secs 12
5 Fernando Alonso Ferrari 56 +29.5 secs 10
6 Nico Hulkenberg Sauber 56 +30.4 secs 8
7 Sergio Perez McLaren 56 +46.6 secs 6
8 Valtteri Bottas Williams 56 +54.5 secs 4
9 Nico Rosberg Mercedes 56 +59.1 secs 2
10 Jenson Button McLaren 56 +77.2 secs 1
11 Daniel Ricciardo Toro Rosso 56 +81.0 secs
12 Jean-Eric Vergne Toro Rosso 56 +84.5 secs
13 Felipe Massa Ferrari 56 +86.9 secs
14 Esteban Gutierrez Sauber 56 +91.7 secs
15 Heikki Kovalainen Lotus 56 +95.0 secs
16 Paul di Resta Force India 56 +96.8 secs
17 Pastor Maldonado Williams 55 +1 Lap  
18 Jules Bianchi Marussia 55 +1 Lap
19 Giedo van der Garde Caterham 55 +1 Lap
20 Charles Pic Caterham 55 +1 Lap  
21 Max Chilton Marussia 54 +2 Laps
Ret Adrian Sutil Force India 0 Accident