Vettel victorious as Webber waves farewell
Vettel takes record-equalling 13th win of season as Webber signs off F1 career with second place.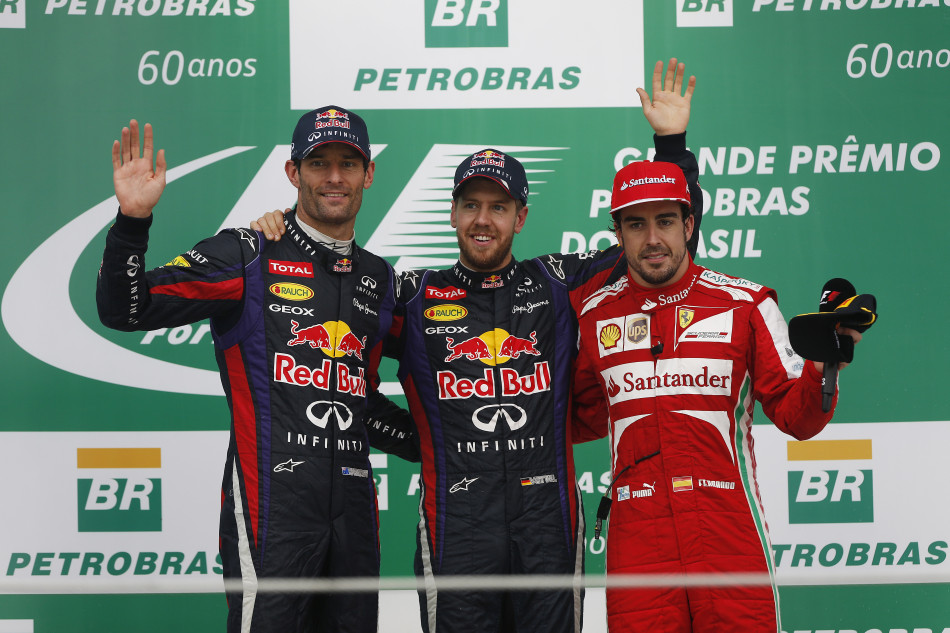 At Interlagos, Sebastian Vettel took a record-equalling ninth win in succession, as Mark Webber signed off on his Formula One career with a second place that delivered Red Bull Racing a fifth one-two finish of the season. Fernando Alonso was third for Ferrari.
Vettel's victory, which also drew him level with Michael Schumacher's 2004 record of 13 wins in a single season, was a comfortable one, save for a few key moments.
Starting from the 45th pole position of his career, the German made an uncharacteristically poor start, allowing Nico Rosberg to steal the lead in Turn One. The Mercedes man wasn't there for long, however. Vettel muscled past Rosberg on the pit straight at the end of the first tour and then streaked away to build a solid gap.
His lead was briefly threatened in his second stop on lap 47 when his team were unprepared for his arrival but even then the only threat came from Webber in second place and the Australian was already steering his RB9 into the pit lane to queue up behind his team-mate for a change of tyres.
The remaining laps were simply a case of race management for Vettel. Webber closed the gap for a short period soon after their pit stops, but Vettel had proceedings well in hand and responded with a burst of pace that eventually saw him cross the line just over 10 seconds clear of the Australian.
"I'm actually quite sad that this season comes to an end," said Vettel afterwards. "I think the last races, since the summer break… to win every race is unbelievable. The car has been phenomenal. Just kept getting better."
Vettel also pointed to the difficulty of the final laps of the race, when fog and persistent drizzle threatened to influence the outcome.
"The last laps were very difficult with the rain because you could see the fog is coming, [then] it's leaving, so it was very difficult to judge," he said.
Webber's march to second place was, typically, a more battling affair. Starting fourth he too made a poor start and dropped to fifth behind Lewis Hamilton, Alonso, Vettel and Rosberg.
He was soon past Hamilton, though, overtaking the Mercedes on lap two in Turn Six. He then passed Rosberg, who had fallen to P3, and soon became involved in a tussle for P2 with regular sparring partner Fernando Alonso. Mark passed the Ferrari man under DRS into Turn One on lap 13 but then lost P2 during a slow first stop.
There was no halting the Aussie though and just two laps after his stop he passed the Spaniard once again. From there, it was simply a case of powering to the finish for Webber.
"It was a very good finish to my career," he said afterwards. "I had a good fight with all the guys I've enjoyed fighting with for most of my career: Seb, Fernando, Lewis, Nico, all the guys who have been in the window for the last five or six years.
"I want to thank the team, I enjoyed the last laps," he added. "It was a very nice way to finish. I want to thank everyone in Australia. I wouldn't be here where I am without the support in the early days. It's been a thoroughly enjoyable career. A great journey, one of which I'm proud."
Behind the front pair, the race was all about the battle for second place in the Constructors' Championship, with Ferrari and Mercedes involved in a tight contest.
Mercedes started the race 15 points clear and despite Alonso and team-mate Felipe Massa running as high as third and fourth respectively midway through the race, the German squad weren't in real danger, as with Rosberg fifth and Hamilton seventh the advantage still lay with them.
It remained the case even as drama hit both teams. First Felipe Massa was handed a drive-through penalty for crossing the white line at the pit entry, which dropped him to ninth. That seemed to swing the pendulum very firmly towards Mercedes, but then Hamilton clashed with Williams' Valtteri Bottas, ending the Finn's race and earning himself a drive through.
By the time the flag fell, Alonso was third, with Massa seventh in his final race for Ferrari. Rosberg, meanwhile, finished fifth and Hamilton ninth, the results handing Mercedes 12 points, enough to take them clear of Ferrari in the overall standings, despite the Scuderia's 21-point haul.
Elsewhere, excellent drives from Jenson Button, 14th to fourth, and Sergio Perez, 19th to sixth gave McLaren a boost at the end of a difficult season. The team ends the campaign with fifth place in the Constructors' Championship behind Lotus.
Nico Hulkenberg took more points for Sauber with ninth place, leaving the Swiss team seventh in the teams' standings, behind Force India. Finally, Daniel Ricciardo bade farewell to Toro Rosso with a point for tenth place. He will, of course, replace the departing Webber at Red Bull Racing in 2014.

2013 Brazilian Grand Prix – Race Result
1 Sebastian Vettel Red Bull Racing 71 1:32:36.300 25
2 Mark Webber Red Bull Racing  71 +10.4 secs 18
3 Fernando Alonso Ferrari +18.9 secs 15
4 Jenson Button McLaren 71 +37.3 secs 12
5 Nico Rosberg Mercedes 71 +39.0 secs 10
6 Sergio Perez McLaren 71 +44.0 secs 8
7 Felipe Massa Ferrari 71 +49.1 secs 6
8 Nico Hulkenberg Sauber-Ferrari 71 +64.2 secs 4
9 Lewis Hamilton Mercedes 71 +72.9 secs 2
10 Daniel Ricciardo Toro Rosso 70 +1 Lap 7 1
11 Paul di Resta Force India70 +1 Lap  
12 Esteban Gutierrez Sauber 70+1 Lap  
13 Adrian Sutil Force India 70 +1 Lap
14 Heikki Kovalainen Lotus 70 +1 Lap  
15 Jean-Eric Vergne Toro Rosso 70 +1 Lap  
16 Pastor Maldonado Williams 70 +1 Lap  
17 Jules Bianchi Marussia 69 +2 Laps
18 Giedo van der Garde Caterham 69 +2 Laps
19 Max Chilton Marussia 69 +2 Laps
Ret Charles Pic Caterham 58 Mechanical
Ret Valtteri Bottas Williams 45 Accident
Ret Romain Grosjean Lotus  2 Engine