Vettel sets the pace in India
Sebastian Vettel finished at the top of the timesheet in Friday's first practice session at India's Buddh International Circuit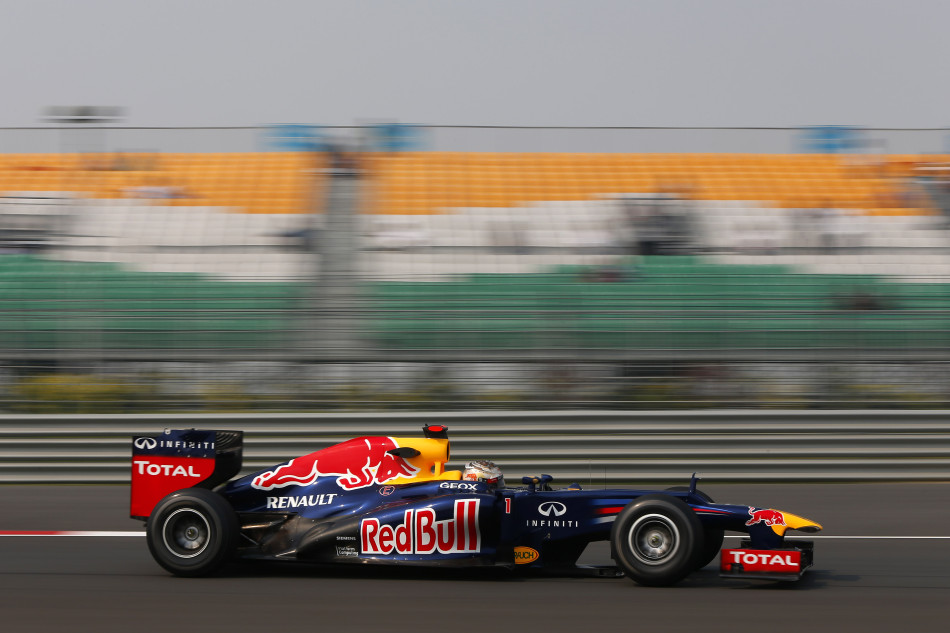 Sebastian Vettel demonstrated that Red Bull Racing are again shaping up as the team to beat as he took top spot in the first free practice session ahead of Sunday's Indian Grand Prix.
The defending champion, whose three wins from the last three grands prix have seen him seize the lead in the Driver' Championship, took his time before making an impression, however.
After an installation lap at the start of the session, he and team-mate Mark Webber sat in the Red Bull Racing garage for close on an hour before emerging to take advantage of improving track conditions.
Webber leapt to sixth with his first timed lap, with a more cautious Vettel climbing to 18th, but thereafter the duo swapped table topping times with the McLarens of Lewis Hamilton and Jenson Button and the Ferrari of Fernando Alonso until the end of the session.
It was Vettel who ended up on top, however, the German setting a time of 1:27.619, just over three tenths ahead of Button. The McLaren driver was followed, a tenth further back, by Alonso, with Hamilton fourth and Webber fifth as the clock hit the 1.5-hour mark.
Nico Rosberg took sixth spot ahead of Ferrari's Felipe Massa, while Michael Schumacher slotted into seventh place ahead of an impressive looking Daniel Ricciardo of Toro Rosso. Kimi Raikkonen closed out the top 10 for Lotus.
Elsewhere, with Sergio Pérez reportedly ill, Sauber gave a grand prix weekend debut to their other young Mexican driver Esteban Gutierrez.
The third-placed man in this year's GP2 championship is widely tipped to be McLaren-bound Perez's replacement at Sauber next year and his opening 29 laps in F1 were largely incident free, save for a small off-track excursion at turn nine. He finished is morning's work in 20th place with a time of 1:31.212, three and half seconds behind Vettel's best time. Perez was expected to be back in the car for the afternoon however.