Vettel quickest in wet final practice at Silverstone
Daniel Ricciardo completes Red Bull Racing one-two as Mercedes hold back.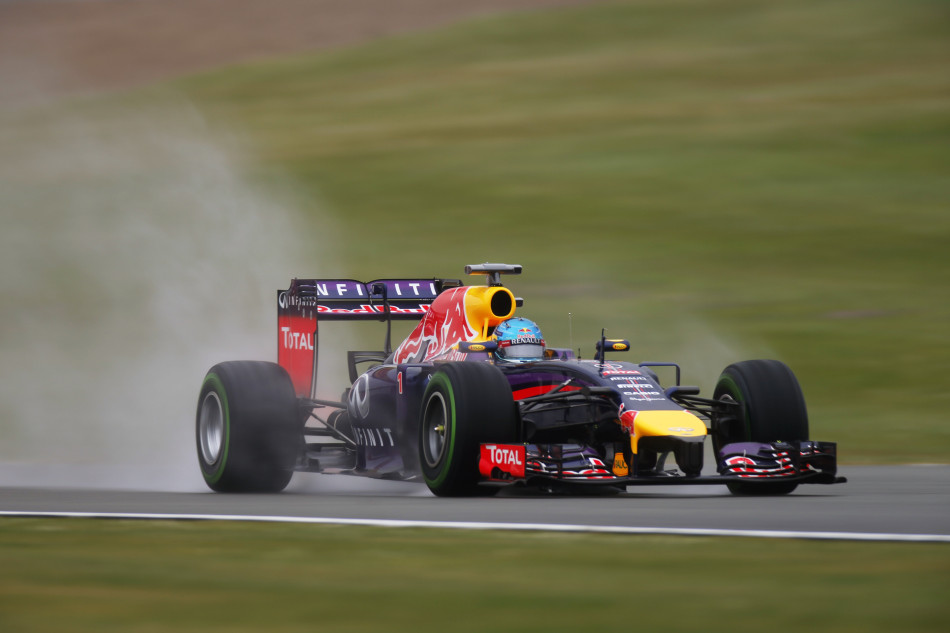 Red Bull Racing moved to the top of the timesheets as wet weather led to a disjointed final practice session ahead of qualifying for the British Grand Prix.
Sebastian Vettel went quickest, on intermediate tyres, with a lap of 1:52.522, to finish 0.109 ahead of team-mate Daniel Ricciardo. Lotus' Pastor Maldonado was third fastest, half a second adrift of the Red Bulls.
However, aside from a number of installation laps, Mercedes' Nico Rosberg and Lewis Hamilton and Ferrari's Fernando Alonso, Friday's quickest drivers in the dry, opted to remain in the garage and none set a time during the unpredictable session.
The Mercedes drivers' outings were characterized by quick sectors, however, but though Hamilton was at one stage half a second up on Vettel's time, he aborted the lap and returned to the pit lane.
The session began in uncertain fashion with a damp but drying track giving teams a tyre selection headache. Rosberg ventured out but having described the surface as frustratingly somewhere between intermediates and slicks, he returned to the garage to wait for a change in the weather.
It was a tactic employed by most and they rewarded as the half hour mark approached and drizzle turned to steadier rain, prompting teams to bolt on a mxi of intermediate and wet tyres in advance of a qualifying session that forecaster say has a good chance of being wet.
Max Chilton, though, did not take to the track. The Marussia driver completed an installation lap early on but after returning to the garage a gearbox problem was discovered and the change of unit led to him sitting out the remainder of the session. The gearbox swap means Chilton is set to get a five-place grid penalty for tomorrow's race.
There was further disappointment for Marussia when Jules Bianchi lost control at Turn 15 and hit the barriers, though with no great damage sustained. Turn 15 also caught out Sauber's Adrian Sutil and Hamilton, though both were able to continue on.
With Maldonado third, fourth place went to his Lotus team-mate Romain Grosjean. In spite of his off, Sutil's pace was good enough for fifth, ahead of Toro Rosso's Daniil Kvyat, who recorded the highest number of laps during the tricky session, with 15.
McLaren's Kevin Magnussen was seventh ahead of team-mate Jenson Button. Ninth place went to Williams' Valtteri Bottas and the top 10 order was completed by Ferrari's Kimi Raikkonen.

2014 British Grand Prix – Free Practice 3 Times
1 Sebastian Vettel Red Bull Racing 1:52.522 6
2 Daniel Ricciardo Red Bull Racing 1:52.631 0.109 6
3 Pastor Maldonado Lotus 1:53.044 0.522 10
4 Romain Grosjean Lotus 1:53.566 1.044 6
5 Adrian Sutil Sauber 1:53.585 1.063 12
6 Daniil Kvyat Toro Rosso 1:53.654 1.132 15
7 Kevin Magnussen McLaren 1:53.911 1.389 5
8 Jenson Button McLaren 1:54.041 1.519 6
9 Valtteri Bottas Williams 1:54.217 1.695 4
10 Kimi Räikkönen Ferrari 1:54.558 2.036 5
11 Jean-Eric Vergne Toro Rosso 1:54.602 2.080 6
12 Esteban Gutierrez Sauber 1:54.761 2.239 13
13 Felipe Massa Williams 1:55.003 2.481 4
14 Nico Hulkenberg Force India 1:55.688 3.166 6
15 Sergio Perez Force India 1:56.918 4.396 7
16 Marcus Ericsson Caterham 1:57.091 4.569 10
17 Jules Bianchi Marussia 1:57.566 5.044 6
18 Kamui Kobayashi Caterham 1:57.914 5.392
19 Max Chilton Marussia
20 Fernando Alonso Ferrari 
21 Nico Rosberg Mercedes 
22 Lewis Hamilton Mercedes