Vettel in ominous form
Red Bull Racing driver dominates FP2 at Buddh International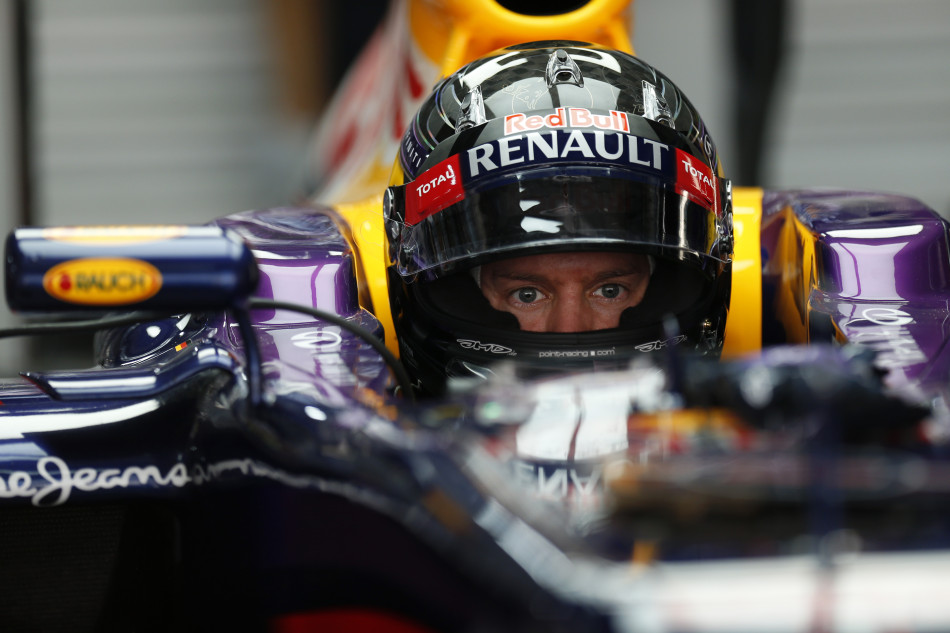 Having finished FP1 with a clear advantage over his rivals, Sebastian Vettel maintained his advantage on Friday afternoon. The Red Bull Racing driver was the only driver to dip into the 1m25s bracket during FP2, finishing the 90-minute session with a best time of 1:25.722. As had been the case in the morning, his nearest challenger was teammate Mark Webber, the Australian finishing just under three-tenths of a second in arrears.
Behind the Red Bulls, Romain Grosjean was best of the rest for Lotus, ahead of Mercedes' Lewis Hamilton. Fernando recovered from his morning gearbox issues to finish fifth quickest. Nico Rosberg was sixth in the second Mercedes, Felipe Massa seventh in the second Ferrari and Kimi Räikkönen eighth in the second Lotus. McLaren completed the top ten with Sergio Pérez ninth fastest and Jenson Button tenth.
The session followed the usual FP2 pattern with cars resuming practice using the medium tyre, before switching to the soft tyre part-way through the session. In the early exchanges on the harder compound Vettel quickly moved into P1, albeit considerably down on his best time from the morning session. Radio conversations with his race engineer suggested Vettel had a non-functional KERS. He was soon superseded in the standings by Webber and then Rosberg.
Having curtailed his first run, Vettel was an early-adopter of the soft tyre. Twenty-eight minutes into the session he dropped under the 1m26s barrier and set what would be the fastest time of the afternoon. Vettel's improvement of over 1.5s on the soft rubber was exaggerated by his earlier KERS issue but even taking that into account it is clear the yellow-banded Pirelli have a pace advantage of around a second.
As the session moved toward the halfway point, Vettel's challengers made their own short runs on the soft rubber. None got close to vanquishing the world champion from the top of the order, however, and once the cars were fuelled for long rules, the timesheet was set.
The second half of the session demonstrated the fragility of the soft compound on the sinuous, high-speed Buddh International track with several drivers returning to the pits with heavily worn tyres. The only major incident was a stoppage for Pastor Maldonado. His Williams shed a right-front wheel nut and he pulled off the circuit with a puncture.
2013 Indian Grand Prix Free Practice Two times
1  Sebastian Vettel Red Bull Racing 1:25.722
2  Mark Webber Red Bull Racing 1:26.011  +0.289
3  Romain Grosjean Lotus 1:26.220  +0.498
4  Lewis Hamilton Mercedes 1:26.399  +0.677
5  Fernando Alonso Ferrari 1:26.430  +0.708
6  Nico Rosberg Mercedes 1:26.582  +0.860
7  Felipe Massa Ferrari 1:26.601  +0.879
8  Kimi Räikkönen Lotus 1:26.632  +0.910
9  Sergio Pérez McLaren 1:26.857  +1.135
10  Jenson Button McLaren 1:26.972  +1.250
11  Daniel Ricciardo Toro Rosso 1:27.304  +1.582
12  Adrian Sutil Force India 1:27.375  +1.653
13  Valtteri Bottas Williams 1:27.429  +1.707
14  Nico Hülkenberg Sauber 1:27.491  +1.769
15  Paul di Resta Force India 1:27.608  +1.886
16  Pastor Maldonado Williams 1:27.720  +1.998
17  Esteban Gutiérrez Sauber 1:27.949  +2.227
18  Jean-Eric Vergne Toro Rosso 1:28.431  +2.709
19  Giedo van der Garde Caterham 1:28.692  +2.970
20  Jules Bianchi Marussia 1:28.799  +3.077
21  Charles Pic Caterham 1:29.366  +3.644
22  Max Chilton Marussia 1:30.164  +4.442