Vettel gambles his way to Singapore pole
Red Bull driver claims 41st start from the front as tyre-saving strategy pays off.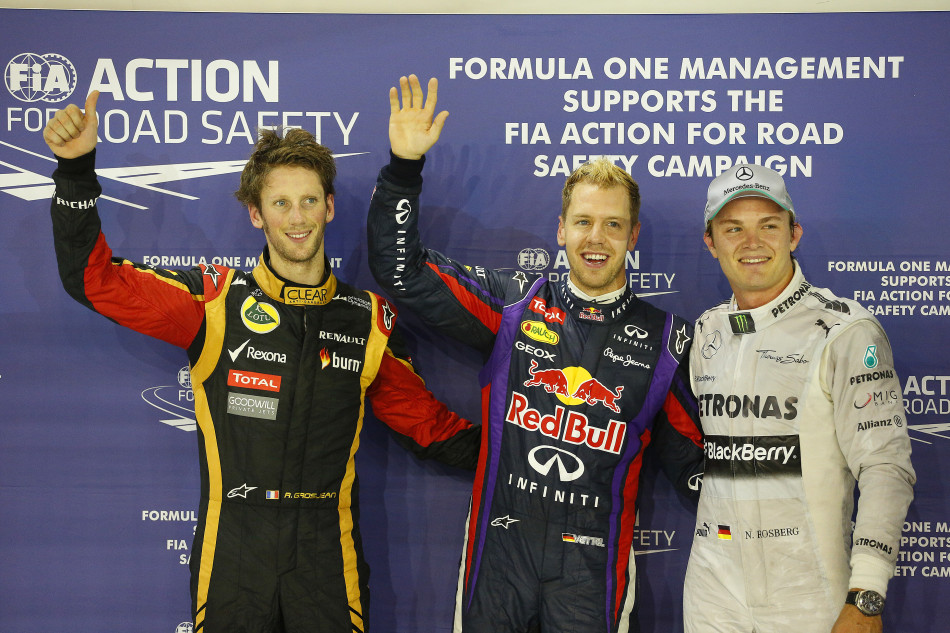 Sebastian Vettel will start the Singapore Grand Prix from the front of the grid after claiming his 41st career pole position at the Marina Bay street circuit. The Red Bull driver was forced to endure a nervous last minute as he watched the final unfold from his team's garage.
Vettel's first run in Q3 had netted him a time of 1:42.841, six tenths clear of second-placed Mercedes man Nico Rosberg. As cars streamed out of pit lane for a second tilt at pole, the Red Bull Racing pit wall decided to gamble on the gap being sufficient and Vettel's session was halted, thus saving a new set of supersoft tyres for the race.
But as team-mate Mark Webber lit up the timing screens with a session-best first sector and Rosberg and Lotus' Romain Grosjean did the same in sector two, Vettel admitted that his nerves began to jangle.
"It's a weird feeling," he said. "You stand in the garage when there's roughly two minutes to go in the session and you know it's too late. But then it's much worse when you see the others at the final attempt and you know there's nothing you can do. I was watching the sector times very closely."
And the result was close. Rosberg delivered an excellent final run to take five tenths out of his time from the first outing and he crossed the line just under a tenth of a second adrift of the Red Bull driver.
"It was very close in the end with Nico," said Vettel. "That's a great feeling, because it could go wrong but I'm very happy with the result. The car's been phenomenal all weekend. Yesterday I think the gap was a bit of a surprise. Today's been more what we expected – especially with Mercedes being very close behind."
Rosberg, meanwhile, said he felt he could have found the tenth to steal pole.
"Sebastian has been really quick the whole weekend but it was very, very close in the end," he said. "A pity, because one tenth more, with the way they gambled in the last qualifying, one tenth more would have been possible somehow. That would have been great but second place is still a good result, a great result. And it gives me a good position to start the race tomorrow. I'm also very confident about our race pace. It's looking OK, so I think a great result is possible."
The hour-long session began with a straightforward Q1 segment in which Paul Di Resta, Pastor Maldonado, Charles Pic, Giedo van der Garde, Jules Bianchi and Max Chilton were eliminated.
With the midfield closely packed the battle to make it through to Q3 was tight and in the end just under three tenths of a second separated Jenson Button in 10th and through to the final segment and team-mate Sergio Perez 14th and out. Also eliminated was Nico Hulkenberg, who qualified in 11th place. If that was a surprise, due to the German being highly competitive in the earlier final practice session, it was even more of a shock to see team-mate Esteban Gutierrez sail through to Q3 in P7, the result of a superb final lap in the second segment.
Elsewhere, Jean-Eric Vergne in 12th, Kimi Raikkonen, 13th, Adrian Sutil in 15th and Valtteri Bottas in 16th were all knocked out.
And so to Q3. At the front the battle was all about the Red Bulls, Mercedes and the sole remaining Lotus of Grosjean. Lewis Hamilton put the second Mercedes into fifth place and behind him Felipe Massa delivered a strong lap to qualify ahead of Ferrari team-mate Fernando Alonso for the fifth time this year. Alonso qualified seventh. Button is set to line up eighth for McLaren and the fifth row of the grid will be occupied by Daniel Ricciardo in ninth and Gutierrez in tenth place.
2013 Singapore Grand Prix – Qualifying result
1. Sebastian Vettel Red Bull Racing 1:42.841    
2. Nico Rosberg Mercedes 1:42.932
3. Romain Grosjean Lotus 1:43.058
4. Mark Webber Red Bull Racing 1:43.152
5. Lewis Hamilton Mercedes 1:43.254
6. Felipe Massa Ferrari 1:43.890
7. Fernando Alonso Ferrari 1:43.938
8. Jenson Button McLaren 1:44.282
9. Daniel Ricciardo Toro Rosso 1:44.439
10. Esteban Gutierrez Sauber 1:44.245

11. Nico Hulkenberg Sauber 1:44.555
12. Jean-Eric Vergne Toro Rosso 1:44.588
13. Kimi Räikkönen Lotus 1:44.658
14. Sergio Perez McLaren 1:44.752
15. Adrian Sutil Force India 1:45.185
16. Valtteri Bottas Williams 1:45.388      

17. Paul di Resta Force India 1:46.121
18. Pastor Maldonado Williams 1:46.619
19. Charles Pic Caterham 1:48.111
20. Giedo van der Garde Caterham 1:48.320
21. Jules Bianchi Marussia 1:48.830
22. Max Chilton Marussia 1:48.930