Vettel fastest in Belgian Grand Prix FP2
For FP2 the sun shone on Spa-Francorchamps and Red Bull Racing's Sebastian Vettel – but the World Champion did not come through the session unscathed.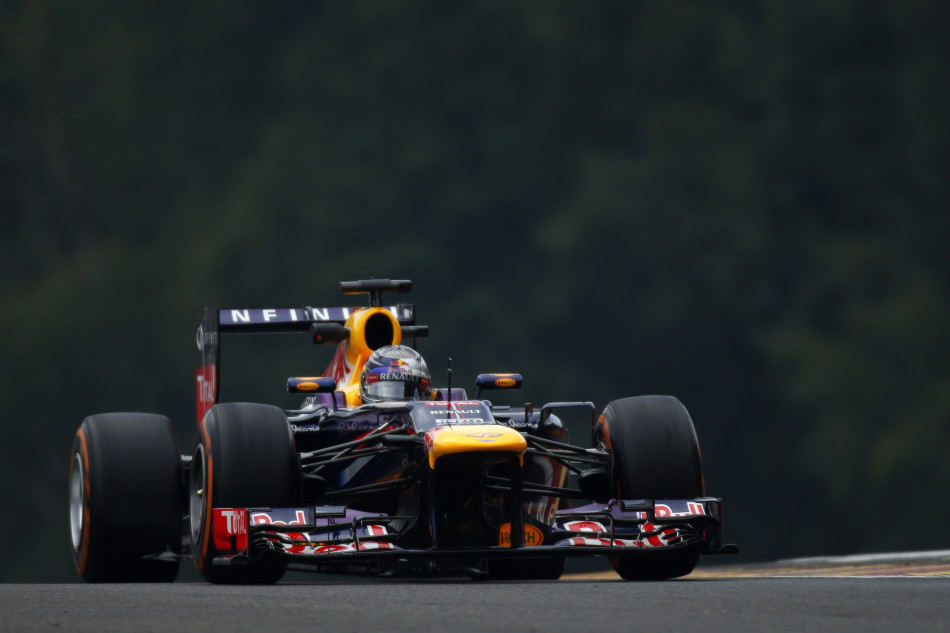 The Circuit de Spa-Francorchamps displayed all its legendary contrariness on Friday. After the dark, low skies and rain of the morning, the clouds cleared for a dry, sunny afternoon under blue skies. As such the pace picked up for FP2 as the Belgian Grand Prix field got down to serious practice on slick tyres.
Sebastian Vettel finished the session in P1. His best time of 1:49.331 was five-hundredths of a second better than that of team-mate Mark Webber. The two Red Bull Racing drivers were the only men into the 1m49s bracket, with third fastest Romain Grosjean eight-tenths adrift for Lotus. Behind him Felipe Massa was fourth quickest in the Ferrari and Jean-Eric Vergne was fifth for Toro Rosso. Then came the second Lotus and second Ferrari of Kimi Räikkönen and Fernando Alonso respectively. Sergio Pérez was eighth fastest for McLaren, ahead of Nico Rosberg's Mercedes. Paul di Resta rounded out the top ten for Force India. While the Red Bulls were clear of the field, there was only four-tenths between third and tenth.
Vettel set his time just after the half-hour mark, near the start of his first run on the medium compound option tyre. It narrowly edged-out Webber who had started his own medium run some seven minutes earlier. No-one else looked like getting close and as the field gradually shifted over to heavy-fuel runs, the likelihood of Vettel being challenged receded.
That was not the end of the action, however.  With 20 minutes to go, Giedo van der Garde went wide at Stavelot, his Caterham got onto the kerb and snapped into a spin that took him into the barriers. While that was happening, in an unconnected event, Vettel was touring slowly back to the pits, having suffered a puncture to the right rear, and limped around the track with the carcass wobbling on the wheel. He safely recovered to his garage but the tyre had damaged the rear floor and his session ended 20 minutes early. "We don't know what happened," said Vettel afterwards. "We lost the rear right, very suddenly, so we need to have a look – Pirelli is working on finding out why it happened. Other than that, it was a positive day."
2013 Belgian Grand Prix Free Practice Two times
1 Sebastian Vettel Red Bull Racing 1:49.331
2 Mark Webber Red Bull Racing 1:49.390 +0.059
3 Romain Grosjean Lotus 1:50.149 +0.818
4 Felipe Massa Ferrari 1:50.164 +0.833
5 Jean-Eric Vergne Toro Rosso 1:50.253 +0.922
6 Kimi Räikkönen Lotus 1:50.318 +0.987
7 Fernando Alonso Ferrari 1:50.510 +1.179
8 Sergio Pérez McLaren 1:50.536 +1.205
9 Nico Rosberg Mercedes 1:50.601 +1.270
10 Paul di Resta Force India 1:50.611 +1.280
11 Adrian Sutil Force India 1:50.629 +1.298
12 Lewis Hamilton Mercedes 1:50.751 +1.420
13 Nico Hülkenberg Sauber 1:50.972 +1.641
14 Pastor Maldonado Williams 1:50.991 +1.660
15 Jenson Button McLaren 1:51.195 +1.864
16 Daniel Ricciardo Toro Rosso 1:51.447 +2.116
17 Valtteri Bottas Williams 1:51.568 +2.237
18 Esteban Gutiérrez Sauber 1:51.644 +2.313
19 Giedo van der Garde Caterham 1:53.157 +3.826
20 Charles Pic Caterham 1:53.251 +3.920
21 Jules Bianchi Marussia 1:53.482 +4.151
22 Max Chilton Marussia 1:54.418 +5.087