Vettel in control in final free practice at Spa
Championship leader sets the pace ahead of qualifying in Belgium.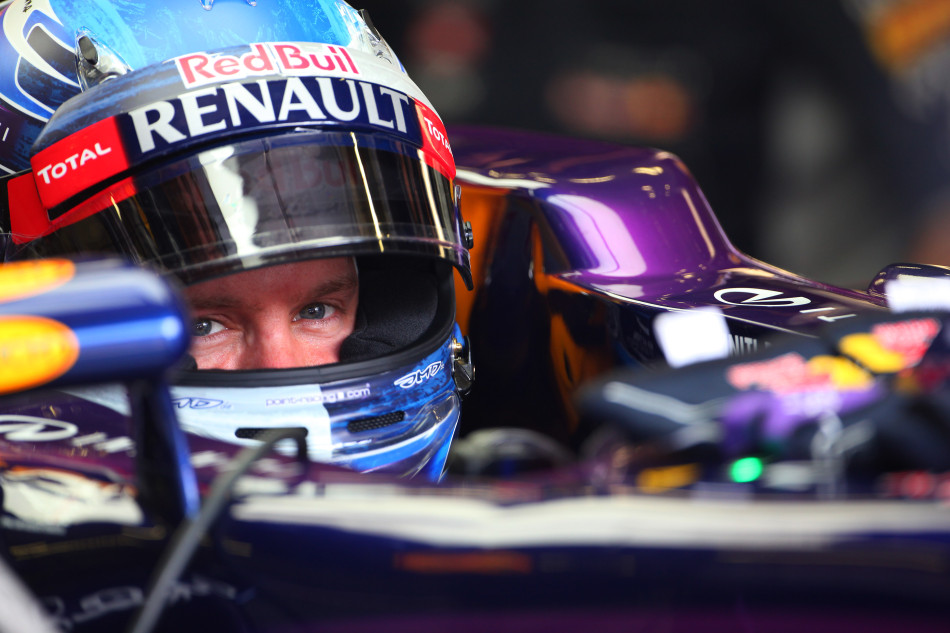 Sebastian Vettel set the fastest time of the final free practice session in Belgium, finishing just a tenth of a second clear of Ferrari's Fernando Alonso with Mark Webber third for Red Bull Racing.
Run under overcast skies the session began in traditional fashion with the field beginning with longer runs, this weekend conducted on Pirelli's hard compound tyre.
The incident-free opening 45 minutes saw Toro Rosso's Jean-Eric Vergne at the top of the timesheet with a lap of 1:49.479, almost three tenths of a second ahead of Vettel, with Kimi Raikkonen third.
Vergne has been in impressive form so far and continued the good work when the field made the switch to the quicker medium tyre in the final quarter of the one-hour session.
Adrian Sutil was the first out on the option tyre and promptly jumped to P1 with a lap 1:49.135, almost 1.6 seconds quicker than his best lap on the hard compound. His time was swiftly eclipsed by Alonso, with team-mate Felipe Massa slotting into P2. Webber then split the Ferraris. Vergne was determined not to be left out, however, and the Frenchman joined the party by taking third place from Massa.
Vettel, though, was close behind the Toro Rosso man and lapping quicker. A solid first part of the lap was followed by the morning's quickest middle sector and that gave the Red Bull Racing driver the platform to steal P1 from Alonso with just over a minute to go. The Spaniard, already out of his Ferrari and watching the action in the Ferrari garage looked on impassively.
With Massa holding on to fifth, sixth place went to McLaren's Jenson Button. Esteban Gutierrez impressed for Sauber with seventh place, ahead of Lotus's Romain Grosjean. Nico Rosberg took ninth place, with Mercedes looking less than comfortable in the conditions – team-mate Lewis Hamilton finished 12th – and Kimi Raikkonen was tenth for Lotus. 
2013 Belgian Grand Prix Free Practice Three results           
1 Sebastian Vettel Red Bull Racing 1:48.327
2 Fernando Alonso Ferrari 1:48.432 +0.105
3 Mark Webber Red Bull Racing 1:48.533 +0.206
4 Jean-Eric Vergne Toro Rosso 1:48.776 +0.449
5 Felipe Massa Ferrari 1:48.788 +0.461
6 Jenson Button McLaren 1:48.882 +0.555
7 Esteban Gutiérrez Sauber 1:48.930 +0.603
8 Romain Grosjean Lotus 1:48.967 +0.640
9 Nico Rosberg Mercedes 1:48.993 +0.666
10 Kimi Räikkönen Lotus 1:49.008 +0.681
11 Daniel Ricciardo Toro Rosso 1:49.035 +0.708
12 Lewis Hamilton Mercedes 1:49.046 +0.719
13 Adrian Sutil Force India 1:49.122 +0.795
14 Valtteri Bottas Williams 1:49.177 +0.850
15 Paul di Resta Force India 1:49.226 +0.899
16 Sergio Pérez McLaren 1:49.417 +1.090
17 Nico Hülkenberg Sauber 1:49.478 +1.151
18 Pastor Maldonado Williams 1:50.418 +2.091
19 Charles Pic Caterham 1:51.416 +3.089
20 Giedo van der Garde Caterham 1:51.800 +3.473
21 Jules Bianchi Marussia 1:52.221 +3.894
22 Max Chilton Marussia 1:53.507 +5.180