Verstappen scores his maiden win, Ocon consolidates his lead
The rookies confirmed that they are ready to seize power in the FIA F3 European Championship with the victories of Esteban Ocon (Prema Powerteam) and Max Verstappen (Van Amersfoort Racing) at Hockenheim.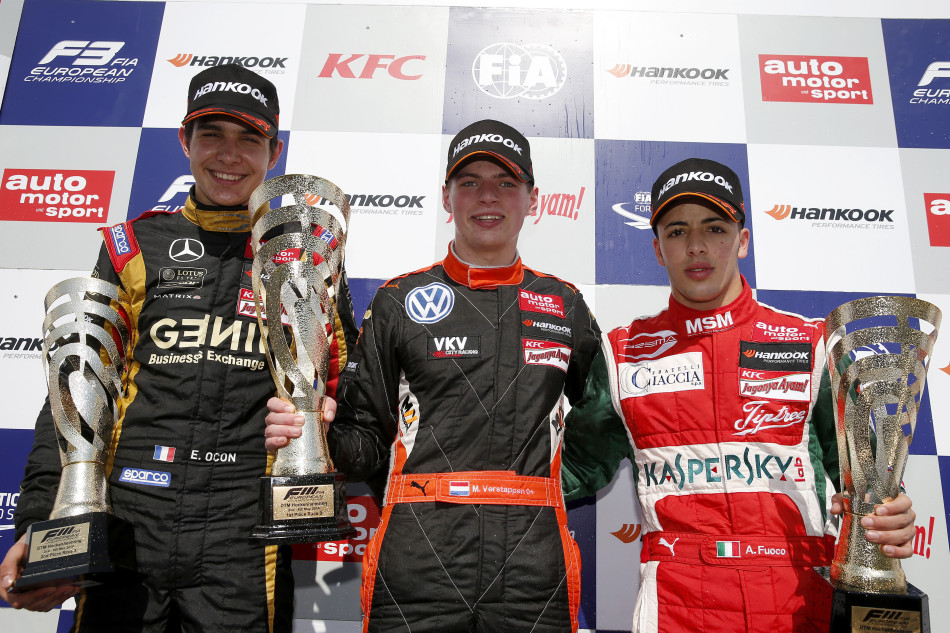 Pole position for race 2 was jinxed! In qualifying Tom Blomqvist (Jagonya Ayam with Carlin) was quickest, but he was handed a 10-place penalty for the next three races (races 2 & 3 at Hockenheim and race 1 in Pau) because of an engine change. This dropped the British back to 11th and handed pole to Max Verstappen.
However, on the formation lap the young Dutch driver stopped his car on the side of the track as he was unable to select a gear. So Esteban Ocon found himself first on the grid and made the best start. Over the 22-laps race he kept Antonio Giovinazzi (Jagonya Ayam with Carlin), who was ready to pounce on the Frenchman's slightest slip-up, behind him. The Lotus F1 team's junior driver never put a foot wrong and became the first to score two wins so far this season. "After the problems we had at the end of the first race, a victory was the best possible reaction," smiled Ocon. "Antonio was in my rear-view mirrors from start to finish so it wasn't easy at all."
Behind the leading duo there was a no-holds-barred scrap for third place. Ed Jones (Carlin) held off Felix Serralles (West-Tec F3) early on, then Lucas Auer (kftzeile24 Mücke Motorsport) and Tom Blomqvist caught him after breaking away from their rivals. The three drivers ran wheel to wheel until the chequered flag. Jones put up heroic resistance and managed to keep Auer and Blomqvist in check. "There was no let-up in the battle first of all with Felix Serralles and then with Lucas Auer and Tom Blomqvist," said the driver from Dubai. "It's a great reward for the whole team to score a second top-three finish on the bounce. As I said after the first race, now my aim's a victory."
Max Verstappen was on pole for the final race of the weekend. The CIK-FIA World Kart Champion made a perfect getaway from Esteban Ocon and Felix Rosenqvist (kftzeile24 Mücke Motorsport). While the Swede took advantage of the hectic opening laps he saw his hopes dashed when he had to stop because of a mechanical problem. Tom Blomqvist also lost out heavily as he was caught up in the various incidents, which led to the deployment of the safety car.
The three rookies, who have provided most of the excitement so far this season, were locked in battle for victory with Max Verstappen in front of Esteban Ocon and Antonio Fuoco (Prema Powerteam). A bit further back Antonio Giovinazzi and Lucas Auer were squabbling over fourth.
After several misadventures this weekend Max Verstappen scored his maiden win in the FIA Formula 3 European Championship from his former rivals in karts, Esteban Ocon and Antonio Fuoco. "Race two was very frustrating as I retired even before arriving on the grid due to an electrical problem," explained Jos Verstappen's son. "So I was determined to do a good job and above all to score points. I'm delighted with my first victory, which is also that of Van Amersfoort Racing in the FIA Formula 3 European Championship. I didn't really know what to expect before Silverstone. It went well in England and I said to myself that we were in with a good chance. Now it's on to Pau for my first race on a city circuit!"
By finishing second Ocon has made the break and will go to Pau firmly installed at the head of the overall classification with 36 points in hand over Antonio Fuoco and Tom Blomqvist dead-heating for second place. "It's been a positive weekend. I'm leading the championship but it's much too early to start making any calculations. I've never raced in Pau and I'm really looking forward to it. I haven't competed in France for a long time and I know that Pau's unique."
Rendezvous next weekend in France, when Formula 3 makes its return to the streets of Pau.