Two crunch weekends!
The outcome of the FIA Formula 3 European Championhip will be decided over two weekends: first of all, on the Vallelunga circuit before the showdown at Hockenheim!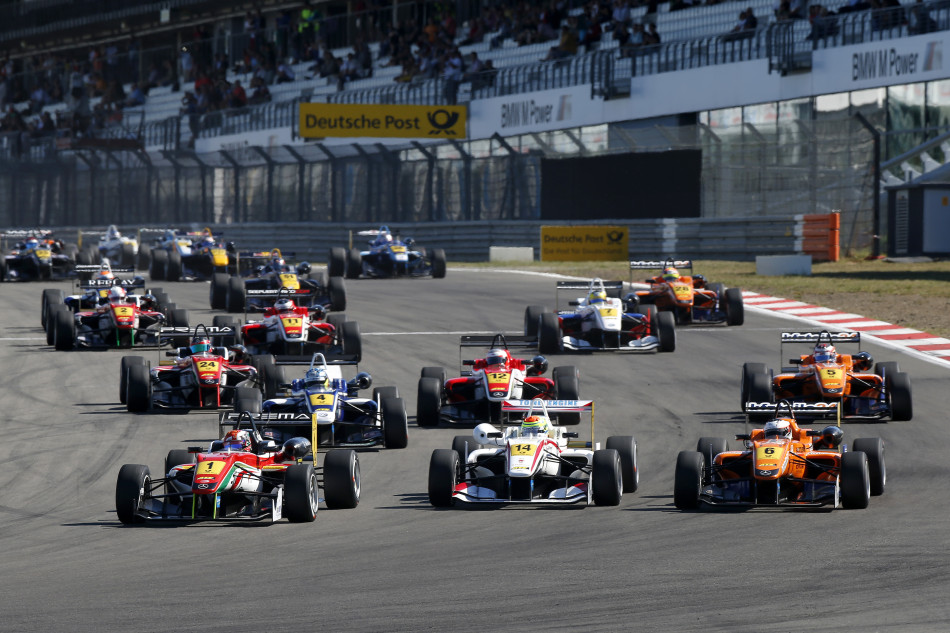 Will Marciello or Rosenqvist come out on top? First pointer this coming weekend in Italy. 
After 24 races only 9.5 points separate Raffaele Marciello (Prema Powerteam) and Felix Rosenqvist (kftzeile24 Mücke Motorsport). With six races to go till the end of the season the gap between the two title contenders in the 2013 FIA Formula 3 European Championship has never been so narrow! 
In Italy, Marciello will have the advantage of being on familiar territory, as he is one of the few drivers in the field who knows the Vallelunga layout. Nonetheless, the Ferrari Driver Academy protégé remains circumspect after his below-par performance at Zandvoort: "We weren't quick at Zandvoort. We lacked pace and we were never able to find the key to being competitive," admitted the Italian. "It's now pretty clear that the outcome of the championship will be decided at Hockenheim, but we'll have to be very focused at Vallelunga as its layout is fairly similar to Zandvoort's technically speaking. We have to improve our package. I've every intention of winning this championship that I've led since the first race!"
While Prema Powerteam and its drivers know Vallelunga, it will be kftzeile24 Mücke Motorsport's and Rosenqvist's very first visit to the Italian track. The Swedish driver and the German team will make the most of the free practice day on Friday with two 3-hour sessions on the programme to fine-tune their preparation. "Vallelunga will be a brand new discovery both for me personally and for the team, and there will inevitably be some question marks going into this weekend," said Felix. "We might begin this weekend with a slight disadvantage, but if we can only manage to find a strong set-up ahead of qualifying, I'm confident that we will be challenging near the front once again. I'm going to Italy in a very positive frame of mind following our recent success at Zandvoort, and I'm extremely focused on doing a good job this weekend."
Marciello's and Rosenqvist's team-mates could play a decisive role in the final result of the title battle. Prema Powerteam has a slight advantage as two of its drivers, Alex Lynn and Lucas Auer, are in third and fourth places respectively. This season both have already proved that they have what it takes to win races. In an ideal scenario, Marciello can dream of them taking big points away from Rosenqvist. However, the drivers in form at the moment in the Carlin and Fortec Motorsports teams shouldn't be forgotten either.
Besides Daniil Kvyat (Carlin) who isn't eligible to score points as he isn't entered for the full season, Jordan King (Carlin) and Harry Tincknell (Carlin) are both among the front-runners as the year ends and they are counting on finishing it on a high note. In the Fortec Motorsports camp, Luis Felipe Derani and Felix Serralles are determined to win a race before the curtain falls on the championship, while Tom Blomqvist (Eurointernational) and Sven Müller (Van Amersfoort Racing) are also drivers to be watched.
John Bryant-Meisner will make his debut in the FIA Formula 3 European Championship with Fortec Motorsports. The Swede has been among the front-runners in the Formel 3 Cup this season and he will also race at Hockenheim.
While the drivers' championship is more indecisive than ever Prema Powerteam could clinch the teams' championship on home turf! It has a lead of 165 points over kftzeile24 Mücke Motorsport and the Italian squad will leave Vallelunga as champion if the gap between it and its German rival is more than 129 points. 
In the context of the final of the Superstars World of Racing Championship, the three races counting for the FIA Formula 3 European Championship will start at 16h55 on Saturday 12th and at 10h50 and 14h50 on Sunday 13th October respectively.