Three ladies fight for FIA European Trophy
Three competitors have entered in the new FIA Ladies' European Trophy that will be awarded within the 2013 FIA European Touring Car Cup.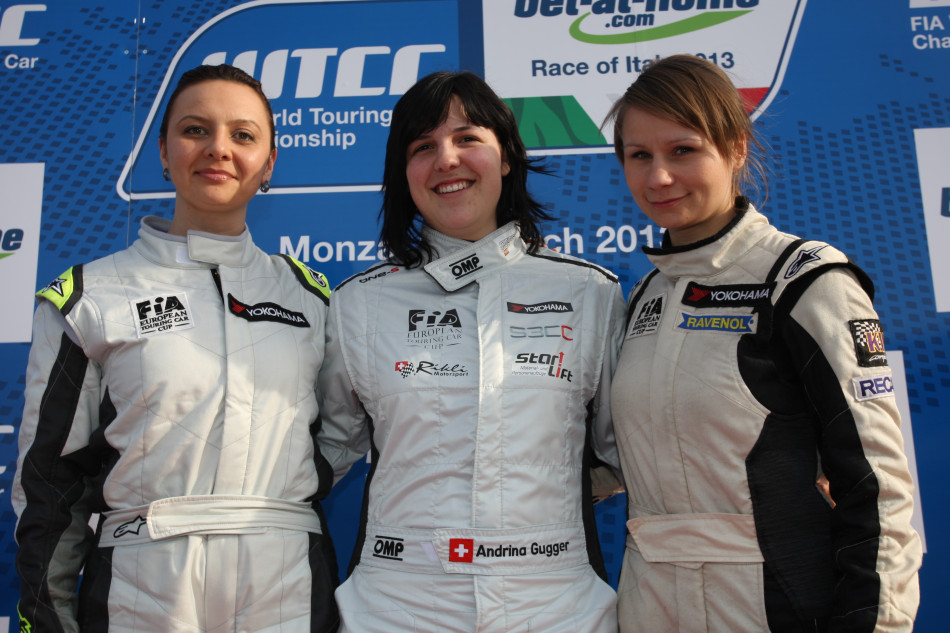 Ulrike Krafft, 29 from Germany is the veteran of the trio, facing her third ETCC season. She is at the wheel of a Ford Fiesta 16V run by the Ravenol Team SAN and competing in the Super 1600 class, in which Ulrike was classified second in 2011 and third last year.
Also taking part in the S1600 with a Ford Fiesta ST is M-Sport's Ksenya Niks. Married with two children and a lawyer in the Kharkov regional bar, Niks began her racing career only last year, when she classified 6th in the Ukrainian Touring Car Championship.
The third entrant, Andrina Gugger from Switzerland, will turn 22 in one month but she has already built a solid experience from karting (since she was 11) to the German GT Championship. Gugger drives a Rikli Motorsport Honda Civic in the Super 2000 class.
In the past a bunch of women had managed to compete for outright victories in touring car racing – the likes of Yvette Fontaine, Lella Lombardi, Annette Meeuvissen and Tamara Vidali – just to mention some of them.
The FIA Ladies' European Trophy, supported by the FIA Women in Motorsport Commission, aims for creating a valid platform for giving female drivers the opportunity to compete at an international level for an FIA title.
Marcello Lotti, WTCC and ETCC general manager said: "In recent years we had occasional female participations in the ETCC, and this seems to be an upward trend in today's motor sports. Therefore we have set the goal of increasing our 'pink quota' by establishing a dedicated trophy."
All female drivers will be eligible to compete, irrespective of the category they race. The trophy will be awarded to the lady who has scored the highest number of points in her own category.
On top of this, ETCC promoter Eurosport Events will offer to the competitors of the Ladies' Trophy a start money of euro 1,000. 
Quotes from ETCC Ladies' Cup competitors before Monza:
Ulrike Krafft: "I'm looking forward to the Ladies' Cup very much because last year I was on my own as a woman in the ETCC and this year there are three, maybe four of us – we will see.  It's important to support women as we tend to start competing later than men and it's great that the FIA is supporting women in all forms of motorsport. I was second fastest of the S1600s in testing at Monza and so I'm hoping for a good result this weekend."
Andrina Gugger: "I have to say that I welcome the FIA initiative to support women in motorsport. It's important for women to understand that they can compete on equal terms with men in the sport and I really hope the initiative will get that message across. I always like competing at Monza, but I only did about twenty laps in the test session and this is my first time in a front-wheel drive car, so I'm a little cautious about predicting how the races will be for me."
Ksenya Niks: "I think what the FIA is doing for women in motorsport is very important; until now, there hasn't really been any promotion of women in the sport and I really welcome it. I am only in my second year of competition, so I am still learning, but I think the programme will encourage other women to take up the sport. Here in Monza, I don't really know how I will get on as I didn't complete the practice session but I hope I can learn a lot this weekend."