This page contains archived information and may not display perfectly
Team DA Racing reveal 2017 World RX plans
French-based team DA Racing-Eurodatacar has confirmed it will enter the 2017 FIA World Rallycross Championship with Jean-Baptiste Dubourg set to compete in all 12 rounds of the World Championship.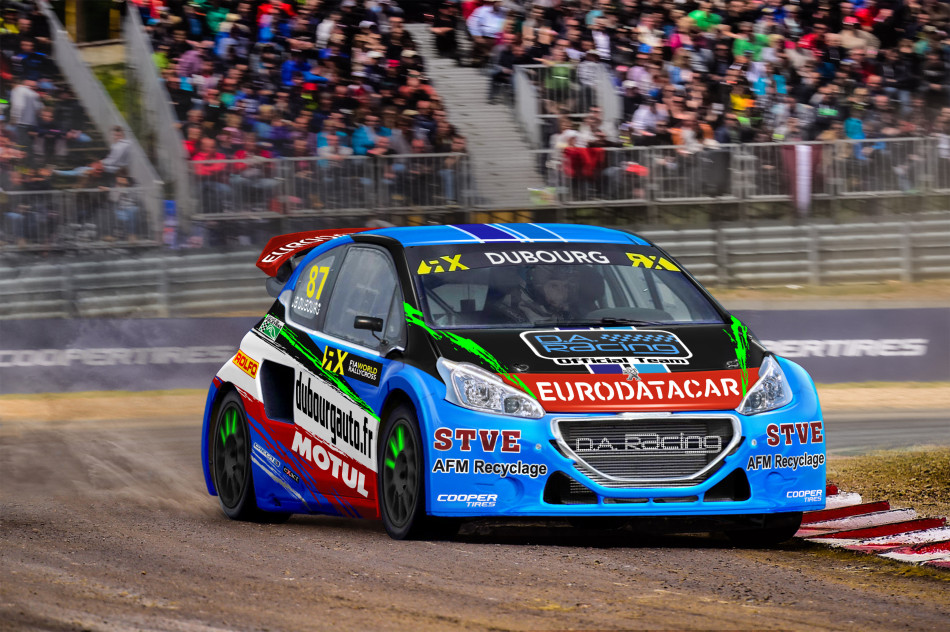 Driving a Peugeot 208 WRX Supercar, Dubourg will be joined by WTCC driver Gregoire Demoustier who will contest five World RX rounds in the team's second car. Andrea Dubourg will enter the FIA European Rallycross Championship (Euro RX) driving a Citroen DS3.
JB Dubourg is familiar with major international events having finished on the podium at the French round of World RX at Loheac back in 2015. He has since claimed back-to-back Andros Trophy titles in 2016 and 2017.
"It's very exciting to be able to commit myself full-time to World RX," explained JB Dubourg, who turns 30 later this year. "Having the opportunity to compete with not only the best rallycross drivers, but from motorsport in general, is a childhood dream come true. The commitment of this programme is a new step in the ambitious Team DA Racing-Eurodatacar project which started in 2012. I will have the pleasure of driving a 208 WRX developed in Peugeot Sport's workshops in recent years, whose reliability and performance are without question. I will take advantage of pre-season testing to continue the learning phase - we must seize every opportunity this year."
At just 26-years-old, Demoustier has developed significant experience in his motorsport career, predominantly in circuit racing by competing in the FIA GT1 World Championship, Blancpain Endurance Series and in WTCC. On top of a 16-round programme in French and European GT4, and the TCR International series this year, Demoustier has committed to World RX rounds in Barcelona, Portugal, Belgium, Canada and South Africa.
"It was impossible to resist the lure of rallycross," admitted Demoustier. "I've watched World RX live on L'Equipe, the starts are very impressive and the races are physical, it reminds me of my experience from the Andros Trophy. In World RX, I'm entering a new universe – I have everything to discover. The race format with the qualifying races, the elimination system for the final stages and of course the joker lap is totally different from what I'm used to, but I think it's a very interesting format. The Andros Trophy allowed me to grasp changes in grip levels and that will be a bonus in helping me to familiarise myself with loose surface in rallycross, which is totally new to me."
Dominique Dubourg, Team Principal for DA Racing-Eurodatacar, concluded: "We will be fighting against the best drivers and the biggest manufacturers in World RX, which is live on the L'Equipe television channel. We know that rallycross is an uncompromising and difficult discipline – we are here to learn and to cement a permanent place in World RX. I would like to thank all of our partners and friends who have supported us in this project."