Tarquini and Huff break their Ducks
The first-ever visit of the WTCC to the Slovakia Ring saw victories in the two races going to Gabriele Tarquini in a Lukoil Racing SEAT León and Robert Huff in one of the three factory Chevrolet Cruze cars.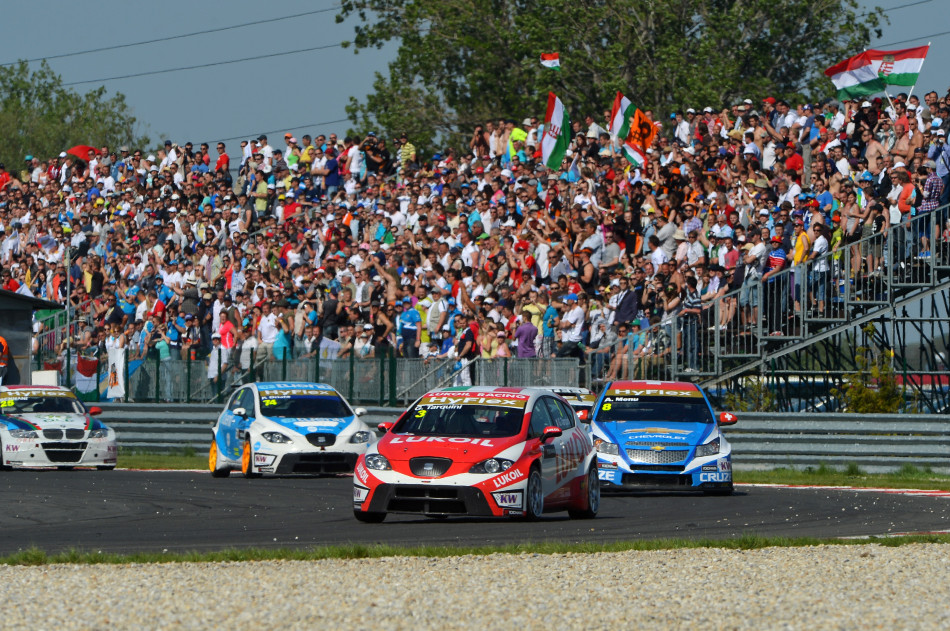 For both drivers, Slovakia saw their first wins of the season, with Tarquini giving the new SEAT 1.6 litre turbocharged petrol engine its maiden victory.
A sell-out crowd of more than 25,000 enjoyed the sunny day and close, incidentpacked racing. A number of WTCC competitors were not quite so happy with the spectacle, with the Team AON Ford Focus cars in particular leaving the circuit having failed to convert their early promising pace into useful points because of race incidents.
The early domination of the 2012 WTCC by Chevrolet appeared to have drawn to a close after qualifying on Saturday. The highest-placed Cruze was that of sixthplaced Yvan Muller, while pole position had been claimed by Norbert Michelisz in a BMW 320 TC. The Chevrolet team bounced back on race day, however, with all three of their drivers recording podium finishes. James Nash, meanwhile, qualified an impressive fourth in a Ford Focus, but received a ten-place grid penalty for both races after failing the ride height inspection.
Tarquini and his team-mate Aleksei Dudukalo claimed a 1-2 for Lukoil Racing in Race 1, while a similar result for Chevrolet in Race 2 saw Huff finish just ahead of Muller. Huff has now closed the gap to Muller to 27 points, with Alain Menu dropping to third place in the Drivers' Championship table, just a point behind Huff. In the Yokohama Trophy there were wins for Dudukalo in Race 1 and Pepe Oriola in Race 2. Oriola now leads by 9 points from Stefano D'Aste, with Norbert Michelisz in third place.
The WTCC now has its shortest break between races of the entire season, with rounds 9 and 10 taking place next weekend at Budapest's Hungaroring.
RACE 1 - TARQUINI AND DUDUKALO FINISH 1-2
The two SEAT León cars of Gabriele Tarquini and his Lukoil Racing team-mate Aleksei Dudukalo scored a 1-2 in the first of the day's two WTCC races at the Slovakia Ring, with the Chevrolet Cruze of Alain Menu in third place.
Pole-sitter Norbert Michelisz in the Zengö Motorsport BMW 320 TC was first into Turn 1 on the opening lap, with Tarquini having passed Dudukalo to mount an early challenge to Michelisz. Contact between the leading pair on lap 3 allowed both the SEAT cars to pass the BMW, with heavier contact between Yvan Muller and Michelisz on the following lap meant the Hungarian driver would eventually finish in sixth place. Muller, meanwhile, incurred a drive-through penalty for the move.
Pepe Oriola in another SEAT moved into second place on lap 6 when Dudukalo ran wide at T13, but Oriola's race ended two laps later when a front flat tyre saw an excursion into the gravel at T2.
Despite promising performances in qualifying, neither of the Team AON Ford Focus cars completed the first lap; Tom Chilton went off on the very first corner while James Nash made it as far as Turn 8 before retiring following contact with Tiago Monteiro's SEAT and the Chevrolet of Robert Huff.
In the Yokohama Trophy, Dudukalo scored the maximum 10 points, with Alberto Cerqui finishing second and Stefano D'Aste third.
Key moments
Start - Michelisz is first into T1, ahead of Tarquini; Chilton off at T1
Lap 1 - Monteiro, Huff and Nash make contact and retire
Lap 2 - Muller passes D'Aste for 4th
Lap 3 – a contact between Michelisz and Tarquini allows Tarquini and Dudukalo to pass; Oriola and Men pass D'Aste who drops from 5th to 7th
Lap 4 - Contact between Dudukalo and Michelisz; Heavier contact between Muller
and Michelisz Lap 5 - Muller is given a drive through and dropps to 14th
Lap 6 - Dudukalo runs wide at T13, allowing Oriola to take 2nd
Lap 8 - Oriola into the gravel at T2; Menu is up to 3rd
Lap 9 - Contact between Wéber and MacDowall, the later drops to 13th
Lap 10 – Boardman finishes 9th to score his first points; Muller passes Bennani for 11th
Withdrawals
T. Chilton: race incident; J. Nash: race incident; T. Monteiro: race incident; F.
Engstler: race incident
RACE 2 – FIRST WIN OF THE YEAR FOR HUFF
The second WTCC race at the Slovakia Ring saw Chevrolet's Robert Huff overcome the disappointment of failing to score in the opening race to take victory over his teammate Yvan Muller, with the SEAT León of Gabriele Tarquini finishing third for the Lukoil Racing team.
An incident-packed race began even before the warm-up lap, when Tarquini's teammate Aleksei Dudukalo was given a drive-through penalty because all four of his car's wheels weren't on the ground when the five-minute board was shown on the grid. In addition, the Ford Focus of Team AON's James Nash and the Team Engstler BMW of Charles Ng failed to start the race after incidents during Race 1.
Pole-sitter Stefano D'Aste was first into Turn 1, but the three Chevrolet Cruze cars of Huff, Muller and Alain Menu were quickly threatening D'Aste and all three took their chance when the BMW ran wide, as did Tarquini. The all-Chevrolet top three was short-lived, however, as Tarquini grabbed third place from Menu on lap 2. Tom Coronel then passed Menu on lap 4 before the Swiss driver pulled up with a broken rim following a contact with D'Aste.
The Huff-Muller 1-2 then survived unscathed until the chequered flag, despite a lastlap incident that saw third-placed Tarquini make contact with the rear of Muller's car. Tarquini sportingly chose to take no advantage from the collision.
Behind the battle for the podium positions, Tom Chilton finished 10th in his Ford Focus after surviving an incident on the second lap with Tiago Monteiro that saw the Portuguese driver retire from the race. A similar fate befell Alex MacDowall and Gabor Weber, while D'Aste managed to finish in 14th place. In the Yokohama Trophy, it was Pepe Oriola's turn to pick up maximum points, while Norbert Michelisz finished second and Mehdi Bennani a brilliant third.
Key moments
Start - D'Aste is first into T1
Lap 1 - D'Aste runs wide, allowing Huff, Muller, Menu and Tarquini to pass. Coronel and Monteiro also pass D'Aste, who drops back. Michelisz then passes Monteiro.
Lap 2 - Tarquini passes Menu for 3rd place. Contact between Chilton and Monteiro. Contact between MacDowall, Wéber and D'Aste
Lap 3 - MacDowall comes into the pits and retires
Lap 4 - Coronel passes Menu for 4th going into T1. Contact between Muller and Huff. Menu into the gravel at T6. Chilton passes Boardman for 10th place
Lap 6 - Michelisz passes Bennani for 6th place.
Lap 10 - Contact between Tarquini and Muller. Muller half-spins
Withdrawals
J. Nash: DNS; C. Ng: DNS; A. Menu: race incident; A. MacDowall: race incident; T.
Monteiro: engine; G. Wéber: race incident
FLASH NEWS
CORONEL GIVEN TIME PENALTY FOR RACE 1
Tom Coronel was given a 30-second time penalty on the results of the first race, as he had punted Franz Engstler off the track. This dropped the Dutchman from eighth to 15th.
The two investigations on the incidents in which Gabriele Tarquini was involved – with Norbert Michelisz in Race 1 and Yvan Muller in Race 2 – resulted in no further actions from the Stewards.
SLOVAK PRESIDENT AND MISS WORLD AT THE TRACK
Among the many visitors who came on Sunday to the Slovakia Ring to attend the WTCC event, two were especially distinguished: the President of the Slovak Republic, Ivan Gašparovič and Miss Taťána Kuchařová from Czech Republic, the reigning Miss World.
D'ASTE KEEPS POLE FOR SECOND RACE
Contrary to what was communicated yesterday after the qualifying session and following the Stewards' decision to drop James Nash ten positions on the grid for both races, Tom Chilton did not inherit pole position on the reversed grid for Race 2. It was Stefano D'Aste to start from pole, as he had won this right by qualifying tenth in Q2. The Stewards decided that Nash's dropping had to be applied after the grids have been published, which meant that the spot left empty by him were filled by the drivers behind.
As a result, Tarquini, Dudukalo, Michelisz and Chilton were all moved one place up to fill the positions between seven and ten on the grid for Race 2.
THE WORD TO THE WINNERS
Gabriele Tarquini (Race 1 winner):
"This really was a great weekend for me; the car was very good and the engine worked very well after the problem yesterday. I took my chances in the first race because there were no Chevrolet cars around me! I knew I had to push in the first few laps as I knew the BMW cars are better on tyres later in the race here. Norbert braked a little bit too early - I was just over the bump and one wheel was in the air - and when I braked I locked the front tyre and hit him. I was very sorry for Norbert, but I couldn't give back the position. The incident with Yvan in Race 2 was completely different - I was following him very closely and I wasn't expecting to hit him so I slowed down because it wasn't fair. Second place belonged to Yvan."
Rob Huff (Race 2 winner):
"I think we had some unluckiness in the first part of the season and we had more bad luck in the first race today when I got fired off, but that's racing. The team did the most amazing job to get the car back and straight in time for Race 2, since both the rear wheels were pointing in opposite directions, and I think we got out of the pit lane with 30 seconds to spare. In the second race, I had the best start I think I've ever had and I got past D'Aste in Turn 2 since I could see he was a bit loose there. After that, it was a case of watching my mirrors into every corner since I didn't know where Yvan would be strong around the circuit. The last two laps were very hard work, but our Italian friend here helped me out by slowing Yvan down on the last lap!"