Tarmac test awaits ERC heroes in Czech Republic
The FIA European Rally Championship is back with a bang and back on asphalt with the 43rd instalment of Barum Czech Rally Zlín (30 August-1 September).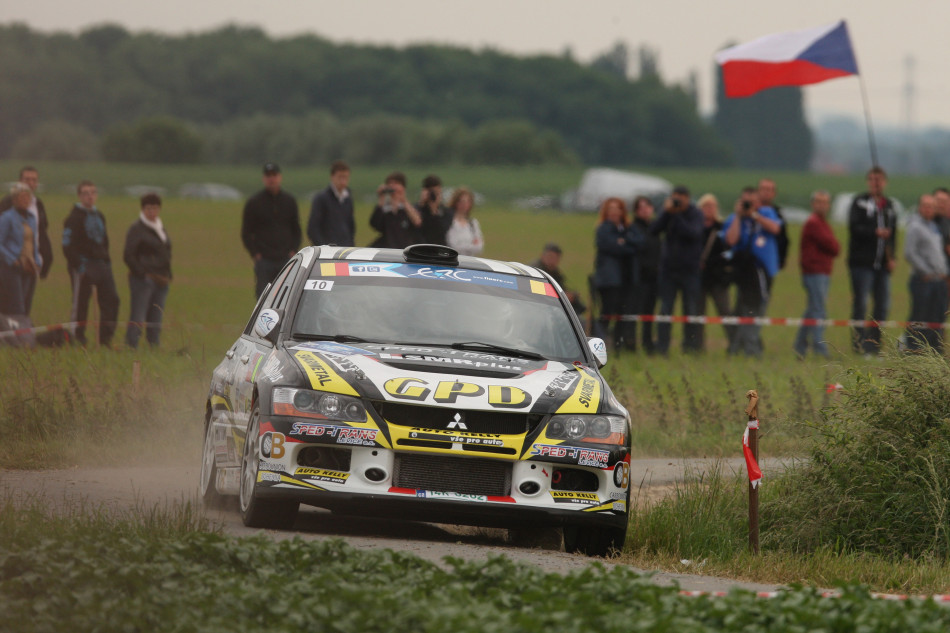 One of Europe's most challenging rallies due to the proliferation of high-speed blasts through forests, sections of broken Tarmac, a high likelihood of intermittent showers and the bumpy nature of some of the roads, the rally attracts thousands of fans each year. And to make watching the action even easier, there's an additional visit to the permanent service park in Otrokovice on day one to give spectators more time to travel safely between the stages.
Night fever on the streets
As is tradition on Barum Czech Rally Zlín, the host city stages the opening superspecial through its central area from 21:15hrs local time on Friday 30 August. Measuring 9.36 kilometres in length the stage is effectively three laps of a temporary course in Zlín's central area and crosses a railway line at one point. Large numbers of fans turn out to watch and with the stage taking place under the cover of darkness an electric atmosphere is guaranteed.
Tweaked format for 2013
Event organisers have moved away from the four stages, service, four stages format of the past to a new system of three stages, service, three stages, service and two stages on leg one on Saturday 31 August. The four stages are Biskupice, Troják, Semetín and Pindula. The second Pindula test will be run at night with service once again housed in the grounds of the Barum Continental factory in Otrokovice. Sunday's leg consists of three stages, service and a final three stages before the finish in Zlín in the afternoon. However, the Maják stage will run in an opposite direction from Zlín to Topolná, while the remaining two tests, Jankovice and Zlutava, will both follow brand new formats.
The future of the ERC, right here, right now
Two cars built to the exciting new-generation R5 regulations compete for glory in Zlín. Czech drivers Tomáš Kostka and Pavel Valoušek will both be behind the wheel of the M-Sport-developed machines. And they'll do so in the knowledge that the car is already a winner following Oleksandr Saliuk's success on the Aleksandrov Rally in Ukraine recently. While Rally Zlín marks the Fiesta R5's competitive debut in the ERC, Thierry Neuville used a Fiesta R5 as a course car on the Geko Ypres Rally in late June, a handful of days prior to the car being approved for competition use. The car proved to be extremely fast even though it wasn't eligible for stage times.
ERC Ladies' Trophy gets new recruit
Czech Martina Daňhelová will make her ERC Ladies' Trophy debut in Zlín. Driving a Renault Clio Sport, Daňhelová will go up against category regulars Ekaterina Stratieva and Molly Taylor, who are a point apart in the race for the coveted accolade.
Home heroes in action
Of the 102 crews entered for Barum Czech Rally Zlín, 68 are from Czech Republic with current European championship leader and two-time event winner Jan Kopecký topping the entry for ŠKODA Motorsport. Other notable Czechs competing on their home round of the ERC are former Zlín winners Roman Kresta and Václav Pech and GPD Mit Metal Racing Team's Antonín Tlusťák, an ever-present in this year's ERC. As well as taking on his countrymen in his pursuit of a third victory in Zlín, Kopecký will have to beat promising Finn Esapekka Lappi and German hope Sepp Wiegand, who form part of Czech make ŠKODA's star-studded attack. Bryan Bouffier has been forced to withdraw his entry due to a lack of funding.
Serious competition in ERC Production Car Cup…
It's not just the battle for outright victory that will thrill in Czech Republic: the ERC Production Car Cup will also be hotly contested with local ace Jaroslav Orsák bidding to seize the title initiative for the GPD Mit Metal Racing Team. However, top Japanese driver, Toshi Arai will be gunning for success in his Stohl Racing Subaru Impreza R4 STI. The all-French Team Renault Sport Technologies line-up of Germain Bonnefis and Robert Consani will also impress, as will Hungarian András Hadik, who shone on his ERC debut in Ypres, and Napoca Rally Academy father-and-son Marco and Simone Tempestini.
… and in ERC 2WD Championship too
The race for ERC 2WD Championship honours will be another Zlín highlight with top Czech Jan Černý, the reigning ERC 2WD champion, returning to the fray in a Peugeot 208 R2. Černý started the season in a ŠKODA Fabia Super 2000 but has since switched to the 208 R2. Despite his knowledge of the stages and class win in Zlín last year, Černý will face strong opposition from category pacesetters Zoltán Bessenyey (Eurosol-Honda Civic Type R) and Kornél Lukács, who switches from a Citroën C2R2 to a Renault Clio R3. Leading Austrians Hannes Danzinger and Hermann Neubauer and Italian driver Elwis Chentre will also be back on ERC duty, as will Renato Pita, who is promoting a road safety initiative in his native Portugal as part of his ERC bid.