This page contains archived information and may not display perfectly
Start-to-finish Italian Baja win for Overdrive Racing's Yazeed Al-Rajhi
Erik van Loon tops FIA T3 standings; T4 success for Brazil's Cristiano de Sousa Batista.
Overdrive Racing's Yazeed al-Rajhi won the Qualifying Stage and all three selective sections of the Italian Baja 2022 to secure a comfortable victory with co-driver Michael Orr on what was the third round of both the FIA World and European Cups for Cross-Country Bajas.
Driving his customary Toyota Hilux, the Saudi finished 5min 06.7sec ahead of the Portuguese Mini JCW Rally crew of João Ferreira and David Monteiro, with the T4 category-winning Brazilian crew of Cristiano de Sousa Batista and Wladimir Grunenberg rounding off the podium places in a South Racing Can-Am Maverick XRS.
Al-Rajhi duly claimed his third career Italian Baja success and his second successive win in north-eastern Italy with Ulster co-driver Orr. It enabled the Saudi to earn a maximum 40 points and storm into FIA World Cup title contention with five rounds still to run.
He said: "We are very happy to win here again. We opened the road and had a good lead overnight and we just had another safe drive on the last stage and will take maximum points for the championship and that's the main thing."
Runner-up Ferreira added: "It was my first time here at the Italian Baja. It's not going to be my last. I really enjoyed the race. We finished first in the European Cup and second overall in the World Cup so, of course, we are very happy and these are important points for the European Cup."
Former FIA European Baja Cup leader Michal Maluszyński retired his Mini and the Lithuanian Toyota duo of Benediktas Vanagas and Edvinas Juskauskas both lost a lot of time with technical issues. That paved the way for Czech veteran Miroslav Zapletal to add to his FIA World Cup points' tally with fourth overall in his Hummer H3 Evo and claim the outright lead in the Drivers' Championship.
FIA T3 and T4 entrants dominated much of the overall top 10. T4 runner-up Amerigo Ventura and fellow Italian Mirko Brun guided their Quaddy Racing Yamaha YXZ 1000R to fifth overall and points for second place in the FIA European Cup. That enabled Ventura to overtake Poland's Tomasz Bialkowski at the top of the FIA European Cup's T4 standings.
Dutch businessman Kees Koolen finished sixth overall and collected points for fourth in the FIA World Cup in a South Racing Can-Am. He now tops the T4 rankings from De Sousa and Kuwait's Meshari Al-Thefiri.
Portugal's Edgar Condenso added to his European Cup points' tally with seventh in a PRK Sport Rally Team Ford Ranger EXR 05 Proto. His team extended its lead in the FIA European Cup Teams' Championship. 
Dutchman Erik van Loon continued his successful transition from racing T1 Toyotas by claiming eighth position and victory in the T3 category in a South Racing Can-Am.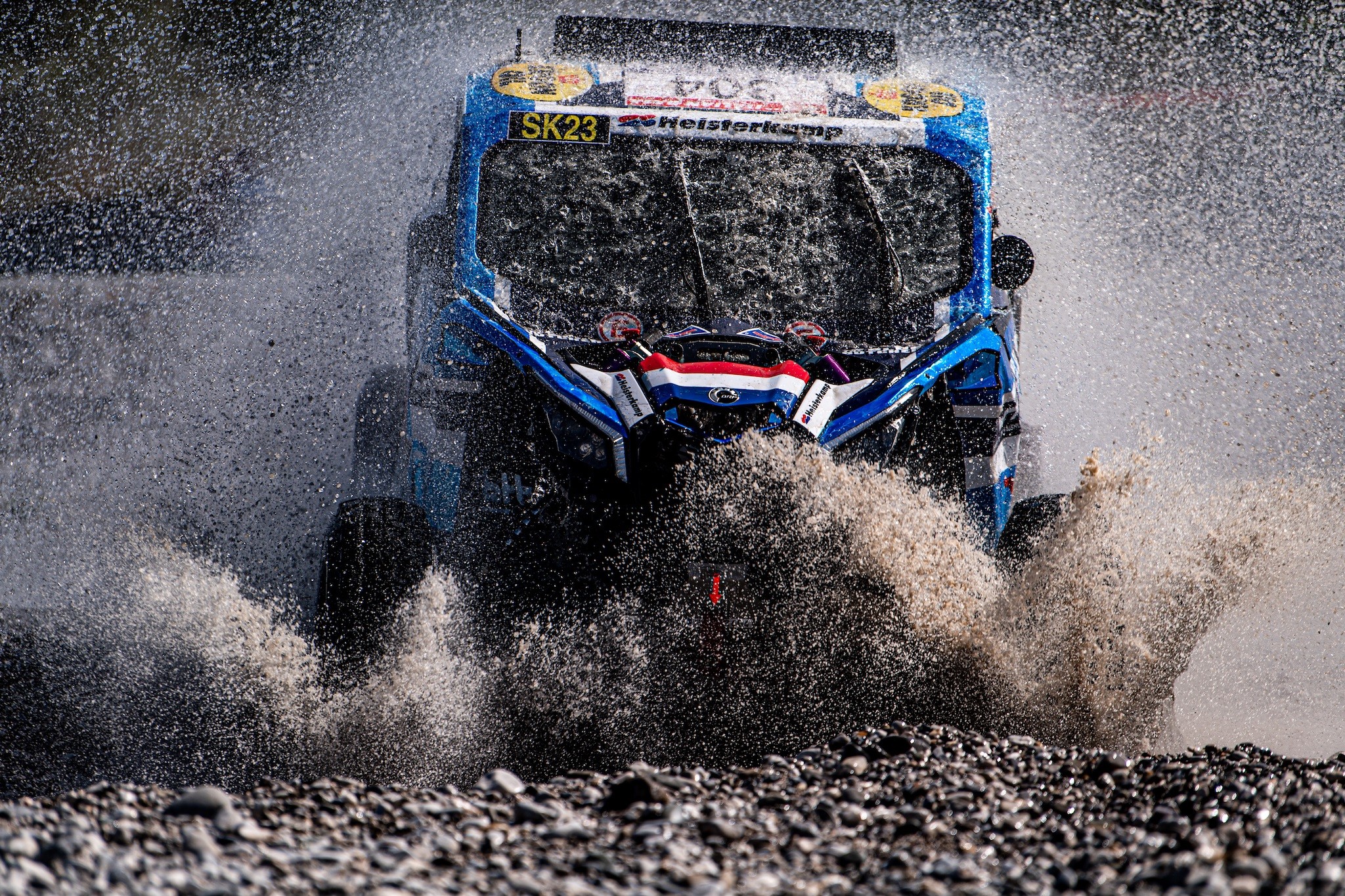 Spaniard Santiago Navarro clinched the FIA European Cup's T3 Championship with ninth place and maximum European Cup points in an FN Speed Team Can-Am, while fellow countryman Eduard Pons teamed up with Oriol Mena to round off the top 10 in another South Racing Can-Am.
Saudi Arabian female driver Dania Akeel returned to action after several months away from the driving seat to finish 11th and third in T3 and FIA World Cup T3 front-runner Fernando Alvarez overcame time delays to claim vital points for finishing 13th overall. He now leads the FIA World Cup's T3 series from Akeel.
Argentina's Juan Cruz Yacopini teamed up with fellow countryman Matias Acosta to drive a second Overdrive Racing Toyota Hilux, but lost out on a potential podium finish when he rolled on the final stage and slipped back to 18th.
Timed action got underway with a Qualifying Stage of 14.30km between San Martino al Tagliamento and Valvasone late on Friday afternoon.
Al-Rajhi, Alvarez and Ventura topped the standings in the respective T1, T3 and T4 categories on a demanding stage that saw the premature retirement of Emilio Ferroni's Suzuki Gran Vitara from the list of 35 starters.
Repeat passes through a selective section of 112.48km between Zoppola and Dignano made up Saturday's itinerary. Al-Rajhi continued to dominate at the top of the rankings and another fastest time on the final 115.09km between Dignano and Cordenons enabled the Saudi to extend his lead over Ferreira and seal victory.
Action in the FIA World Cup for Cross-Country Bajas resumes in Spain on July 22-24, while FIA European Cup competitors head to Hungary on August 4-7.
Italian Baja 2022 – final unofficial results:
1. Yazeed Al-Rajhi (SAU)/Michael Orr (GBR) Toyota Hilux Overdrive   4hr 23min 01.0sec
2. João Ferreira (PRT)/David Monteiro (PRT) Mini JCW Rally    4hr 28min 07.7sec
3. Cristiano de Sousa Batista (BRA)/Wladimir Grunenberg (BRA) Can-Am Maverick XRS (T4) 4hr 45min 32.1sec
4. Miroslav Zapletal (CZE)/Marek Sykora (SVK) Hummer H3 Evo   4hr 46min 03.9sec
5. Amerigo Ventura (ITA)/Mirko Brun (ITA) Yamaha YXZ 1000 R (T4)   4hr 50min 30.2sec
6. Kees Koolen (NLD)/Paulo Ceci (ITA) Can-Am Maverick XRS (T4)   4hr 51min 17.4sec
7. Edgar Lima Condenso (PRT)/Carlos Silva (PRT) Ford Ranger EXR05 Proto  4hr 53min 08.0sec
8. Erik van Loon (NLD)/Sebastien Delaunay (FRA) Can-Am Maverick XRS (T3)  4hr 53min 17.5sec
9. Santiago Navarro (ESP)/Marc Sola (ESP) Can-Am Maverick XRS (T3)   4hr 58min 47.2sec
10. Eduard Pons (ESP)/Oriol Mena (ESP) Can-Am Maverick XRS (T4)   5hr 01min 09.2sec
(T1 unless stated)
More information can be found on the Italian Baja event website.