This page contains archived information and may not display perfectly
Solans bids to get ERC fight back on track with Canaries comeback
Nil Solans' chase for FIA European Rally Championship (ERC) glory continues this week with his return to action at Rally Islas Canarias (12 - 14 May), the first all-asphalt fixture of the 2022 season.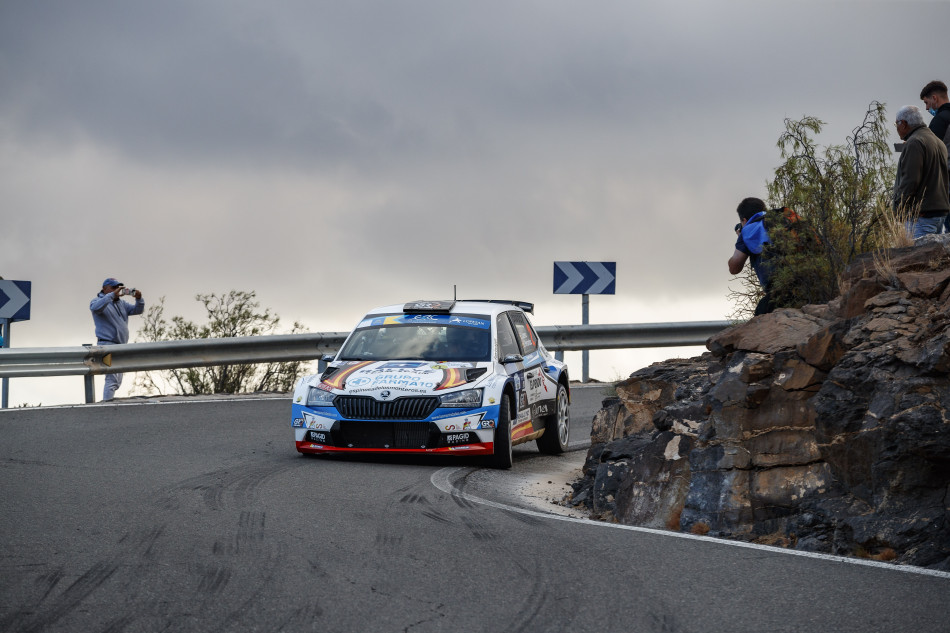 The Volkswagen Polo GTI R5 driver holds third in the championship thanks to victory at Rally Serras de Fafe - Felgueiras - Cabreira e Boticas, but he missed round two at the Azores Rallye due to financial shortages.
A recent funding charge has pulled through for the Spaniard, and he starts with number two on the doors at the Las Palmas-based event.
"I'm very happy to be there again and to run on Tarmac, so we will do our best and try to continue with the championship contenders," said Solans.
"I think it will be difficult to predict the winner or the people who will be fighting for the win, but for sure there are some fast Tarmac drivers there and they are all quite impressive."
Azores winners Efrén Llarena and Sara Fernández are the top seeds in their Team MRF Tyres Škoda Fabia Rally2 Evo. But, as Llarena is always quick to point out, he won't be counting on home advantage to move to the top of the championship standings.
"I am from Spain, but this rally is a long way from my home and I don't have so much experience of this rally," Llarena said. "For sure I will try my best."
Third seed Alberto Battistolli will use Rally Islas Canarias to continue his experience-building campaign in what is an all-new event for the Italian. Austria's Simon Wagner and Romanian Simone Tempestini both have recent Rally Islas Canarias experience to call on, as does rising Spanish star Javier Pardo, last season's ERC2 champion. All four will drive Škoda cars.
Simone Campedelli starts Rally Islas Canarias boosted by his victory on the Tarmac-based Rallye Elba in Italy last month. His fellow Team MRF Tyres Fabia driver Norbert Herczig missed out on a visit to Gran Canaria last season after his then co-driver Ramón Ferenc was injured on the preceding Rally Hungary.
Herczig has asphalt pedigree, as do ERC returnee and reigning French champion Yoann Bonato (Citroën C3 Rally2), and Spanish promise Pep Bassas (Škoda), who are seeded ninth and 10th respectively.
Seven-time Canary Islands champion Enrique Cruz is back after driving his Ford Fiesta Rally2 to fifth place on last year's event, as is 1991 winner Luis Monzón in another Fabia. Joan Vinyes and Alberto Monarri will fly the flag for Suzuki Motor Iberica in ERC Open, while Igor Widłak is the lone ERC3 participant in an M-Sport Poland-built Ford Fiesta Rally3.
Jon Armstrong, Anthony Fotia, Andrea Mabellini, Norbert Maior, Óscar Palomo and Laurent Pellier are expected to be among the star performers in ERC4 with all but Armstrong and Fotia eligible for ERC4 Junior points. Paulo Soria heads the Clio Trophy by Toksport WRT order at round two of the exciting arrive-and-drive series.
The rally starts with a superspecial stage on Thursday evening followed by two days of action on Friday and Saturday. The 13 stages cover a competitive distance of 194.04 kilometres.
More information is available on the FIA ERC website and event page.
Photo caption: Efren Llarena (ESP)/Sara Fernandez (ESP), Škoda Fabia Rally2 Evo, Rally Team Spain, action during the 2021 FIA ERC Rally Islas Canarias, 8th round of the 2021 FIA European Rally Championship, from November 18 to 20, 2021 in Las Palmas de Gran Canaria, Spain (photo G. Lenormand / DPPI)