This page contains archived information and may not display perfectly
Sarrazin the Corsica winner, Lappi the ERC Champion
DAY REPORT: 2014 FIA European Rally Championship, final round (11 of 11) - Giru di Corsica-Tour de Corse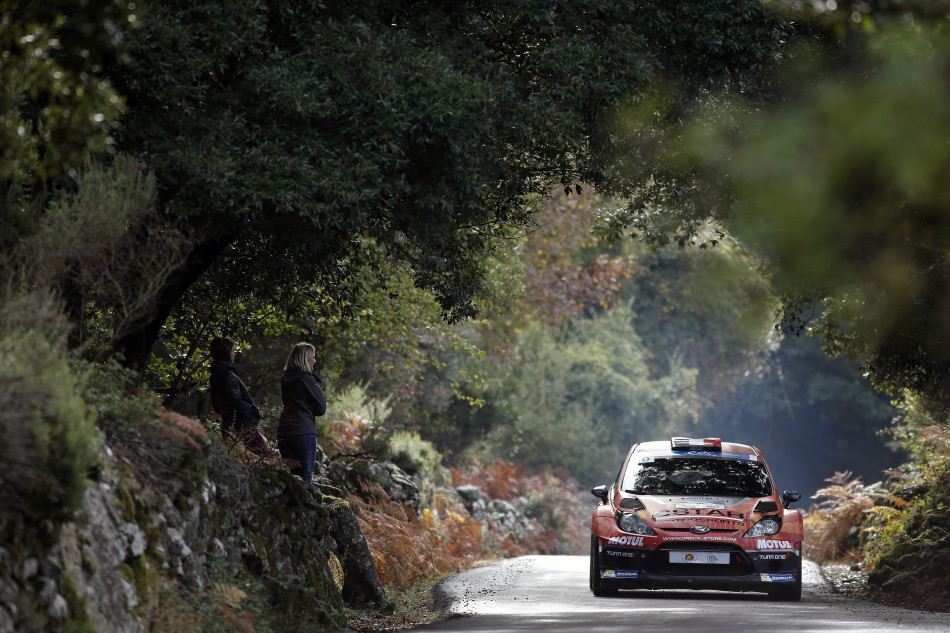 There were celebrations aplenty on the 2014 FIA European Rally Championship finale in Corsica today when Stéphane Sarrazin became the ninth different winner from 11 rounds following a thrilling battle for top spot with fellow French Ford Fiesta RRC driver Bryan Bouffier.
While a crash on Friday's final test meant Esapekka Lappi and co-driver Janne Ferm were unable to tackle Saturday's closing five stages, the ŠKODA Motorsport crew will head home to their native Finland as the new European champions* having scored sufficient points earlier in their hugely impressive campaign, which included three wins and 25 fastest stage times.
Vitaliy Pushkar and Ivan Mishyn secured the ERC Production Car Cup with Zoltán Bessenyey and Yulianna Nyírfás taking ERC 2WD honours for a second year in succession. Stéphane Lefebvre just did enough to beat Andrea Crugnola to the inaugural ERC Junior title, while Lappi was crowned ERC Asphalt Master.
Sarrazin, who was racing in the Six Hours of Shanghai World Endurance Championship event last weekend, started Saturday's final leg 1.7s in front of Bouffier but wasted little time in pulling clear of his compatriot with a hat-trick of stage bests. His performance on the damp sections of stage eight was particularly noteworthy after he went 7.5s quicker than Bouffier. And Sarrazin's victory was all but assured when Bouffier spun into a ditch on the penultimate test.
"It's just amazing, like a dream," said Sarrazin, who was competing in a First Motorsport Ford Fiesta RRC alongside Corsican co-driver Jacques-Julien Renucci. "I did two rallies this season, the ones I like most and to win them both is just so amazing. I had a good battle all weekend with Bryan. We did a great job with Jacques-Julien and the team, the car was good so we push and enjoy. I didn't take big risks when it was tricky. To win Corsica is more than a dream."
Kevin Abbring took third and a richly deserved podium finish in his Peugeot Rally Academy 208T16 with young French driver Eric Camilli impressing on his ERC debut in fourth overall despite a persistent exhaust issue on his Peugeot 207 Super 2000. Camilli's performance earned him the Colin McRae ERC Flat Out Trophy.
With Julien Maurin retiring on the road section heading to stage 10, Romain Dumas finished fifth in his striking Porsche 997 with Bruno Magalhães sixth, local hero Jean-Mathieu Leandri seventh and Jaromír Tarabus eighth after nursing a gear selector issue in the closing stages. Leandri's fellow Corsican Pierre-Antoine Guglielmi (Renault Clio R3) won ERC 2WD in ninth with Laurent Reuche completing the top 10 in Renault's all-new Clio R3T.
Kajetan Kajetanowicz restarted on leg two following his exit with driveshaft failure on Friday's first stage. However, a double puncture on stage seven meant he was unable to continue to stage eight and retired. While the LOTOS Rally Team star lost out on his bid to finish third in the final drivers' standings, he completed his maiden season in the European championship as the ERC Gravel Master.
Craig Breen also returned to the action on Saturday after a transmission glitch forced him out on stage four. He scored several top five stage times in his Peugeot 208T16 and finishes the season third in the final table behind Sepp Wiegand, who was unable to start in Corsica after a fire destroyed his ŠKODA AUTO Deutschland Fabia in testing on Monday.
ERC Production Car Cup: Pushkar takes title in style
Vitaliy Pushkar's cautious approach paid off in style when he won the FIA ERC Production Car Cup. The Ukrainian started the event 17 points ahead of Martin Hudec and insisted there would be "no attack, no pushing" as he chased the points he needed to keep his Czech rival at bay in the title fight. But when Hudec crashed out seven kilometres from the finish of stage nine, Pushkar was effectively champion. And with mission accomplished, Pushkar drove to the finish in second behind winner Frédéric Lefebvre with Thierry Mattei coming home third having been hit with two minutes of time penalties. Keith Cronin had led from stage two on his debut in JRM's Subaru WRX STI and was on course for class victory until he slid off the road on stage nine, where his car became stranded. ERC Production Car Cup regular Tibor Érdi Jr finished fourth with Michel Branca fifth.
ERC 2WD Championship: Guglielmi dominates for home glory, Bessenyey takes title
Pierre-Antoine Guglielmi dominated the ERC 2WD category by going fastest in class on 10 stages in his Renault Clio. The Corsican won by a margin of 3m02.0s with Rallye du Valais winner Laurent Reuche second in his Clio R3T. Olivier Capanaccia completed the podium but the biggest celebrations were reserved for Zoltán Bessenyey and co-driving partner Yulianna Nyírfás, who claimed their second ERC 2WD title in as many years following a controlled drive in their Eurosol Racing Team Hungary Honda Civic Type R.
ERC Junior Championship: Lefebvre celebrates as win is not quite enough for Crugnola
Andrea Crugnola made it back-to-back ERC Junior wins with an impressive first place finish on his Corsica debut. However, it wasn't enough for the Italian to prevent Frenchman Stéphane Lefebvre from landing the title and the prize drive of two ERC events in an R5 car next year after he finished third behind Fabio Andolfi, who lost time with a broken driveshaft and water temperature issue. Gino Bux completed the finishers to underline a promising first season of rallying by the RACB National Team driver.
TOP 10 POSITIONS (after 11 stages, 251.56 kilometres)
1 Stéphane Sarrazin (FRA)/Jacques-Julien Renucci (FRA) Ford Fiesta RRC 2h36m48.4s
2 Bryan Bouffier (FRA)/Xavier Panseri (FRA) Ford Fiesta RRC +18.9s
3 Kevin Abbring (NED)/Sebastian Marshall (GBR) Peugeot 208T16 +1m38.2s
4 Eric Camilli (FRA)/Benjamin Veillas (FRA) Peugeot 207 S2000 +2m24.1s
5 Romain Dumas (FRA)/Denis Giraudet (FRA) Porsche 997 RGT +5m41.9s
6 Bruno Magalhães (PRT)/Carlos Magalhães (PRT) Peugeot 208T16 +6m29.9s
7 Jean-Mathieu Leandri (FRA)/Fabrice Gordon (FRA) Ford Fiesta R5 +7m33.5s
8 Jaromír Tarabus (CZE)/Daniel Trunkát (CZE) ŠKODA Fabia Super 2000 +7m51.3s
9 Pierre-Antoine Guglielmi (FRA)/Jean-Noel Vesperini (FRA) Renault Clio R3 +10m19.0s
10 Laurent Reuche (CHE)/Jean Deriaz (CHE) Renault Clio R3T +13m21.0s
FIA ERC Production Car: Frédéric Lefebvre (FRA)/Pierre-Marien Leonardi (FRA) Mitsubishi Lancer Evolution VIII
FIA ERC 2WD: Pierre-Antoine Guglielmi (FRA)/Jean-Noel Vesperini (FRA) Renault Clio R3
FIA ERC Junior: Andrea Crugnola (ITA)/Michele Ferrara (ITA) Peugeot 208 R2
Colin McRae ERC Flat Out Trophy: Eric Camilli (FRA)
RALLY LEADERS
SS1-SS2: Stéphane Sarrazin
SS3: Bryan Bouffier
SS4-11: Stéphane Sarrazin
STAGE WINNERS
Day one (Friday 7 November, 135.40 kilometres):
SS1: Palavese-La Barrage de L'Ospedale 1 (14.93kms): Overall: Sarrazin/ERC PC: Mattei/ERC 2WD: Guglielmi/ERC Junior: Crugnola
SS2: Sorbollando-Acoravo 1 (26.11kms): Bouffier & Sarrazin/Cronin/Guglielmi/Andolfi
SS3: Sartene-Orone 1 (26.66kms): Bouffier/Cronin/Guglielmi/Andolfi
SS4: Palavese-La Barrage de L'Ospedale 2 (14.93kms): Sarrazin/Mattei/Guglielmi/Crugnola
SS5: Sorbollando-Acoravo 2 (26.11kms): Bouffier/Mattei/Guglielmi/Crugnola
SS6: Sartene-Orone 2 (26.66kms): Bouffier/Cronin/Guglielmi/Crugnola
Day two (Saturday 8 November, 116.16 kilometres):
SS7: Acqua Doria-Bellevalle (28.26kms): Sarrazin/Cronin/Carpanaccia/Crugnola
SS8: Bastelica-Tavera 1 (17.27kms): Sarrazin/Mattei/Guglielmi/Crugnola
SS9: Sarrola-Liamone 1 (26.28kms): Sarrazin/Mattei/Guglielmi/Crugnola
SS10: Bastelica-Tavera 1 (17.27kms): Sarrazin/F Lefebvre/Guglielmi/S Lefebvre
SS11: Sarrola-Liamone 1 (26.28kms): Sarrazin/F Lefebvre/Guglielmi/S Lefebvre
KEY STATISTICS
ERC wins in 2014: Lappi 3, Al-Rajhi, Breen, Kubica, Loix, Pech, Sarrazin, Sousa and Tänak 1
ERC stage wins in 2014: Lappi 25; Abbring 22; Breen 21; Kajetanowicz 13; Bouffier and Tänak 11; Pech 9; Kubica 8; Al-Rajhi and Sarrazin; Wiegand 6; Loix, Lukyanuk, Sousa and Tarabus 4; Al-Qassimi and Rossetti 3; Gryazin and Moura 2; Baumschlager, Casier, Cherain, Kresta, S Moffett, Orsák, Plangi, Tarabus and Tsjoen 1.
THE CHAMPIONS OF 2014 (subject to final confirmation)
ERC champion driver: Esapekka Lappi (FIN)
ERC champion co-driver: Janne Ferm (FIN)
ERC Production Car Cup champion driver: Vitaliy Pushkar (UKR)
ERC Production Car Cup champion co-driver: Ivan Mishyn (UKR)
ERC 2WD champion driver: Zoltán Bessenyey (HUN)
ERC 2WD champion co-driver: Yulianna Nyírfás (HUN)
ERC Junior champion: Stéphane Lefebvre (FRA)
ERC Ladies' Trophy winner: Ekaterina Stratieva (BGR)
ERC Asphalt Master: Esapekka Lappi (FIN)
ERC Gravel Master: Kajetan Kajetanowicz (POL)
ERC Ice Master: Robert Kubica (POL)
What's next?
The 2015 FIA European Rally Championship begins with the Jännerrallye in Austria from 4-6 January. The asphalt showcase first ran in 1969 and attracts huge numbers of spectators thanks in part to its running over the Austrian Bank Holiday weekend. Based in Freistadt, 40 kilometres north of Linz in Upper Austria, the stages in the spectacular Mühlviertel region use fast, undulating country roads, with ice and snow increasing the challenge. 
FIA European Rally Championship provisional calendar for 2015
Round 1: Jännerrallye (Austria, asphalt/ice/snow): 4-6 January 2015
Round 2: Rally Liepāja (Latvia, gravel/ice/snow): 6-8 February 2015 (J)
Round 3: Circuit of Ireland Rally (Northern Ireland, asphalt): 2-4 April 2015 (J)
Round 4: SATA Rallye Açores (Portugal, gravel): 4-6 June 2015 (J)
Round 5: Geko Ypres Rally (Belgium, asphalt): 25-27 June 2015 (J)
Round 6: auto24 Rally Estonia (gravel): 17-19 July 2015 (J)*
Round 7: Barum Czech Rally Zlín (Czech Republic, asphalt): 28-30 August 2015 (J)
Round 8: Cyprus Rally (asphalt/gravel): 25-27 September 2015
Round 9: Rally of Greece (gravel): 9-11 October 2015*
Round 10: Giru di Corsica-Tour de Corse (France, asphalt): 5-7 November 2015
(J) Indicates FIA ERC Junior Championship round
*Subject to signing of ERC Promoter agreement