Rosberg tops day one of F1 testing in Barcelona
Mercedes overcome early issues to run fastest as Alonso gets to grips with Ferrari F138.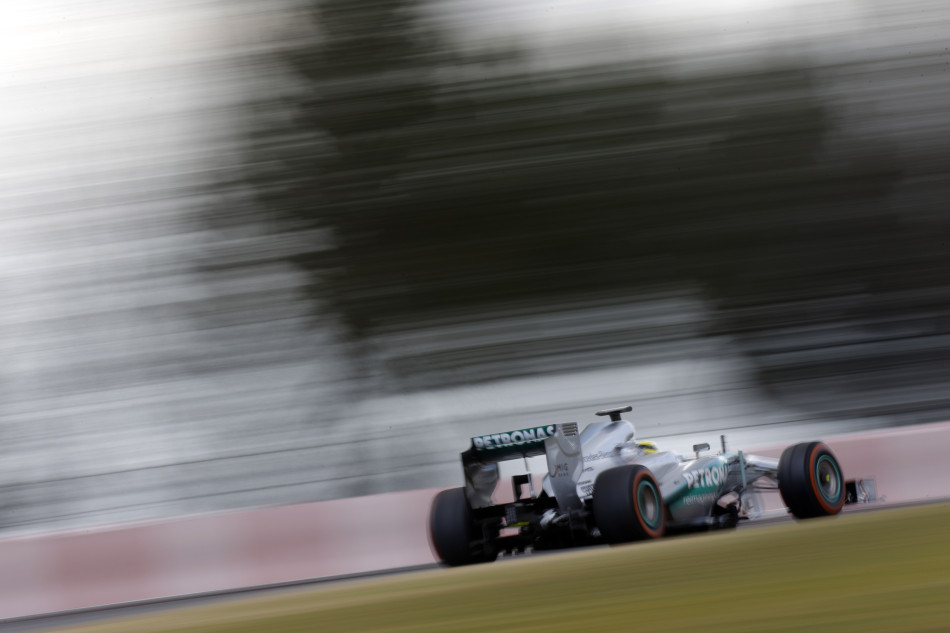 Formula One began its season pre-season test in Barcelona today, with Mercedes's Nico Rosberg heading the timesheet at the end of day one at the Circuit de Catalunya.
The German's lap of 1:22.616 narrowly shaded Kimi Raikkonen's l:22.765 in the Lotus E21 and third-placed Fernando Alonso, three tenths further back in the Ferrari F138.
"We had a mixed day today with some laps lost this morning."
Nico Rosberg
Rosberg's glory-tinged end to the day was a far cry from his morning session, when after 14 laps he returned to the garage with a gearbox problem. The fix took all morning and the German only returned to the track after lunch, but then made up for lost time with 40 laps that established him as the quickest overall.
It was a similar tale at Red Bull Racing, where Sebastian Vettel completed a handful of early laps before a gearbox electronics problem sidelined him for much of the morning. The defending champion got back for regular runs in the afternoon, though his benchmark time from the morning wouldn't stand and he was left in P4 at the end of running.
"I don't think we were alone [with the gearbox issue]," said Red Bull Racing's Race Engineering Co-ordinator Andy Damerum. "Looking at the lap times and number of laps done by other teams I think quite a few had a similar electronics problem to the one we encountered. We managed to fix it just before lunch but it meant that our laps in the morning were effectively systems checks. Everything went better this afternoon, though, and we were able to get through quite a few items on our checklist and in the end managed 308km, so I'm quite pleased about that."
For Rosberg the afternoon was profitable, with Mercedes working on understanding the new Pirelli compounds on offer this season. "We had a mixed day today with some laps lost this morning. However we were able to work through a good programme this afternoon and, of course, it's always nice to be quickest at the end of the day," he said. "In general, I feel happy and comfortable in the car and it feels better than the last time we were here at this track. There is still some work to be done on tyre degradation and our programme this afternoon was helpful in understanding that."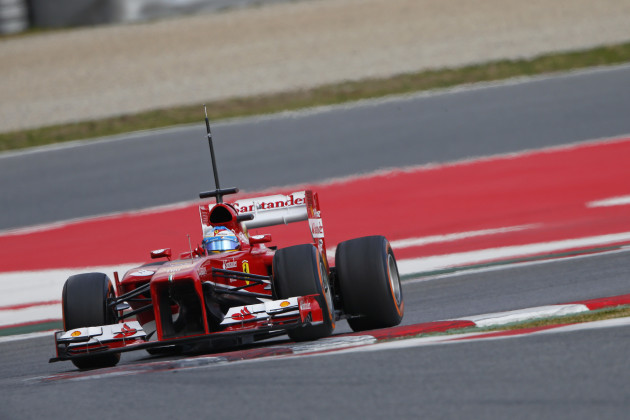 Day one in Barcelona was Fernando Alonso's first experience of the new Ferrari F138 after he skipped the first test in Jerez and hustling the car through 110 laps of the Circuit de Catalunya, the Spaniard gave it a muted seal of approval.
"The feeling with the car was OK, as expected more or less," Alonso told reporters in Barcelona."It's a continuation of the Brazil car, let's say, so it's more or less the same feeling. I have the same seat, I have the same pedals, I have the same everything, so when you jump in the car more or less the performance should be the same as Brazil.
"It's not really surprising you when [you are] driving, so this is at least something good, not like last year when we drove for the first time we were a little bit surprised on the bad side," he added. "We have a lot of work to do; a lot of work to do in the next days for the tyres, for the aerodynamics, for some new components and experimental things that we have in the car. We need to keep doing a lot of mileage; in Jerez we had some mechanical problems - especially with Pedro we lost one morning - so we need to put some good laps in this test to prove the car is strong enough to race."
Elsewhere, Pastor Maldonado was getting his first taste of a new car, in the shape of the Williams FW35, which was unveiled in the morning. The Venezuelan claimed fifth place on the timesheet after 86 laps. However, it was not all good news for Williams, or for Caterham, after it became clear that the exhaust configurations both teams are running may fall foul of regulations if they are persisted with.
Behind Maldonado on the timesheet came Daniel Ricciardo, the Toro Rosso driver edging out McLaren's Sergio Perez for sixth. Eighth went to Force India's Paul Di Resta, while Esteban Gutierrez was ninth for Sauber. Marussia's Max Chilton was tenth and the field was backed up by Caterham's Charles Pic.