Rosberg on top as first in-season test begins in Bahrain
Mercedes driver quickest on day one ahead of Nico Hulkenberg and Fernando Alonso.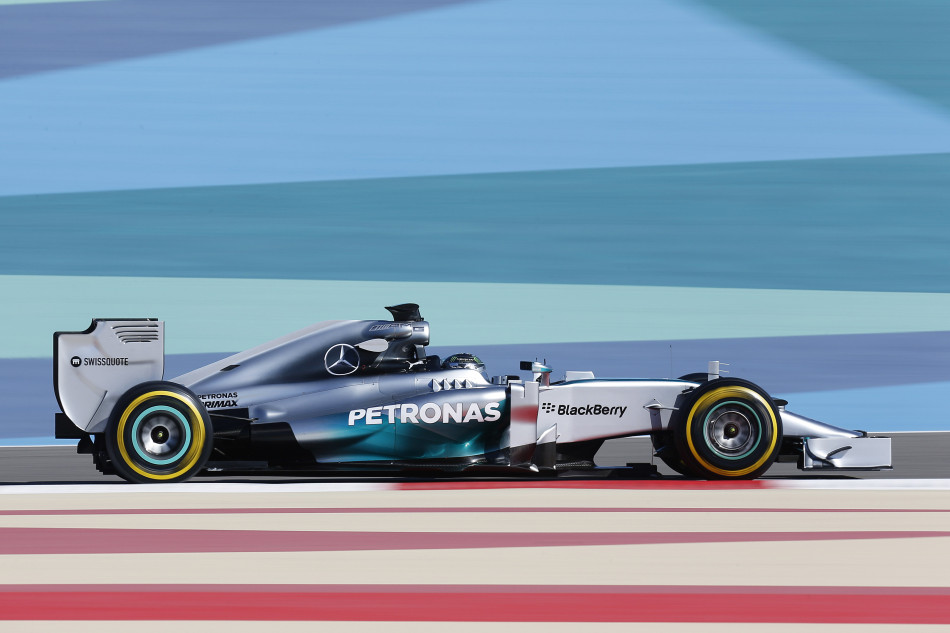 Just two days after finishin second to team-mate Lewis Hamilton in a thrilling Bahrain Grand Prix duel, Mercedes' Nico Rosberg was back at the wheel for the German marque and on top of the timesheets as the first in-season test of 2014 got underway at the Bahrain International Citcuit.
Rosberg posted an impressive total of 121 laps on his way to a best time of 1:35.697 and afterwards the German said his day's work had focused on tyres and brakes.
"Our main aim today was to try different directions with set-up and to get to know the tyres a bit better," he said. "You never stop learning how to get the best out of the tyres, so it has been a productive day from that perspective. We also did a bit of work on the brakes as this is an area I'm not one hundred percent happy with at the moment."
Nico Hulkenberg finished in P2, the Force India driver working through 69 laps for a best time of 1:36.064, just over three tenths of a second back from Rosberg. Fernando Alonso was third for Ferrari, his 68 laps for a time nine-tenths off P1, though the Ferrari driver did bring out the red flags in the morning session when he pulled over at Turn Two. Ferrari managed to get him back up and running in the morning session, however.
Kevin Magnussen was fourth for McLaren the Dane, managing to get through 102 laps. Williams' Valtteri Bottas was fifth fastest but completed just 28 laps after the team ended its session with more than an hour left to run.
Marussia's Max Chilton had a good day, putting in 60 laps of the Bahrain International Circuit for a time of 1:37.678, which left him sixth on timesheet, ahead of Red Bull Racing's Daniel Ricciardo.
His best time of 1:38.326 was 2.6s off Rosberg's but as the Australian later explained a late start to the morning session had seen his team focus on long runs in the afternoon.
"We missed a little bit of time this morning but we made up for it in the afternoon. I think I was in the car for a good few hours," said Ricciardo. "We didn't get in any performance runs today but we did some good long runs in the afternoon with three set-up changes and we got some good feedback from that. I think during last weekend we struggled a bit in P1 and P3, the daytime sessions in the heat, but the car felt a lot better today in those conditions, particularly on those long runs.
"We're still a little behind but we're chipping away and I'm sure over the course of this test and in China we'll get a little bit closer," he added. "For the moment, though, we'll take every little bit we can get. We're learning and we're making progress."
Behind Ricciardo, 18-year-old Sergey Sirotkin made his first appearance for Sauber. The Russian rookie put in 76 laps and finished 3.3s off the day's P1 time.
It was another troubled day at Lotus, however. Pastor Maldonado completed just 16 laps before two separate power unit-related failures stopped the team in its tracks.
"This morning our programme was focused on aerodynamic work and we achieved a lot, even with a limited amount of laps," said the Venezuelan. "This afternoon the plan was to work on performance, evaluating parts and set-ups, however we have not been able to run though the programme due to power unit issues. This is what testing is for even though we would have preferred to have been able to complete more laps today."
Teams are this year required to devote one of their eight days of in-season testing to evaluation work for Pirelli, and Caterham offered up their first day at Sakhir to the tyre manufacturer.
Test driver Robin Frijns got through 63 laps in the morning but then a hydraulic failure called a halt to his work and that of Pirelli.
"When we finished the last run before lunch we found a hydraulic system leak that meant the guys had to take the floor and gearbox off and with the time it would have taken to rebuild the car we made the call to end the session early so we could prepare for day two," said the Dutch driver.
Finally, Toro Rosso's Daniil Kvyat finished 11th with a time of 1:40.452 and 67 laps.
Bahrain Test, – Day One Times
1. Nico Rosberg, Mercedes, 1:35.697, 121 laps.

2. Nico Hulkenberg, Force India, 1:36.064, 69 laps
3. Fernando Alonso, Ferrari, 1:36.626, 69 laps.
4. Kevin Magnussen, McLaren, 1:36.634, 102 laps.

5. Valtteri Bottas, Williams, 1:37.305, 28 laps.

6. Max Chilton, Marussia, 1:37.678, 60 laps.

7. Daniel Ricciardo, Red Bull Racing, 1:38.326, 91 laps.

8. Sergey Sirotkin, Sauber, 1:39.023, 76 laps.

9. Robin Frijns, Caterham, 1:40.027, 63 laps.

10. Pastor Maldonado, Lotus, 1:40.183, 16 laps.

11. Daniil Kvyat, Toro Rosso, 1:40.452, 67 laps.