Rosberg takes over at top in final practice in Spain
German eclipses Mercedes team-mate Hamilton as Alonso is third-fastest at Circuit de Catalunya.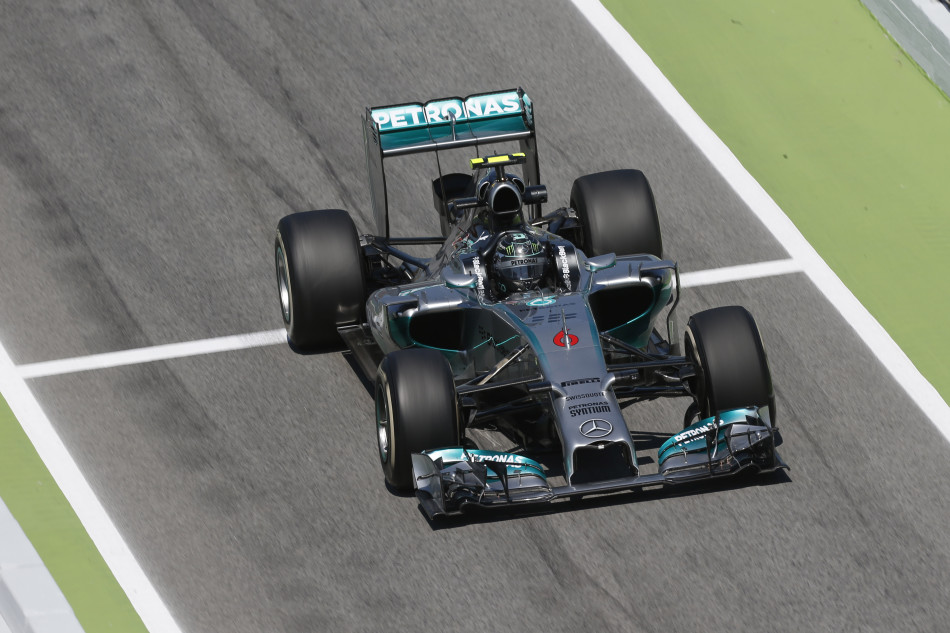 Nico Rosberg claimed the fastest time in final practice ahead of qualifying for the Spanish Grand Prix, beating out Mercedes team-mate Lewis Hamilton by eight tenths of a second. Fernando Alonso was third for Ferrari.
As is usual with the final practice, opening stints on the weekend's Prime tyres – here Pirelli's hard compound – have way to qualifying simulations on the this race's option soft tyre and when the switch was made Rosberg set the best time of the session, with a lap of 1:25.887.
Hamilton, though, made a mistake on his run and backed out of his final lap, leaving him with a best time of 1:26.756 set on the hard tyre.
Hamilton was, however, still more than 0.4s ahead of Fernando Alonso, who was best of the rest, in front of Williams' Felipe Massa.
Lotus' Romain Grosjean recovered from a problematic Friday in which his running was compromised by power unit and brake issues to end final practice in fifth position ahead of the McLaren of Kevin Magnussen and Red Bull Racing's Daniel Ricciardo. The Australian was followed by the second McLaren of Jenson Button and the second Lotus of Pastor Maldonado.
Sebastian Vettel, who completed just four laps of the Circuit de Catalunya on Friday, made up for lost time by claiming the final top-10 position.
Elsewhere, Toro Rosso's Jean-Eric Vergne, 12th in FP3, will head into the afternoon qualifying session knowing that wherever he finishes in the session he will start the race 10 places further back, having been penalised by the race stewards for the wheel detachment that saw him stop on track just after leaving the pit lane in the final minutes of the second practice session.

2014 Spanish Grand Prix – Free Practice 3 Times
1 Nico Rosberg Mercedes 1:25.887  16
2 Lewis Hamilton Mercedes 1:26.756 0.869 9
3 Fernando Alonso Ferrari 1:27.188 1.301 15
4 Felipe Massa Williams 1:27.223 1.336 10
5 Romain Grosjean Lotus 1:27.682 1.795 18
6 Kevin Magnussen McLaren 1:27.806 1.919 16
7 Daniel Ricciardo Red Bull Racing 1:27.808 1.921 12
8 Jenson Button McLaren 1:28.006 2.119 11
9 Pastor Maldonado Lotus 1:28.076 2.189 19
10 Sebastian Vettel Red Bull Racing 1:28.085 2.198 20
11 Valtteri Bottas Williams 1:28.101 2.214 12
12 Jean-Eric Vergne Toro Rosso 1:28.242 2.355 16
13 Daniil Kvyat Toro Rosso 1:28.298 2.411 16
14 Kimi Räikkönen Ferrari 1:28.419 2.532 16
15 Sergio Perez Force India 1:28.571 2.684 13
16 Nico Hulkenberg Force India 1:28.668 2.781 13
17 Adrian Sutil Sauber 1:28.715 2.828 16
18 Esteban Gutierrez Sauber 1:28.865 2.978 18
19 Max Chilton Marussia 1:30.169 4.282 15
20 Jules Bianchi Marussia 1:30.670 4.783 12
21 Kamui Kobayashi Caterham 1:30.712 4.825 18
22 Marcus Ericsson Caterham 1:31.559 5.672 19