Rosberg takes home victory as Hamilton recovers to third
German extends championship lead over team-mate with comfortable win at Hockenheim.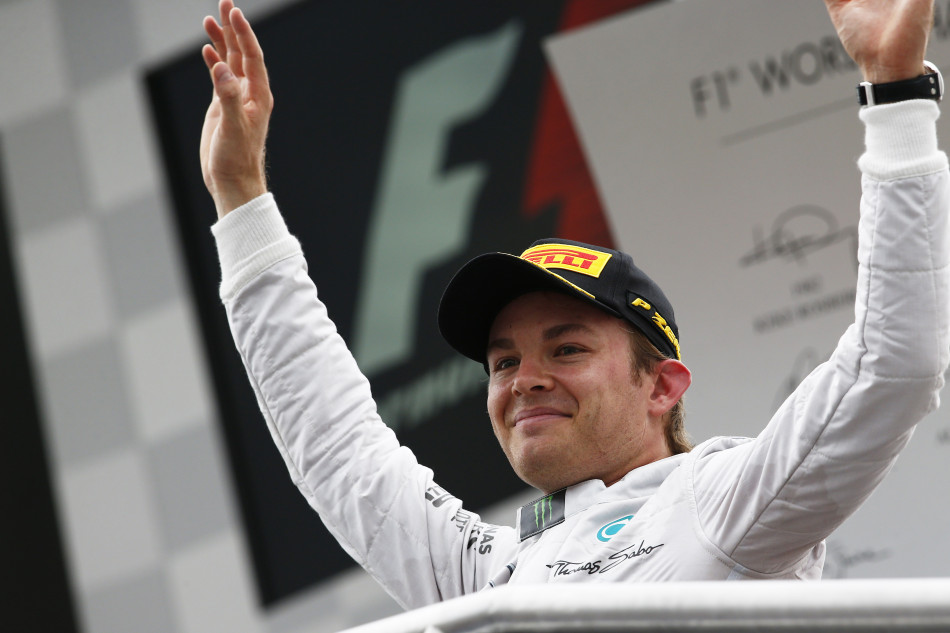 Nico Rosberg cruised to a first home win in the German Grand Prix, finishing 20 seconds clear of Williams' Valtteri Bottas, as Lewis Hamilton recovered from a 20th-place start to finish in the race in third position.
Behind the podium finishers Sebastian Vettel finished fourth for Red Bull Racing, while Ferrari's Fernando Alonso won an enthralling battle with Daniel Ricciardo in the second Red Bull to take fifth place.
There was drama as soon as the lights went out at the start. While Rosberg and Bottas got away well, McLaren's Kevin Magnussen, who'd made a good start, collided with the Williams of Felipe Massa and the Brazilian's car was flipped upside down as the pair slid into the gravel trap at turn one. The Williams came to rest right side up and Massa was quickly out of the car. The accident ruled him out of the race however. Magnussen was able to continue, though he had to pit for repairs and the Dane rejoined at the back of the field.
The incident disadvantaged Ricciardo who had to take evasive action and he dropped back to 15th. Vettel steered clear of the chaos, however, and rose to third as the safety car was deployed.
When the racing resumed Rosberg held his lead from Bottas, with Vettel third ahead of Alonso. Nico Hulkenberg was in fifth, while Jenson Button had risen to sixth from 11th on the grid.
The first stint was largely about Hamilton's charge through the pack. By lap eight he was up to 12th behind Ricciardo who was also making progress. Hamilton was, however, now almost 18 seconds down on his front-running team-mate and he continued to lose time as he battled with Ricciardo. The Red Bull driver made it past Jean-Eric Vergne and Kimi Raikkonen but while Hamilton got past the Frenchman he briefly became stuck behind the Finn.
Now 25 seconds down on Rosberg, Hamilton had to move decisively and he did so on lap 13. Pulling alongside Raikkonen, Hamilton braked late into the hairpin. The Mercedes and Ferrari made contact but Hamilton made is past and with Ricciardo avoiding trouble, the Briton passed the Red Bull into the bargain. The move elevated him to seventh.
Rosberg, meanwhile, had made his first stop and as the bulk of the field, who had started on supersoft tyres, headed for pit lane, Hamilton, who had started on soft tyres, rose to second, 7.7s behind his team-mate. Bottas then retook second on lap 20 with Hamilton under instruction not to resist the Finn.
Hamilton, targeting a two-stop race, finally made his first stop on lap 27, taking on another set of soft tyres. He resumed in eighth place. At the front, Rosberg was now 13 seconds ahead of Bottas, with Vettel third, a further eight seconds back. Alonso held fourth ahead of Hulkenberg and Button. Ricciardo was once again in front of Hamilton.
Hamilton, on fresh tyres, passed Ricciardo for P7 on lap 29 but then tried to overtake Button. He misread the pace of the McLaren, however and hit the sidepod of Button's car. It damaged Hamilton's front wing but the Mercedes driver carried on and then made a clean pass on his former team-mate on the following lap. He found a way past Hulkenberg on lap 33 for fifth.
His two-stop plan appeared to be working but by lap 42 the Mercedes driver was complaining that his tyres were wearing too fast to make it to the end of his planned long stint and his team switched him to a three-stop programme, bolting on supersoft tyres on lap 43.
On lap 50, Adrian Sutil spun in the final corner and his car stalled almost in the middle of track. It seemed set for a safety car and Mercedes, perhaps anticipating it, brought Hamilton in for his final set of tyres, more supersofts. With the trackside marshals able to remove the Sauber, the safety car didn't appear, and the Mercedes driver, who rejoined behind Alonso and ahead of Vettel, faced a long stint on the quick but fragile tyres.
It didn't seem to hurt Hamilton, however, and he passed Alonso for P3 on lap 56 to sit just over seven seconds behind Bottas.
Alonso, meanwhile, made his third and final stop, for supersofts, with 11 laps to go. He rejoined in P7 behind the Red Bulls of Vettel and Ricciardo and the McLaren of Button but with fresher, quicker tyres.
Ahead Hamilton was chewing through the gap to Bottas with the deficit reduced to just four seconds by lap 58. On the following lap the Briton took 1.7 seconds out of the Finn to set up a move.
Behind them a great battle developed between Alonso and Ricciardo, with duo tussling hard for P6. Despite Ricciardo's best efforts he couldn't resist indefinitely and eventually the Ferrari driver muscled past at the hairpin. He ran deep, however, and offered Ricciardo a way back in. The Australian pushed hard to recover the position but Alonso held on. With Vettel now 7.6s ahead and out of reach fourth was the best Alonso could do. It was by a tiny margin, however. Ricciardo battled to the end and when the duo took the flag there were just hundredths of a second separating the pair.
At the front Rosberg took a comfortable fourth win of the season but behind him Hamilton could find no way past the calm and collected Bottas, who took his third podium finish in a row.
With Vettel fourth for Red Bull and Alonso and Ricciardo taking P5 and P6 respectively, seventh place was taken by Hulkenberg. Button was eighth, ahead of team-mate Magnussen and the final points position.
Rosberg's win leaves him on 190 points with Hamilton now 14 points back. Ricciardo lies third with 106 points, nine clear of Alonso, who is six ahead of Vettel.

2014 German Grand Prix – Race Result
1 Nico Rosberg Mercedes 67 1:33:42.914 1 25
2 Valtteri Bottas Williams 67 +20.7 secs 2 18
3 Lewis Hamilton Mercedes 67 +22.5 secs 20 15
4 Sebastian Vettel Red Bull Racing 67 +44.0 secs 6 12
5 Fernando Alonso Ferrari 67 +52.4 secs 7 10
6 Daniel Ricciardo Red Bull Racing 67 +52.5 secs 5 8
7 Nico Hulkenberg Force India 67 +64.1 secs 9 6
8 Jenson Button McLaren 67 +84.7 secs 11 4
9 Kevin Magnussen McLaren 66 +1 Lap 4 2
10 Sergio Perez Force India 66 +1 Lap 10 1
11 Kimi Räikkönen Ferrari 66 +1 Lap 12
12 Pastor Maldonado Lotus 66 +1 Lap 18
13 Jean-Eric Vergne Toro Rosso 66 +1 Lap 13
14 Esteban Gutierrez Sauber 66 +1 Lap 16
15 Jules Bianchi Marussia 66 +1 Lap 17
16 Kamui Kobayashi Caterham 65 +2 Laps 19
17 Max Chilton Marussia 65 +2 Laps 21
18 Marcus Ericsson Caterham 65 +2 Laps 22
Ret Adrian Sutil Sauber 47 Spin 15
Ret Daniil Kvyat Toro Rosso 44 +23 Laps 8
Ret Romain Grosjean Lotus 26 +41 Laps 14
Ret Felipe Massa Williams 0 Accident 3