Rosberg supreme in Monaco qualifying
After a tense and rain-affected qualifying session, Nico Rosberg heads an all-Mercedes front row going into tomorrow's Monaco Grand Prix.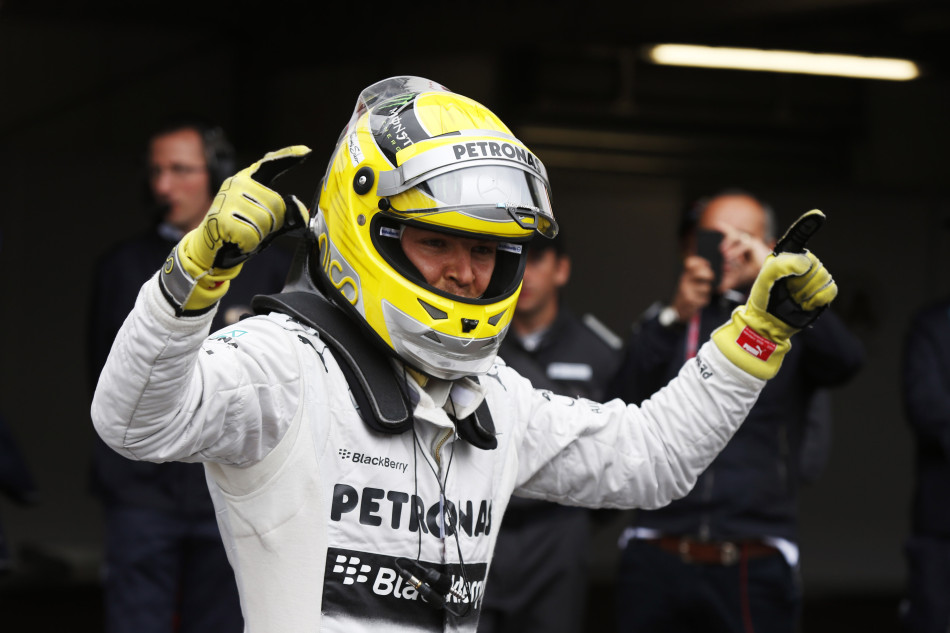 After topping the timesheet in all three practice sessions ahead of qualifying for the Monaco Grand Prix, Nico Rosberg was the overwhelming favourite to take a third pole position in a row and that is exactly what happened, though the Mercedes driver was made to work hard for his reward.
As can happen in the Principality, the weather changed suddenly between FP3 and qualifying and by the time qualifying commenced, light rain was falling in the pitlane and the track was damp. Intermediate tyres were the choice for everyone in the opening exchanges – but by Q3, despite spitting rain still falling, supersoft slicks were the tyre to be on, and Rosberg took pole with a superb final lap of 1:13.876.
"It's great to be on pole again, especially in Monaco. If at any track then it's this track where it makes a difference."
Nico Rosberg
He bested team-mate Lewis Hamilton by less than a tenth. Having been uncomfortable all weekend, Hamilton finally got the car to his liking on the final run and posted a highly competitive time. He held P1 for a few seconds before being shuffled backwards by his team-mate – but the Briton, speaking in the FIA press conference, professed himself to be happy with his efforts.
"I'm really happy to be here, to be able to lock-out the front row for the team and just a massive improvement for me, considering all the sessions in qualifying, so I'm still chuffed," he said. "That last lap is probably the first time I've switched my tyres on all weekend. And when you don't generate the heat in your tyres you don't have the confidence to hit the brakes hard and brake late."
Completing an identical top three to that seen in Barcelona two weeks ago, Sebastian Vettel recorded third place for Red Bull Racing. The world champion had been quickest in Q2 but missed out by just over a tenth of a second in Q3 – a failing for which he blamed himself rather than his car.
"I think it was a bit more than tenth missing and I think I had that today but it didn't come together on the last lap," he said. "I think the car was very, very good and if anyone's to blame then it's me. So, not entirely happy with the last lap but quite happy that there isn't a Ferrari or a Lotus ahead."
Vettel will have team-mate Mark Webber alongside him on the second row, with his closest rivals in the drivers' championship just behind – Kimi Räikkönen, in fifth for Lotus, and Fernando Alonso sixth for Ferrari.
"Not entirely happy with the last lap but quite happy that there isn't a Ferrari or a Lotus ahead."
Sebastian Vettel
Behind them Sergio Pérez took seventh for McLaren and will start alongside Force India's Adrian Sutil. Jenson Button was ninth in the second McLaren, having aborted his final run suffering from power problems, and will start alongside Toro Rosso's Jean-Eric Vergne who took part in his first Q3 session.
Conspicuous by his absence from the top-10 list was Ferrari's Felipe Massa. The damage caused by his heavy crash in FP3 left Ferrari unable to repair his car in time to take part in the session.
The same fate looked like it would befall Romain Grosjean. Having crashed at the end of FP3, his Lotus was still on high-stands as the session began, mechanics working furiously to repair the damage. Eventually he got out in time to qualify for Q2.
Jules Bianchi failed to complete a lap, his Marussia grinding to a halt with smoke pouring from the rear. Those two were eliminated along with Marussia's Max Chilton, Sauber's Esteban Gutiérrez, the Caterham of Charles Pic and Paul di Resta for Force India.
The latter was caught out by the changing conditions. With much of the field pitting towards the end of Q1 to take on a new set of Intermediates, times were falling dramatically right up to the chequered flag. Having stayed out on his first set, the Scotsman was suddenly unable to compete.
The situation in Q2 was similar, though the switch in that session was from Inters to supersofts, as the track dried sufficiently to reach the crossover point for slicks. Again, all the runners spent a lot of time on track, with times tumbling as the session reached its conclusion.
Ejected at this stage were Sauber's Nico Hülkenberg, Toro Rosso's Daniel Ricciardo, Grosjean, the Williams of Bottas and Maldonado and the Caterham of Giedo van der Garde – the latter making his first appearance in Q2.
Rosberg, however, had no such trouble. He sailed through Q2 in fourth position, and rose to the top of the order on the fully dry track in Q3. Given his performances in practice it was only to be expected – but the conditions made him work for his third consecutive pole.
"It could have been a lot easier out there today," he said. "You really had to be out there at the right time with the right tyres… but I'm really happy. Everything went to plan and the last lap was OK. It's great to be on pole again, especially in Monaco. If at any track then it's this track where it makes a difference."
2013 Monaco Grand Prix qualifying times
1 Nico Rosberg Mercedes 1:13.876
2 Lewis Hamilton Mercedes 1:13.967
3 Sebastian Vettel Red Bull Racing 1:13.980
4 Mark Webber Red Bull Racing 1:14.181
5 Kimi Räikkönen Lotus 1:14.822
6 Fernando Alonso Ferrari 1:14.824
7 Sergio Pérez McLaren 1:15.138
8 Adrian Sutil Force India 1:15.383
9 Jenson Button McLaren 1:15.647
10 Jean-Eric Vergne Toro Rosso 1:15.703
11 Nico Hülkenberg Sauber 1:18.331
12 Daniel Ricciardo Toro Rosso 1:18.344
13 Romain Grosjean Lotus 1:18.603
14 Valtteri Bottas Williams 1:19.077
15 Giedo van der Garde Caterham 1:19.408
16 Pastor Maldonado Williams 1:21.688
17 Paul di Resta Force India 1:26.322
18 Charles Pic Caterham 1:26.633
19 Esteban Gutiérrez Sauber 1:26.917
20 Max Chilton Marussia 1:27.303
DNQ Jules Bianchi Marussia No time
DNQ Felipe Massa Ferrari No time