Rosberg sets the final practice pace in Australia
Mercedes driver finishes 1.4 seconds clear of McLaren's Jenson Button as Lotus hit more problems.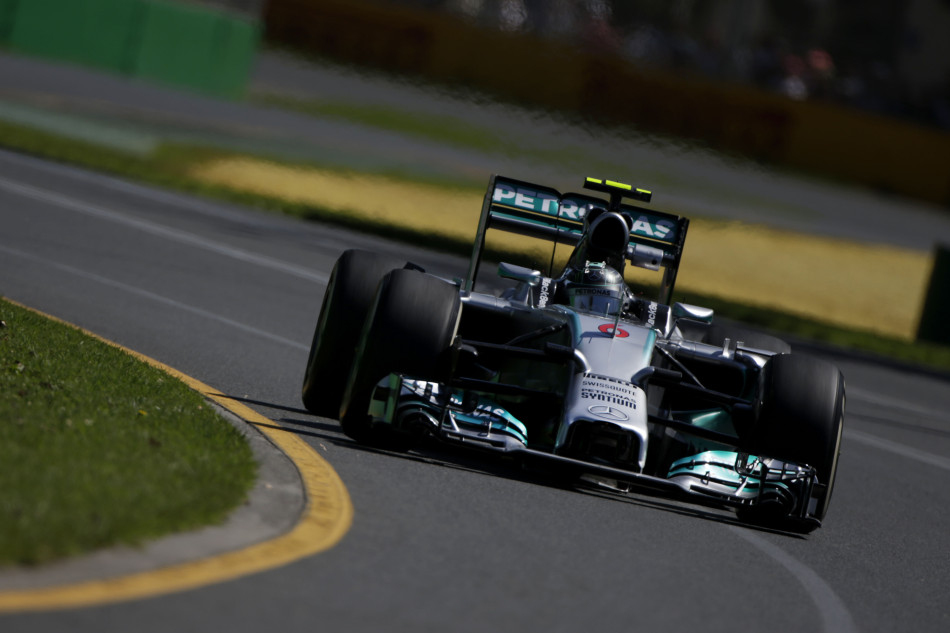 Nico Rosberg topped the timesheet in the final practice session ahead of qualifying for the Australian Grand Prix, his lap of 1:29.375 being the quickest set so far on the opening weekend of the 2014 season. The Mercedes driver ended the session 1.4 seconds clear of next fastest man Jenson Button and 1.5 seconds ahead of third-placed Fernando Alonso.
Rosberg's team-mate Lewis Hamilton was fourth. Hamilton had begun his soft tyre run with a first sector quicker than Rosberg's best but errors later in the lap saw the 2008 champion abandon the attempt.
Daniel Ricciardo was fifth for much-improved Red Bull Racing, the Australian recording a best lap of 1:30.970. Team-mate Sebastian Vettel was less happy, the four-time champion reporting during his soft tyre run late in the session that his RB10 felt "horrible" and that "the car does not accelerate". He finished the session in 12th place.
Vettel's problems weren't quite as debilitating as those suffered elsewhere. Sauber's Esteban Gutierrez was the first to hit trouble on track, the Mexican slowing early on with gearbox problems. He was able to limp back to the pits where the team reported it hoped to have the issue fixed in time qualifying, though a change of gearbox will mean a five-place grid penalty.
There were gearbox problems too for Valtteri Bottas. The Finn was restricted to the Williams garage for the duration of the session as the team attempted to replace the unit in time for qualifying. Like Gutierrez, he will therefore take a five-place grid penalty.
Over at Lotus things were going from bad to worse. The team reportedly used up the first of six curfew exceptions to work through the night in an attempt to solve the problems that had restricted the team to just 14 laps in total on Friday.
Their efforts appeared to have been in vain, however, as both Romain Grosjean and Pastor Maldonado encountered more trouble. Grosjean suffered an engine misfire early on while Maldonado stopped on track as the session came to a close. Marussia, too, used one its curfew 'jokers' overnight.
Elsewhere, Kimi Raikkonen also had difficulties. The Finn was late out due to a radio system problem and finished in seventh place on the timesheet, behind Nico Hullkenberg, 1.7s off Rosberg and still evidently uncomfortable with the handling of his Ferrari F14 T.
Behind Raikkonen, Kevin Magnussen was eighth for McLaren, Sergio Perez finished ninth and the top 10 was rounded out by Felipe Massa.
2014 Australian Grand Prix – Free Practice 3 Times
1 Lewis Hamilton Mercedes 1:29.625  37
2 Nico Rosberg Mercedes 1:29.782 +0.157 31
3 Fernando Alonso Ferrari 1:30.132 +0.507 28
4 Sebastian Vettel Red Bull Racing 1:30.381 +0.756 41
5 Jenson Button McLaren 1:30.510 +0.885 33
6 Daniel Ricciardo Red Bull Racing 1:30.538 +0.913 38
7 Kimi Räikkönen Ferrari 1:30.898 +1.273 32
8 Valtteri Bottas Williams 1:30.920 +1.295 38
9 Kevin Magnussen McLaren 1:31.031 +1.406 34
10 Nico Hulkenberg Force India 1:31.054 +1.429 33
11 Jean-Eric Vergne Toro Rosso 1:31.060 +1.435 35
12 Felipe Massa Williams 1:31.119 +1.494 31
13 Sergio Perez Force India 1:31.283 +1.658 36
14 Adrian Sutil Sauber 1:32.355 +2.730 36
15 Esteban Gutierrez Sauber 1:32.468 +2.843 26
16 Daniil Kvyat Toro Rosso 1:32.495 +2.870 36
17 Jules Bianchi Marussia 1:33.486 +3.861 29
18 Romain Grosjean Lotus 1:33.646 +4.021 12
19 Max Chilton Marussia 1:34.757 +5.132 29
20 Marcus Ericsson Caterham No time 1
21 Kamui Kobayashi Caterham No time 0
22 Pastor Maldonado Lotus No time 0