Rosberg resumes control at Hockenheim
Mercedes driver eclipses team-mate in final free practice in Germany. Alonso third.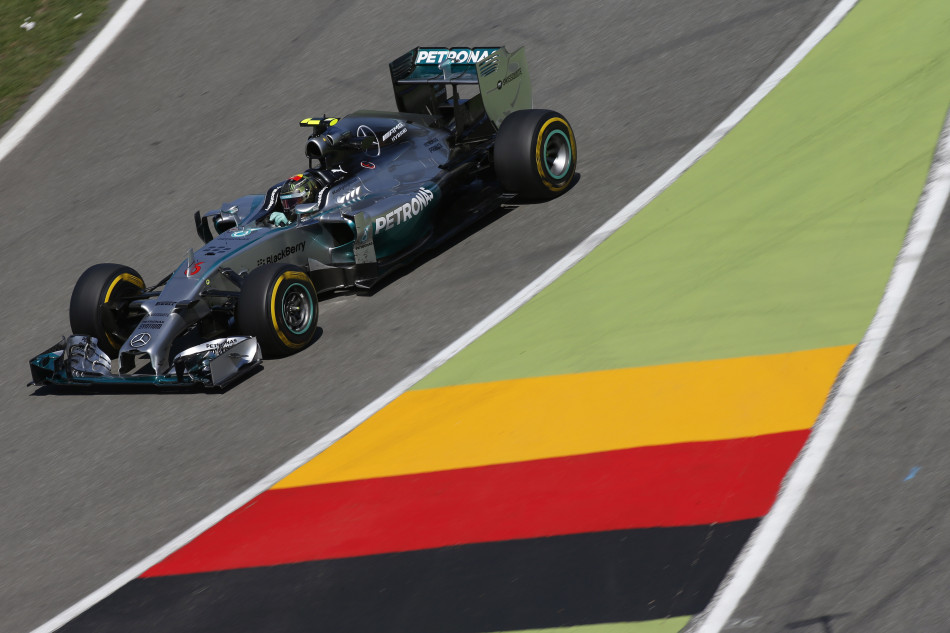 Nico Rosberg moved back to the top of the timeseheets in Hockenheim, outpacing team-mate by six tenths of a second in final practice ahead of the German Grand Prix.
After spending the bulk of the session working on longer runs on the medium tyre, during which Rosberg also looked more comfortable, the Mercedes pair moved to the quicker supersoft compound in the final 10 minutes of the hour-long session.
Rosberg immediately jumped to the top of the chart, with a time of 1:17.779, the fastest time of the weekend so far. Hamilton didn't appear until the final five minutes and his run wasn't as smooth as his team-mate's, with the result that he finished the session 0.6s adrift of the German.
The session was run in conditions almost 10 degrees cooler than Friday's broiling free practice session, when track temperatures hit 58˚C, and the change seemed to affect a number of runners.
After getting close the times set by Mercedes yesterday, with Daniel Ricciardo finishing FP2 just a tenth adrift of Hamilton's session-best time, Red Bull Racing's drivers looked less comfortable this morning and Ricciardo finished the session in seventh place with a time of 1:18.769, three tenths slower than his best time on supersoft tyres from Friday. Sebastian Vettel, meanwhile, finished ninth.
That left the way open for other to stake a claim to being Mercedes nearest challengers and it was Fernando Alonso who went closest, claiming P3 with a lap just four thousandths of a second slower than Hamilton's FP3 best.
After struggling on day one at Hockenheim, Williams appeared to have made progress overnight and fourth place went to Felipe Massa, with team-mate Valtteri Bottas fifth.
McLaren's Kevin Magnussen continued to look comfortable around the circuit's 4.574kn length and posted the morning's sixth fastest time, maintaining the mid-top 10 position he has occupied throughout the sessions so far. Team-mate Jenson Button was less content, however, and complained of understeer and locking brakes on his way to P13.
With Ricciardo seventh, eighth place went to Kimi Raikkonen. Early in the session it looked as though the Finn might be in for a troubled session as he was called back to the Ferrari garage due to a fuel issue.
It turned out to be a minor problem, however, and the Finn was soon back out on track as an early adopter of the supersoft tyre. His best time came on his first run out on the option rubber. The final top-10 place went to Force India's Nico Hulkenberg.

2014 German Grand Prix – Free Practice 3 Times
1 Nico Rosberg Mercedes 1:17.779 24
2 Lewis Hamilton Mercedes 1:18.380 0.601 20
3 Fernando Alonso Ferrari 1:18.384 0.605 11
4 Felipe Massa Williams 1:18.575 0.796 18
5 Valtteri Bottas Williams 1:18.611 0.832 19
6 Kevin Magnussen McLaren 1:18.756 0.977 16
7 Daniel Ricciardo Red Bull Racing 1:18.769 0.990 13
8 Kimi Räikkönen Ferrari 1:18.842 1.063 8
9 Sebastian Vettel Red Bull Racing 1:18.890 1.111 17
10 Nico Hulkenberg Force India 1:19.127 1.348 19
11 Daniil Kvyat Toro Rosso 1:19.131 1.352 19
12 Jean-Eric Vergne Toro Rosso 1:19.470 1.691 20
13 Jenson Button McLaren 1:19.489 1.710 15
14 Sergio Perez Force India 1:19.505 1.726 21
15 Esteban Gutierrez Sauber 1:19.601 1.822 23
16 Romain Grosjean Lotus 1:20.078 2.299 23
17 Jules Bianchi Marussia 1:20.198 2.419 21
18 Pastor Maldonado Lotus 1:20.466 2.687 19
19 Adrian Sutil Sauber 1:20.844 3.065 6
20 Kamui Kobayashi Caterham 1:21.018 3.239 21
21 Marcus Ericsson Caterham 1:23.077 5.298 14
22 Max Chilton Marussia 1:23.449 5.670 7