This page contains archived information and may not display perfectly
Rosberg reigns in Spain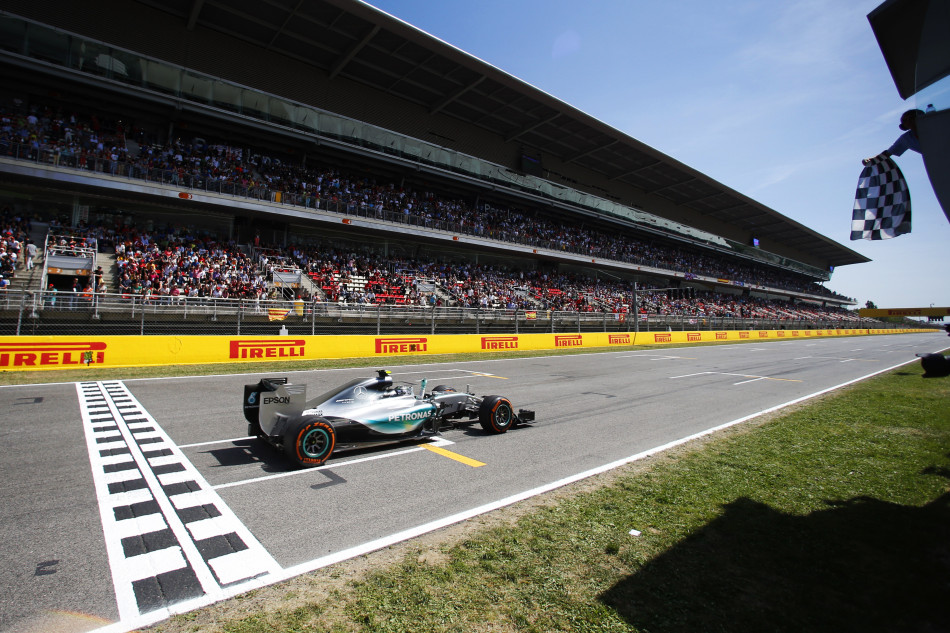 Nico Rosberg took a controlled and comfortable first win of the season at the Spanish Grand Prix as Lewis Hamilton recovered from a bad start to overhaul Sebastian Vettel with a three-stop strategy.
After a superb start which saw him safely through the first corner in the lead Rosberg was never troubled during the race and worked his way through two routine stops to reignite his championship challenge with a ninth career win.
It was a less smooth race for Hamilton. The Briton made a poor getaway from the dirty side of the track and was passed by Vettel on the run to turn one. He hung on to the Ferrari in the first stint but a slow first stop widened the gap to the German. A second similarly slow stop hurt him again but he pushed hard to claw back time over Vettel and a regulation third stop saw him emerge ahead of Vettel and on fresher, medium tyres. Hamilton closed to within nine seconds of Rosberg in the closing stages but, controlling the pace, Rosberg was always comfortable as he headed towards the flag and 25 points that put him 20 points adrift of Hamilton after five races.
"It's a fantastic weekend," said Rosberg afterwards. "Everything worked out on Saturday and Sunday. It all came together. I'm very happy."
Referrring to narrowing Hamilton's title lead, Rosberg said the result was good but that he had hoped for Vettel to keep the Briton in third place.  
"At one point I thought maybe, who knows, maybe Sebastian can keep Lewis behind, which on the one side isn't good for the team, but in terms of my points, it's always a compromise, for my points that would have been better. Seven points is better than nothing and a fantastic team result to be first and second, especially after the two and a half week break. Everybody brought upgrades here but still we're dominating in such a way and that's fantastic to see and more than at the last race."
Hamilton, meanwhile, said his race had been a successful case of "damage limitation".
"I had quite a poor start. Been a long time since I had such a poor start," he said. "I tried my best to recover and it was then just trying to fight. Unfortunately this track isn't very good for overtaking. It's the worst. It's impossible to follow.
"I did enough in the first stint," he added. "I had a very long pit stop and then had to do it all again but at the end on t a three stop had enough to get by. Grateful to get points for team but it was damage limitation."
At the start Rosberg made a confident start to comfortably hold his lead into turn one. Hamilton, however, got away badly and was passed by Vettel before turn one to drop to third.
Behind them Valtteri Bottas held fourth, while Max Verstappen made a superb start to climb to fifth from his seventh-place grid slot. His team-mate, Carlos Sainz, didn't fare as well, however and having been passed by the teenager was quickly under pressure from Kimi Raikkonen.
The pair dueled through the opening corners but the Finn eventually won out and Sainz dropped back to seventh, which quickly became eighth as he was passed on the next lap by Felipe Massa.
Verstappen's good work was soon undone as the quicker Raikkonen and Massa got past, leaving the Dutch driver seventh.
Sainz, too, was slipping back, being passed by the hard charging Pastor Maldonado, who had risen from P12 on the grid and Daniel Ricciardo, who had recovered from a bad start in which he dropped a place to Lotus' Romain Grosjean to re-pass the Frenchman and slot into ninth place.
After his good start Rosberg wasted no time in opening up a gap the Vettel and Hamilton and by lap 10 the German was a healthy 6.6s ahead of the Ferrari driver and almost eight seconds clear of Hamilton who was telling the Mercedes pit wall that it was "It's impossible to get close" to Vettel.
Behind the top 10, Sainz was now 11th with Fernando Alonso 12th and Daniil Kvyat in the second Red Bull car 13th after dropping down from an eighth-place start.
His plight on lap 11 was the cue for Red Bull Racing to bring him into the pits to shed his starting used medium tyres, as McLaren did with Jenson Button.
Despite managing to find a way to close in on Vettel and get within DRS range Hamilton's team told him that they planned to do the opposite to what they predicted Ferrari were planning and ordered the Briton to pit.
He did so, taking on new mediums, but there was a problem with the rear left and the stop was slow. Vettel pitted on lap 14 for new mediums and after a 2.3s stop rejoined with the gap to Hamilton stretched to more than two seconds.
Rosberg was soon in too but Raikkonen stayed out and thus took the lead. The Finn eventually pitted on lap 17, taking on hard tyres, and rejoined in fifth, intent it on trying something strategically different.
The order on lap 20 saw Rosberg back in the lead and with a six-second advantage over Vettel. Hamilton was on a charge, however, and had closed the gap to Vettel to 0.7s. Bottas was still fourth ahead of Raikkonen, while Massa was sixth ahead of McLaren's Fernando Alonso, who had yet to stop, and Ricciardo. Grosjean was now ninth ahead of Verstappen. Alonso eventually made his stop on lap 21 and his drop down the order boosted Kvyat in a points position, with the Russian being told that he was now in "a critical part of the race" and needed to push. 
Elsewhere, Lotus were having another troubled afternoon. Maldonado, who had shipped some damage early on, was forced back to the pits as the rear wing damage became worse. Despite a partially collapse rear right upright he was sent back out and dropped to P18. Grosjean, meanwhile, had lost fourth gear but was battling hard to hold eighth place.
Alonso, meanwhile, was in trouble. The Spaniard ran well wide at turn one but managed to rescue the situation. He headed for pit lane immediately and with his brakes failing he overshot his pit marks. He was quickly told to switch off the car and he retired from the race.
At the front Hamilton, who had backed off from Vettel at the end of the second stint, headed for the pit lane on lap 32 but again the Briton had a slightly slow stop, of 3.4 seconds and when he rejoined he found himself fifth on new hard tyres 0.3s behind Raikkonen. He quickly passed the Finn and began setting fastest race laps as he attempted to make a three-stop strategy, in which he would use a set of used mediums for a final blast, work.
Massa too, in P6, appeared to be trying the same tactic and he too switched to hard tyres on laps 32.
Further ahead Rosberg was in complete control and on lap 38 had a 12.8s advantage over Vettel, who was 10.8s ahead of Bottas. Hamilton, having stopped twice, was fourth and 25.8s down on his team-mate, while Raikkonen was fifth ahead of Massa, Ricciardo and Grosjean. The final points positions were occupied by Kvyat and Sainz who rose to tenth as team-mate Verstappen made his second stop. Behind them Maldonado, despite his broken rear wing was making progress and had climbed to P14.
Vettel made his final visit to the pit lane for hard tyres on lap 40 and after 2.2 seconds stationary he rejoined in fourth place. Team-mate Raikkonen followed a lap later, taking on a final set of medium tyres. Bottas made his final visit, from third place, on lap 42, taking on hard tyres, in the expectation of holding the fourth place he had occupied for the bulk of the race.
Rosberg was the final man to pit on a two-stop strategy. Heading for pit lane on lap 45. The German spent 2.8 seconds while his final set of hard tyres were fitted and as headed for the pit exit, Hamilton breezed by to take the lead. He began to push hard to claw back time he would lose to Vettel in his final stop and on lap 50 he was 20.5s ahead of the German and his engineers was telling him that a few more seconds would do the job.
Raikkonen, meanwhile, was on a charge. Utilising the better pace of his medium tyres, the Finn passed the three-stopping Felipe Massa to claim fifth and began to narrow the seven-second gap to the compatriot Bottas. Further back, Maldonado was forced to retire his Lotus on lap 46.
Hamilton pitted for his final set of medium tyres on lap 51 ands after a decent 2.6s stop the Briton rejoined, in second place, ahead of Vettel.  The German told his team that the place had been lost due to time lost in traffic.
With all the stops done, Rosberg led by 20.6s from Hamilton, with Vettel a further 3.7s back. Bottas was now inching away from fifth-placed Raikkonen, while the Finn was comfortably 25s ahead of Massa. Ricciardo was a lonely seventh, 35s behind Massa and almost 17 clear of Grosjean. The final points positions featured Kvyat in ninth and Verstappen in tenth place.
In the closing stages Sainz passed his team-mate and then on the final lap muscled his way past Kvyat but in doing so he went off track and was put under investigation by the race stewards after race. His was the only change to the top-10 order in the closing stages and Rosberg crossed the line comfortably ahead of Hamilton, with Vettel third.