Rosberg on pole in Bahrain
Nico Rosberg made it two poles in two races for Mercedes with a dominant display at the Bahrain International Circuit.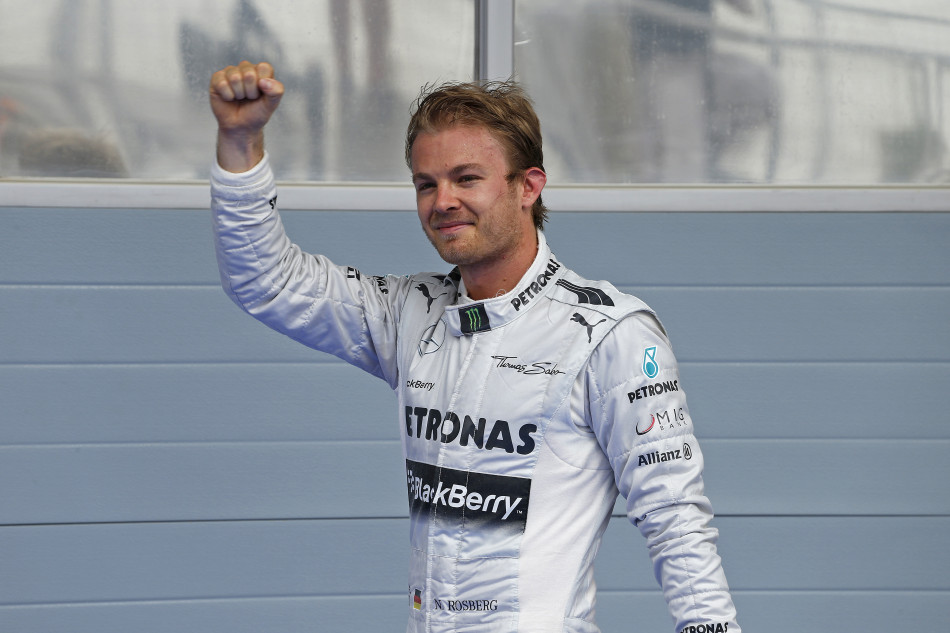 Nico Rosberg made it two poles in two races for Mercedes with a dominant display at the Bahrain International Circuit.
Rosberg's pole was assured when he set a dominant time of 1:32.330 during the final runs in Q3. Sebastian Vettel for Red Bull, doing his only run in Q3, could not match it and slotted into second, two-tenths down. The consolation for Vettel was Ferrari's Fernando Alonso aborting his lap after a small error, the Spaniard having to settle for the third place secured by an earlier run.
"For the first time this season everything went perfectly today and that's a great feeling," said a jubilant Rosberg celebrating his second career F1 pole. "Pole position feels like a kick-start for me and it's a great achievement from everyone in the team. We still had some work to do after the practice sessions yesterday and the team had a busy night to turn it around. Thanks to them for the quickest car out there today."
Behind the front three, Lewis Hamilton qualified fourth and Mark Webber fifth, though they will be demoted. Webber with a three-place drop from his collision with Jean-Eric Vergne in China, Hamilton for a lunchtime gearbox change after problems with his Mercedes in the final free practice session this morning.
That promotes Felipe Massa to fourth on the grid to make it an all-Ferrari second row. The Brazilian was the only Q3 runner to opt for the hard tyre and so will start on a different strategy to those around him.  
Behind Massa the Force Indias, having looked in good form all weekend, qualified seventh and eighth with Paul Di Rest a hundredth-of a second quicker than Adrian Sutil. Behind them Kimi Räikkönen was ninth after a disappointing qualifying session that saw neither Lotus repeat their apparent pace of the practice sessions. Räikkönen was the last of those to set a time in Q3. Jenson Button will start tenth after cruising around the circuit and opting to not set a time. He has the choice of starting tyre.
Q1 saw a closely fought battle between the backmarkers. Charles Pic emerged easily on top with the upgraded Caterham and took P19 but behind him the gaps between his rivals were very small. Jules Bianchi qualified P20 for Marussia, followed by the second Caterham of Giedo van der Garde in P21 and Marussia's Max Chilton 22nd and last. Also eliminated at this stage were Sauber's Esteban Gutiérrez – who will drop from 18th to last when a five-place penalty acquired in China is applied – and Pastor Maldonado. Maldonado was agonisingly close to making the cut, setting the same time as Valtteri Bottas but eliminated by virtue of his lap being set later in the session that that of his team-mate.
Vettel was quickest in Q2 but attention was focussed at the other end of proceedings. With everyone on the medium tyre is was more about speed and less about strategy – though the option of doing two runs or only one was still open. In the end a top four of Rosberg, Alonso, Di Resta and Hamilton believed they had done enough after their first attempts and stayed in the garage.
The surprise of the session was the elimination of Romain Grosjean. Lotus had not looked in danger of that fate from their times in practice but mistakes on both of his quick laps relegated Grosjean to 11th. Behind him Sergio Pérez was 12th in the second McLaren, followed by Daniel Ricciardo for Toro Rosso, and Nico Hülkenberg for Sauber. 15th was Bottas and 16th the second Toro Rosso of Jean-Eric Vergne.
Tomorrow's race sees parallels to China: a Mercedes on pole with cars apparently having better long-run pace clustered behind, with others on different strategies as the wildcards in proceedings. It promises to be an interesting Bahrain Grand Prix.
2013 Bahrain Grand Prix qualifying results
1 Nico Rosberg Mercedes 1:32.330
2 Sebastian Vettel Red Bull Racing 1:32.584
3 Fernando Alonso Ferrari 1:32.667
4 Lewis Hamilton Mercedes 1:32.762 (5-place grid penalty)
5 Mark Webber Red Bull Racing 1:33.078 (3-place grid penalty)
6 Felipe Massa Ferrari 1:33.207
7 Paul di Resta Force India 1:33.235
8 Adrian Sutil Force India 1:33.246
9 Kimi Räikkönen Lotus 1:33.327
10 Jenson Button McLaren 1:33.702
11 Romain Grosjean Lotus 1:33.762
12 Sergio Pérez McLaren 1:33.914
13 Daniel Ricciardo Toro Rosso 1:33.974
14 Nico Hülkenberg Sauber 1:33.976
15 Valtteri Bottas Williams 1:34.105
16 Jean-Eric Vergne Toro Rosso 1:34.284
17 Pastor Maldonado Williams 1:34.425
18 Esteban Gutiérrez Sauber 1:34.730 (5-place grid penalty)
19 Charles Pic Caterham 1:35.283
20 Jules Bianchi Marussia 1:36.178
21 Giedo van der Garde Caterham 1:36.304
22 Max Chilton Marussia 1:36.476