Rosberg heads FP1 in Monaco
Ahead of Sunday's Monaco Grand Prix, Mercedes Nico Rosberg confirmed his early season form as the quickest man over one lap.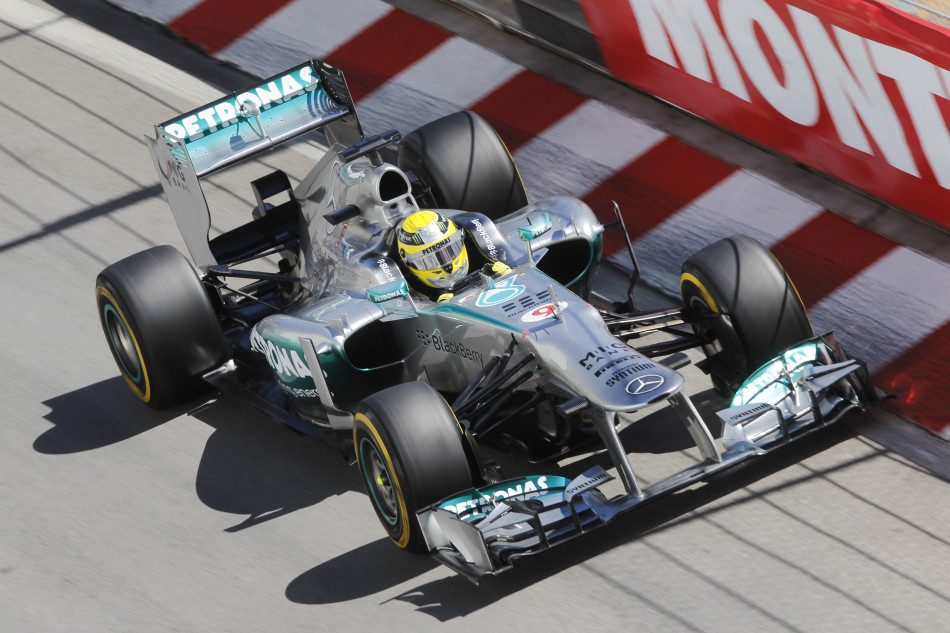 Nico Rosberg, on pole in Bahrain and Spain, rose to the top of the FP1 order at the halfway mark with a time of 1:17.005. A few minutes later, as the track got faster and drivers become more confident of grip levels, he dropped that by nearly a second to 1:16.195. That time remained unbeaten in the last half hour as many drivers set about long-runs on the soft compound Pirelli tyre.
At the chequered flag Rosberg led Ferrari's Fernando Alonso by nine-tenths of a second. Behind Alonso, Romain Grosjean was a further tenth back for Lotus. He was followed by Felipe Massa in the second Ferrari, Lewis Hamilton in the second Mercedes and Pastor Maldonado, the Williams driver demonstrating his usual Monaco prowess to put his car up among the leaders.
Behind him in seventh place was Red Bull's Mark Webber, a winner here in 2010 and 2012. He was followed by McLaren's Jenson Button, the last man within a second of the leader. Team-mate Sergio Pérez finished marginally behind Button, while tenth place went to Red Bull's Sebastian Vettel.
The session, run in warm sunny conditions, started slowly. After installation laps, the first half-hour passed without any track action, everyone waiting in the garage for someone else to clean-up a racing line that is traditionally very dirty here on a Thursday.
Once running did commence, however, the session was very busy. In addition to being quickest, Rosberg also completed the most mileage with 31 laps. The rest of the field was not far behind with everyone else in the 20s.
The session passed off with little incident. Several drivers took advantage of the run-off at Ste Devote though no-one crunched the barriers. Adrian Sutil came closest, spinning his Force India at the bottom of the hill and possibly brushing the wall with his rear wing. It was enough to have his team check-out the car for damage but none was immediately evident.
Monaco Grand Prix free practice 1 times
1 Nico Rosberg Mercedes 1:16.195
2 Fernando Alonso Ferrari 1:16.282 +0.087
3 Romain Grosjean Lotus 1:16.380 +0.185
4 Felipe Massa Ferrari 1:16.394 +0.199
5 Lewis Hamilton Mercedes 1:16.469 +0.274
6 Pastor Maldonado Williams 1:16.993 +0.798
7 Mark Webber Red Bull Racing 1:17.020 +0.825
8 Jenson Button McLaren 1:17.129 +0.934
9 Sergio Pérez McLaren 1:17.378 +1.183
10 Sebastian Vettel Red Bull Racing 1:17.380 +1.185
11 Kimi Räikkönen Lotus 1:17.509 +1.314
12 Paul di Resta Force India 1:17.548 +1.353
13 Adrian Sutil Force India 1:17.625 +1.430
14 Nico Hülkenberg Sauber 1:18.193 +1.998
15 Jean-Eric Vergne Toro Rosso 1:18.454 +2.259
16 Esteban Gutiérrez Sauber 1:18.754 +2.559
17 Valtteri Bottas Williams 1:18.830 +2.635
18 Daniel Ricciardo Toro Rosso 1:19.067 +2.872
19 Giedo van der Garde Caterham 1:19.203 +3.008
20 Charles Pic Caterham 1:19.438 +3.243
21 Jules Bianchi Marussia 1:19.773 +3.578
22 Max Chilton Marussia 1:20.225 +4.030