Rosberg beats Hamilton to Bahrain pole
German takes his first pole position of 2014 ahead of Mercedes team-mate. Daniel Ricciardo third for Red Bull Racing.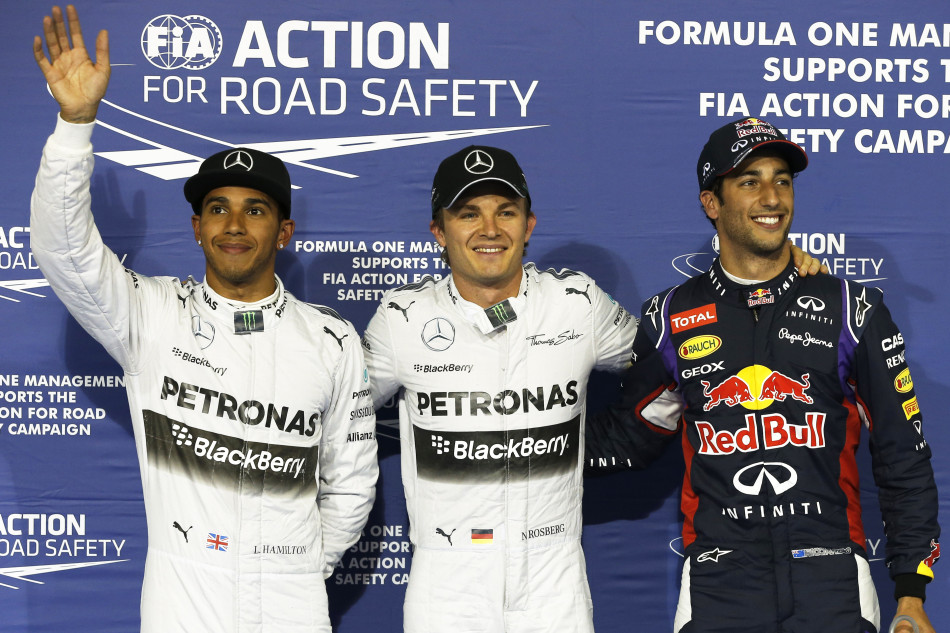 Nico Rosberg grabbed pole position for the Bahrain Grand Prix as an error from Lewis Hamilton on his final run put paid to the Briton's chance of scoring a third front-of-grid start in a row.
Rosberg had set a solid benchmark with first run in the final top-10 shootout and when Hamilton ran wide on his final run, the German was able to abort his own flawed final run safe in the knowledge that his first time of the 12-minute segment was good to earn him his first pole position of 2014.
"I just worked well through the weekend, planning my way and progressing, getting around some issues, understanding what set-up to go for and things like that," said Rosberg afterwards. "It worked out well, I was feeling comfortable, I got my laps together. I'm very happy and it's great to start from pole."
Behind the two Mercedes men, Daniel Ricciardo took third place for Red Bull Racing. The Australian though will drop back to 13 after he takes the 10-place penalty he was given by FIA stewards for an unsafe release from a pit stop at last weekend's Malaysian Grand Prix.
Afterwards Ricciardo admitted he would need some strategic inspiration to work his way back up the field in tomorrow's race.
"Tomorrow, unfortunately I don't stay at the front here but it'll give me a bit of a work to do and I'll move forward from there," he said. "We've got some good guys in the office back there and I'm sure they'll do what they can to get me as far up the front as possible. I think at the moment it's pretty close between two and three stop and maybe there's a bit of room for us to try something there."
Earlier, Q1 had begun in predictable fashion, with most completing their initial runs on the medium compound tyres. As the final minutes approached, however, the Sauber pairing of Esteban Gutierrez and Adrian Sutil bolted on soft tyres, and with previous sessions showing a two-second performance gap between the compounds, the pair rocketed up the order, Gutierrez taking third and Sutil settling into sixth place.
That meant a switch to softs for the whole field bar the Mercedes drivers, who remained in the garage, confident their medium tyre times would see them through. Red Bull's Daniel Ricciardo too stuck with the mediums and went through in 14th place.
At the top of the Q1 timesheet was Nico Hulkenberg, followed by Valtteri Bottas and with Sergio Perez third. Hamilton eased through in eighth place, with Rosberg 10th just ahead of world champion Sebastian Vettel.
Eliminated were the Marussias of Max Chilton (P22) and Jules Bianchi (P20) and the Caterhams of Marcus Ericsson (P21) and Kamui Kobayashi (P19). Out too went Lotus' Pastor Maldonado, the Venezuelan pushed into the drop by team-mate Romain Grosjean's final flying lap. Grosjean tangled late on with Sutil, who had also been eliminated, and the pair were set for a visit to the stewards' office after the session.
Q2 too saw similar drama late on as Sebastian Vettel found himself in the drop zone with a few minutes left. He took to the circuit on the soft tyres and set about trying to muscle his way through to the upper orders. However, his lap only yielded P8 and with plenty of time on the clock it wasn't long before the defending champion was sliding down the order. Kimi Raikkonen bumped him down to ninth and as others posted their best times Vettel slipped out to 11th.
At the head of the Q2 timesheet were Rosbreg and Hamilton, followed by Ricciardo, McLaren's Jenson Button and Ferrari's Fernando Alonso. Sergio Perez was sixth, ahead of the Williams cars of Valtteri Bottas and Felipe Massa who set identical times of 1:34.842 in the session.
With Mercedes taking their first front-row lockout of the season and Ricciardo scoring a second top-three start of the year, fourth place went to Williams' Valtteri Bottas.
Thanks to Ricciardo's penalty, however, Bottas will start a grand prix from the from the front of row two for the second time in his career. He started last year's Canadian GP from third.
He'll be joined on row two by Force India's Sergio Perez, the Mexican enjoy his best outing of the season so far to qualify fifth. Sixth in the session was Kimi Raikkonen, the Finn eclipsing team-mate Fernando Alonso for the first time this season. The Spaniard could only manage 10th.
Seventh place in the session went to McLaren's Jenson Button, with Felipe Massa eighth for Williams and Kevin Magnussen ninth in the second McLaren. All will move forward one place on the grid due to Ricciardo's penalty.

2014 Bahrain Grand Prix – Qaulifying Result
1. Nico Rosberg Mercedes 1m33.185s
2. Lewis Hamilton Mercedes 1m33.464s +0.279s
3. Daniel Ricciardo Red Bull 1m34.051s +0.866s
4. Valtteri Bottas Williams 1m34.247s +1.062s
5. Sergio Perez Force India 1m34.346s +1.161s
6. Kimi Raikkonen Ferrari 1m34.368s +1.183s
7. Jenson Button McLaren 1m34.387s +1.202s
8. Felipe Massa Williams 1m34.511s +1.326s
9. Kevin Magnussen McLaren 1m34.712s +1.527s
10. Fernando Alonso Ferrari 1m34.992s +1.807s

11. Sebastian Vettel Red Bull 1m34.985s +1.277s
12. Nico Hulkenberg Force India 1m35.116s +1.408s
13. Daniil Kvyat Toro Rosso 1m35.145s +1.437s
14. Jean-Eric Vergne Toro Rosso 1m35.286s +1.578s
15. Esteban Gutierrez Sauber 1m35.891s +2.183s
16. Romain Grosjean Lotus 1m35.908s +2.200s

17. Pastor Maldonado Lotus 1m36.663s +1.789s
18. Adrian Sutil Sauber 1m36.840s +1.966s
19. Kamui Kobayashi Caterham 1m37.085s +2.211s
20. Jules Bianchi Marussia 1m37.310s +2.436s
21. Marcus Ericsson Caterham 1m37.875s +3.001s
22. Max Chilton Marussia 1m37.913s +3.039s