This page contains archived information and may not display perfectly
Rookie driver George Russel claims Formula 3 race win
Having only just missed out on a podium finish by finishing fourth in the first FIA Formula 3 European Championship race of the season, George Russell (Carlin) made it onto the top step of the podium a few hours later.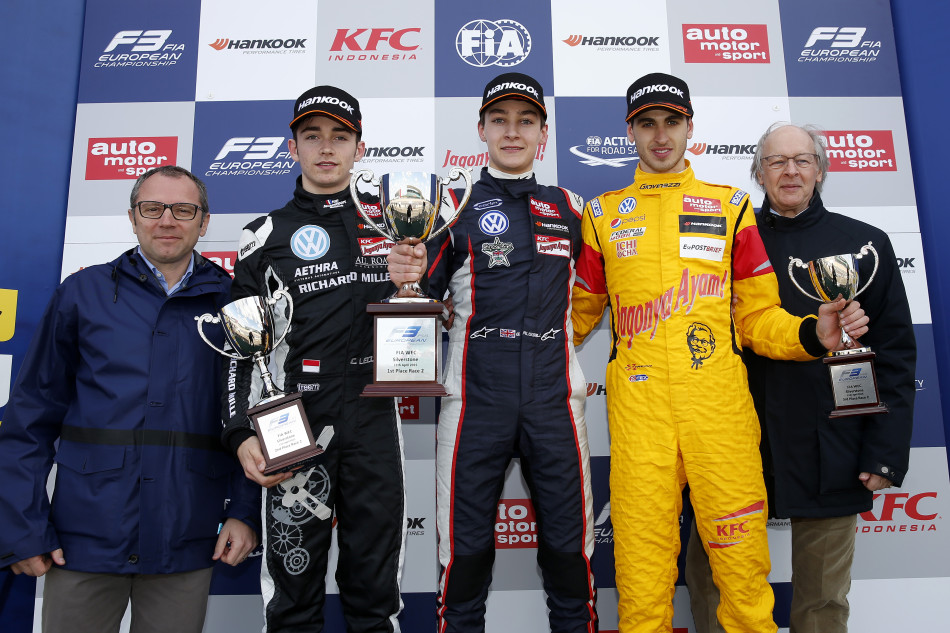 At the Silverstone Grand Prix circuit, he overtook pole setter Charles Leclerc (Van Amersfoort Racing) at the start and went on to score his maiden FIA Formula 3 European Championship race win. In second and third place respectively, Leclerc and Antonio Giovinazzi (Jagonya Ayam with Carlin) completed the podium. Rookie driver Lance Stroll (Prema Powerteam) finished fourth. After his second podium finish in as many races, Giovinazzi is the new FIA Formula 3 European Drivers' Championship leader.
On the first few metres, Charles Leclerc, who had started from pole position, already had to surrender his leading position to George Russell after a successful attack by the Brit. A few metres later, Tatiana Calderón (Carlin), Michele Beretta (kfzteile24 Mücke Motorsport) Sérgio Sette Câmara (Motopark) and Sam MacLeod (Motopark) retired after a collision that caused the only safety car intervention of the race. Racing resumed on the start of lap four and Russell was able to hold on to his lead from Leclerc and Giovinazzi.
On lap eight, Felix Rosenqvist (Prema Powerteam), who was relegated to 35th place on the grid as a penalty, showed up in the top ten for the first time. The Swede, the winner of the first race of the weekend on Saturday morning, found himself in the middle of a group of drivers, led by Fabian Schiller (Team West-Tec F3) and Pietro Fittipaldi (Fortec Motorsports), battling for seventh place. Three laps later, Rosenqvist had left the entire group behind him. Almost at the same time, Fittipaldi came out on top in the battle against Schiller. In the closing stages of the race, the German collided with Jake Dennis (Prema Powerteam) and dropped back to eleventh behind Santino Ferrucci (kfzteile24 Mücke Motorsport) and Mikkel Jensen (kfzteile24 Mücke Motorsport).
Meanwhile, out in front, George Russell scored his maiden FIA Formula 3 European Championship victory. The British rookie crossed the finish line 1.723 seconds ahead of rookie Charles Leclerc and 5.412 seconds clear of Italian Antonio Giovinazzi. Lance Stroll, Brandon Maïsano (Prema Powerteam) and Alexander Albon (Signature) followed behind the top three.
George Russell (Carlin): "Even though pre-season testing went pretty well for me, I didn't expect this victory. My start into the race was good and I was able to take first place. The restart after the safety car went well, too. After that, I tried to manage my tyres throughout the race, in which I succeeded."
Charles Leclerc (Van Amersfoort Racing): "Unfortunately, my start wasn't good, but then, initially, I was able to keep up with George. Later on, my tyres degraded and I had to let him pull away. For me, on the last couple of laps, it was only about bringing second place home."
Antonio Giovinazzi (Jagonya Ayam with Carlin): "I had a really good start into this race, but I made slight contact with George's car. After that, I was having minor problems in fast corners, but generally, my speed was good. Two podium finishes in the first two races are a decent result."