Rob Huff claims his first pole position
Robert Huff will start the first of tomorrow's two WTCC races at the Salzburgring from pole position, after setting the fastest time with less than a minute remaining on the clock.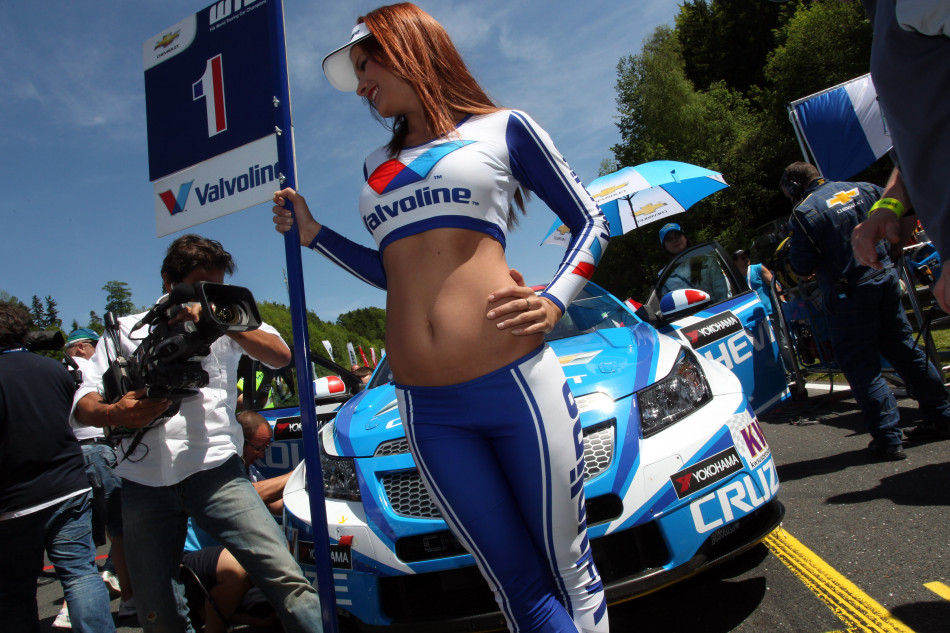 Huff's first pole position of the 2012 season, with a lap time of 1:26.791, headed an all-Chevrolet top three, with Yvan Muller in second (1:26.933) and Alain Menu third (1:26.961). Compounding the strength of the Chevrolet challenge at the Austrian circuit, Alex MacDowall will start as the first of the Yokohama Trophy competitors from fifth on the grid in his bamboo-engineering Cruze.
Qualifying 1
The long straights at the Salzburgring were always going to see tactics employed to ensure drivers benefitted from the aerodynamic 'tow' from other cars and so it proved. All three of the Chevrolet drivers took turns to lead their teammates around the 4.2km circuit, with Muller eventually topping the timesheets ahead of Menu and Huff, while MacDowall made it an all-Chevrolet top four. Once again, the tight chicane at Turn 1 caused problems for several drivers, with Tom Coronel spinning his BMW on his fourth lap. With just over three minutes remaining, the red flags came out after the Ford Focus of Tom Chilton made contact with Franz Engstler's BMW at T5; Chilton later making his way to the Liqui Moly Team Engstler garage to apologise.
Going through to Q2 were: Muller, Menu, Huff, MacDowall, Oriola, Coronel, Tarquini, Dudukalo, Bennani, O'Young, D'Aste, Monteiro. James Nash missed the cut by only 0.015 seconds.
Qualifying 2
Team tactics were once again employed by the three factory Chevrolet drivers, allowing each to benefit from the slipstream of his colleagues in turn. Although it was Alain Menu that was initially quickest, with only seconds remaining Robert Huff and Yvan Muller both eked out slender advantages over their teammate to complete the session with yet another Chevrolet 1-2-3. Gabriele Tarquini, who has been feeling unwell all weekend, will start as the best non-Chevrolet driver from fourth on the grid (1:27.490) ahead of MacDowall, Tiago Monteiro (1:27.808), Stefano D'Aste (1:27.927), Pepe Oriola (1:28.122), Tom Coronel (1:28.124) and Aleksei Dudukalo (1:28.317).
Thanks to the reversed grid, it will be the SEAT León of Dudukalo that will start Race 2 from pole position.
FLASH NEWS
TOM CHILTON RECEIVES GRID PENALTY
Team Aon's driver Tom Chilton was given a grid penalty by the Stewards for having caused an incident during today's Q1.
In the late stages of the twenty-minute leg, Chilton lost his Ford Focus car at the entrance of the Nockstein hairpin and hit Franz Engstler's BMW sending it into a spin. The 5-position drop will demote Chilton to the back of the grid for tomorrow's Race 1.
THEY SAID, THEY SAID…
Robert Huff (pole position):
"I'm very, very happy with this - we really needed that extra point for pole position and so I was screaming in the car a bit! This is a new track for most of us and without the Free Practice session on the Friday that we'd normally have, you've got to say what a fantastic job the boys have done again for all of us. This has to be one of the most beautiful circuits we go to; it's incredible to see the snow on the mountains and yet it's so warm down here in the paddock and especially in the cars. We knew coming here that we'd have to work together and use the slipstream like we did in Monza and I think it worked more appropriately for me here than it did there. I'm just not looking forward to going up that straight tomorrow first in the queue, since I'll be giving a hell of a slipstream to the guys behind me....."
Yvan Muller (2nd):
"I think the difference between me and Rob was in the last sector where I was a bit too conservative, but well done to him for pole position; I'm second and I'm happy with that. One of the keys to getting pole position here is the slipstreaming, for sure, and the order we went was a combination of what we did in Monza and a calculation from the engineers - don't ask me, I'm just a driver! I'm sure that the next circuit we go to where we use the slipstreaming will be a combination of what we did in Monza and here."
Alain Menu (3rd):
"Congratulations to Rob - it's good for him to get onto pole here. I cannot be too disappointed at the end of the day since we are all so close together but I know what happened - I was too far behind Rob on the last lap and I didn't get much of the benefit of the slipstream up to the top corner. It was my fault; I shouldn't have left such a big gap. To be honest, I'm pretty happy with my lap - I had a big oversteer coming out of Turn 9 but otherwise it was a good lap and the only problem was the fact I left too big a gap."
Alex MacDowall (1st in Yokohama Trophy):
"It's really great to get pole position in the Trophy. We've been struggling a little to come to terms with the tyres, but I think we've got it about right now and not going too hard on our out lap and saving the fronts. It's a shame we didn't get P4 and been right behind the works Chevys, but it's still a good performance. I didn't really benefit from the tow in that session because I was behind a BMW and they have to go harder to get heat in their tyres. It's a shame that my teammate didn't get through as we could have worked together but I hope it's going to be a good weekend for us."