Rallye de France: Review
The more you think about it properly, the more your mind actually boggles.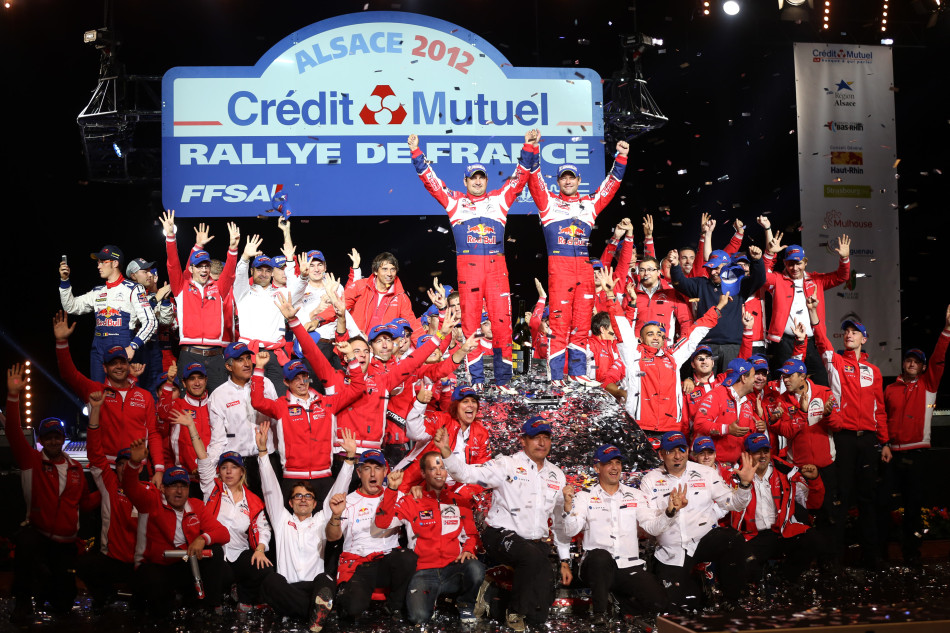 Nine world titles. Count them all. Everybody thought that Michael Schumacher was a bit special, and he 'only' has seven. So much has been written about Sebastien Loeb's vital statistics that we won't repeat it all here: suffice it to say that we are talking telephone numbers.
But the only disadvantage of such an astronomical record of achievement is that people get used to it and then think that it's somehow easy for the person doing it. Or, in other words, familiarity breeds contempt.
Talk to Loeb and one of the things that he's always keen to point out is that it's never easy, however trouble-free it might look. Every single event contains a few 'moments' when the car hangs on the knife-edge of crashing. Think about this: if you spin your road car at 100kph, you'll probably remember it for the rest of your life. But in rallying, it's a reasonably common occurrence.
Even a dream event that appears to be trouble-free has all sorts of stories behind it. Loeb enjoyed a perfect Rallye de France Alsace, but he also ended up taking a huge detour down a motorway on Saturday night after the crew missed an exit: a situation that potentially could have got them in hot water or caused them to run out of fuel. So the point is this: it is never plain sailing, however easy it seems.
Didier Andre, the circuit racer who did some training at the Le Mans Bugatti track before the start of last week's FIA World Rally Championship counter with Jari-Matti Latvala summed it up well. "Rally drivers are on the edge of the limit a lot more often than we are on a circuit," he said. "As a racing driver, it is all about replication: you try to do exactly the same thing lap after lap with no variation. As a rally driver, it is all about improvisation: each corner is new, with no previous reference about how you drive it. So you never know how hard you can push: instead you have to feel it. And in those situations, it can either go well or go badly."
Whatever else Didier said to Latvala clearly worked, because the Ford driver described France as his best-ever rally on asphalt. To be just 15 seconds off Sebastien Loeb after 404 kilometres of stages - or 0.03 seconds per kilometre slower than the best asphalt driver in the world - is a difference so small as to be negligible.
And that has been the frustrating aspect of Latvala all season: he has the speed to take the fight to Loeb on every rally, but just not the consistency. As the Finn himself described Loeb: "he doesn't make the mistakes that I do, and that's why he's so good."
Adding to Ford's woes is the fact that Petter Solberg hasn't quite got the speed of Latvala these days but also makes the same mistakes, while Mikko Hirvonen is at about the same level in terms of speed but manages to stay error-free. Both these facts were glaringly obvious in France. This makes Hirvonen objectively the second-best rally driver in the world, because blinding speed means nothing if you don't pick up any points at the finish. Only results count.
So this is basically why Loeb and Citroen are champions for the ninth and eighth time respectively. We're back to those staggering numbers again; ones that make you truly appreciate the meaning of the words 'strength in depth.'
But there's no need to think about it too much: it was enough to look out of the window of the Zenith (the entertainment complex near Strasbourg where the rally was based) to understand the real impact that Loeb has made. The Zenith is an arena that has hosted some of the biggest bands out there - and for the finish ceremony of Rallye de France, it was full. Not a single seat to be had.
Even during the recce, Loeb had to enter his recce car through the drivers' window once when he stopped in Haguenau: not because he was auditioning for 'The Dukes of Hazzard' but instead because the crowd around his car was so dense that he couldn't open the door.
Single-handedly, the man from Haguenau has transformed the popularity of the sport in France. Ironically, he's not even able to enjoy it because it was impossible for him to eat out during rally week in Alsace without being mobbed: instead it was always room service or hotel restaurant.
The news that Hyundai is entering the WRC is massive in itself, but the French press were enthusiastically reporting that the team was looking at hiring a French driver. This is not necessarily the case - the truth is that Hyundai hasn't even got as far as considering drivers yet - but it underlines the huge interest and passion for the sport that now exists in France.
Yet Loeb wasn't the only Citroen driver to be making an impact in France. Amid the Loeb-mania, a fantastic fourth place from Thierry Neuville - on only his 11th event in a World Rally Car - passed almost unnoticed. The 24-year-old Belgian stayed out of trouble and then made up two places by winning five out of six stages on the final day: arguably the most complicated of the entire rally with variable weather and slippery roads.
Maybe it was his orange-rimmed glasses that gave him an advantage, but the fact that Neuville has upped his game considerably couldn't have come at a better time, now that there will be situations vacant at Citroen next year.
Of all the rookies he has been the most impressive this year: other young drivers such as Mads Ostberg, Ott Tanak or Evgeny Novikov either have more experience or less consistency - although Tanak's speed is indisputable, if only he can keep a lid on it. Victory on the Power Stage was an impressive achievement for him, but Ford's factory M-Sport needs to be careful that it doesn't end up with another Latvala: the ideal pairing is a driver who is blindingly quick matched with another who may be slower but is more consistent.
And so we end up with Sebastien Chardonnet. On his very first world championship outing with a DS3 WRC he ends up 10th overall, having barely put a foot wrong from start to finish. Chapeau, as they say in France. It's very early days, but so far it seems that just as one brilliant Seb leaves, another one arrives...