Raffaele Marciello pulls off a stunt!
Winning a race after a 360° spin – only Raffaele Marciello could pull off such a stunt! The Italian has now opened up an even bigger lead in the FIA Formula 3 European Championship.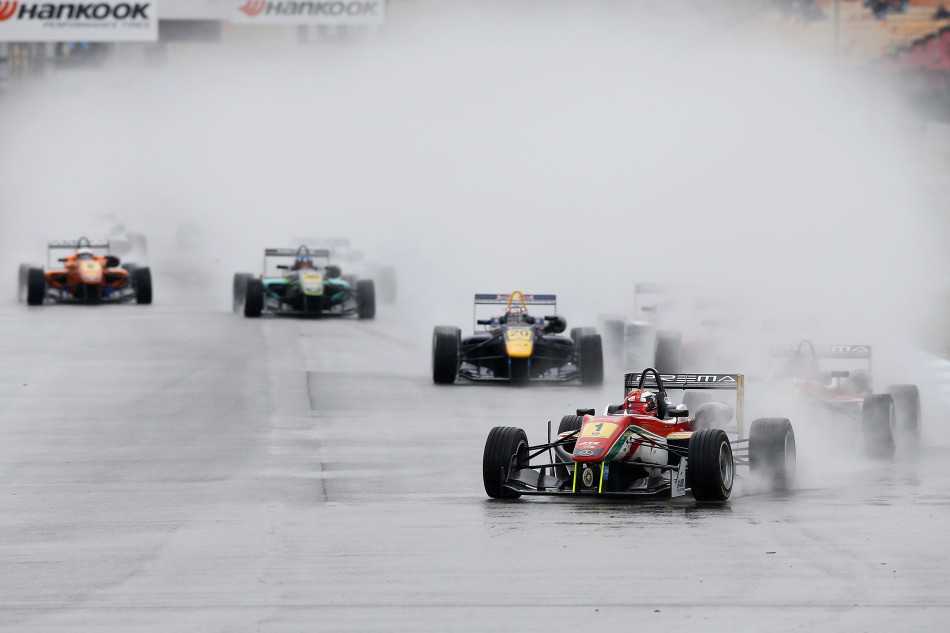 When it rains Raffaele Marciello (Prema Powerteam) is on another planet. The Ferrari Driver Academy protégé scored his fourth win of the season and the third in wet conditions in which the Italian seems virtually unbeatable!
But on lap 10, it could all have gone south after the FIA Formula 3 European Championship leader had a spin, which he controlled brilliantly. "At the start of the race I took advantage of mistakes by different drivers to open up a gap, in particular when my team-mates Alex Lynn and Lucas Auer spun," said Marciello. "My team then told me to lift off. Maybe I lost concentration as I tried another line and the car got away from me. Honestly, I said to myself, 'that's it. You're going to end up in the wall!' I had the right reflex to put my foot on the clutch so as not to stall and miraculously I didn't hit anything. At the end of the 360° spin I found myself pointing in the right direction, still in the lead and ready to rejoin!"
Despite this spin, which the spectators and the TV viewers certainly appreciated, Marciello took the flag with a comfortable lead over Felix Serralles (Fortec Motorsports), who scored his first top-3 finish in the FIA Formula 3 European Championship. "Starting from fifth spot and coming second in these difficult conditions is a great achievement. There was a lot of pushing and shoving at the start of the race and my scrap with Tom Blomqvist was, well – interesting!" was how the Puerto Rican analysed the situation. "Fortec Motorsports, which has been a benchmark in the British International F3 Series for a long time, is finding out all about the level in Europe. We needed a little time to discover how the Hankook tyres work, and we're improving session after session - now we're in the ballpark!" 
Tom Blomqvist (Eurointernational) was on the podium for the second time this season. "I lost time at the start avoiding Auer and then Lynn and I was very lucky not to get tagged. I made a small mistake and Felix took advantage of it, but in fact I'm satisfied with third place as I need the points." 
Sven Müller (ma-con) and Harry Tincknell (Carlin) completed the top 5. Josh Hill (Fortec Motorsports), Lucas Auer, Felix Rosenqvist (kfzteile24 Mücke Motorsport), William Butler (ThreeBond with T-Sport) and Jordan King (Carlin) were the other drivers who scored points. 
After the first race of the weekend, Marciello has increased his lead in the championship. He now has 57.5 points in hand over Felix Rosenqvist closely followed by Harry Tincknell. Auer and Lynn come next in fourth and fifth places.