Race 1: Karamyshev wins on last lap
The ETCC drivers put in a thrilling show on the wet track, plenty of overtaking manoeuvres and clashes.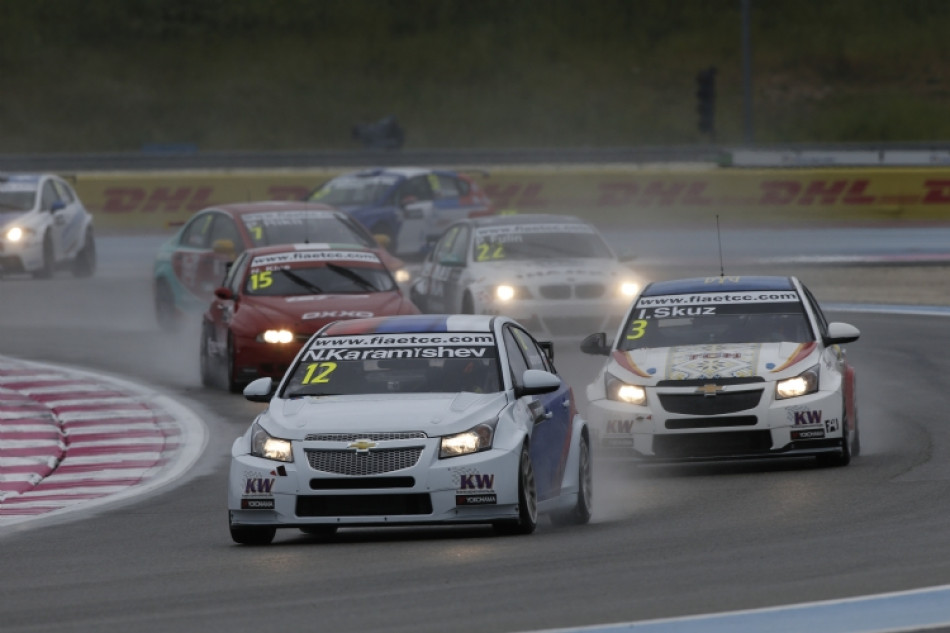 Campos Racing team-mates Nikolay Karamyshev and Igor Skuz had a long battle for the overall lead that was decided only on the last lap when Skuz went wide at the last turn and lost second position to Petr Fulín who won the TC2 class.
Young Finn Aku Pellinen survived his rivals in the Single-Make Trophy and finished fourth overall, close to the top three.
Ulrike Krafft dominated the Super 1600 class from her team-mates Christian Kranenberg and Patrick Wolf.
Key moments
Grid – 28 cars line up following withdrawals of Franz Engstler (turbo), Gilles Bruckner (engine) and Urs Sonderegger (aching after practice crash)
Start – Karamyshev takes the lead from Homola, Skuz and Kiss
Lap 1 – Skuz overtakes Homola for second and then steals the lead from Karamyshev
Lap 1 - Grachev spins at T10 and Pfister crashes into his BMW
Lap 2 – the safety-car is deployed; Kralev spins from third in TC2
Lap 4 – the race resumes; Skuz and Karamyshev swap the lead several times
Lap 5 – Skuz and Karamyshev clash at T1 and Kiss briefly takes the lead
Lap 5 – Homola spins and hits Kiss; Homola crashes into the wall, Kiss re-joins without the left-front door; Ryabov overtakes Pellinen for the SMT lead
Lap 6 – the safety car is deployed again; Kiss pits and retires
Lap 9 – the race resumes; Rikli and Ryabov clash, the latter spins
Lap 10 – Fulín (leader of TC2) overtakes Karamyshev for second
Lap 11 – Karamyshev ratekes second from Fulín
Lap 12 – Maleev (2nd in SMT) spins; Sládecka and Matějovský fight for 2nd in TC2
Lap 14 – Skuz and Karamyshev continue fighting for the lead
Lap 15 - Sládecka and Rikli overtake Matějovský for 2nd and 3rd in TC2
Lap 16 – Karamyshev wins from Fulín that benefits from Skuz's mistake at the last turn