Practice 1 - Muller amidst the Honda cars
Yvan Muller and his RML Chevrolet managed to squeeze amongst the Honda Cars during the first session of the day at the Hungaroring.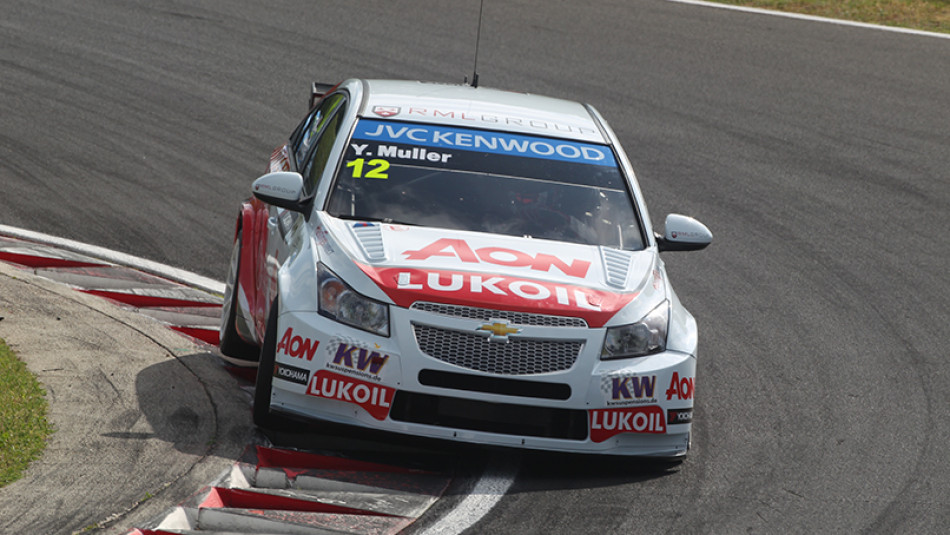 Gabriele Tarquini set the fastest lap, followed by his Castrol Honda Racing team-mate Tiago Monteiro; Muller was classified third ahead of the Zengö Motorsport Civic of local hero Norbert Michelisz.
Early on a bright morning, parties of Hungarian fans began to cheer on Michelisz who set the early pace, swapping positions with Monteiro until Tarquini took command for good with a lap of 1:54.889. The Italian was the only driver capable to break the 1:55 wall.
Muller clocked a time of 1:55.093 that momentarily gave him the second position, however he was dropped to third when Monteiro improved to 1:55.014. Michelisz was classified fourth with a lap of 1:55.105.
Two SEAT cars ranked in fifth and sixth: Hugo Valente had a brilliant start to his WTCC comeback, completing a lap of 1:55.177 that placed him ahead of Pepe Oriola (1:55.364). Tom Coronel was the fastest of the BMW men, setting the seventh fastest lap (1:55.354), while Rob Huff (1:55.416), James Nash (1:55.521) and Tom Chilton (1:55.588) rounded out the top ten.
The session was extremely close, with fourtee drivers covered by eight tenths.
No incidents were reported during the session, except for Fredy Barth's spin at T1. Charles Ng was shown the black flag for repeatedly trespassing track limits.