Nordic Drivers most successful during Sweden Internationals
Sweden´s Tierp Arena hosted the second round in the FIA European Drag Racing Championship june 13-16th, the Sweden Internationals.
The track conditions was the best possible, which resulted in a high and consistent level of performance.

In the FIA European Drag Racing Championship´s fastest class Top Fuel Dragster the victory went to the Norwegian driver Thomas Naatas, while Stig Neergaard Denmark lost the final narrowly.

In the class Top Methanol Funny Car Sweden´s Adam Flamholc won a close final fellow countryman Jonnie Lindberg. Worth noting is that both Flamholc and Lindberg are new in the class for the season. Flamholc also operate a Pro Modified car which is currently based in the US, while Lindberg has just started a career as a driver after having been in charge for the tuning of brother Johan Lindbergs race car the latest season. Jonnie Lindberg did not walk away empty handed. During Sunday he managed to become the first driver in Europe, who runs a methanol funny car in under 5.5 seconds. Lindberg noted 5.49 sec (which was not backed up to be registered as a valid record.)
The Pro Modified final became a close battle between reigning champion Michael Gullqvist and Urban Johansson also from Sweden. Johansson first out from the startline and his quicker reaction time was also what gave him the win. Johanssons elapsed time over the finish line 5.99 sec. against Gullqvist quicker 5.95 sec. Gullqvist noted a new European record over the weekend of 5.89 sec and is still in the lead of the FIA Championship points table.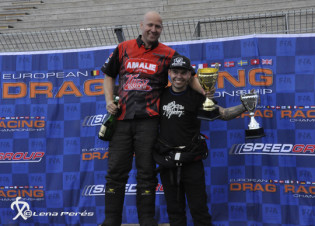 The Pro Stock class had an all Swedish field of contestants at this event and it was Thomas Lindström who took the event title this time. Jimmy Ålund runner-up (while during the first round of the championship in England in may it was the other way round).

Top Methanol Dragster, which is also included in the championship did not have any contestants entered at this event.
The next round in the FIA European Drag Racing Championship is the FHRA Nitro Nationals at the Alastaro track in Finland.