FIA

About FIA

Statutes

Governance

FIA for Society

Courts

Sport

Competitions

World Championships

Circuit

Rallies

Cross-Country

Regulations

World Championships

Circuit

Rallies

Cross-Country

Off-Road

Hill-Climb

Members

FIA Events

FIA Sport Services

Club Development

International Sporting Calendar

Diversity and Inclusion

SUSTAINABILITY

FIA Mobility Services

CLUB DEVELOPMENT

ADVOCACY PROGRAMMES

TOURISM SERVICES

FIA For Society
THE NEW FIA WEBSTORE IS ONLINE
For the first time, the latest top brand innovation and safety products are aivalable to purchase directly from the leading voice and governing body in motorsport and mobility.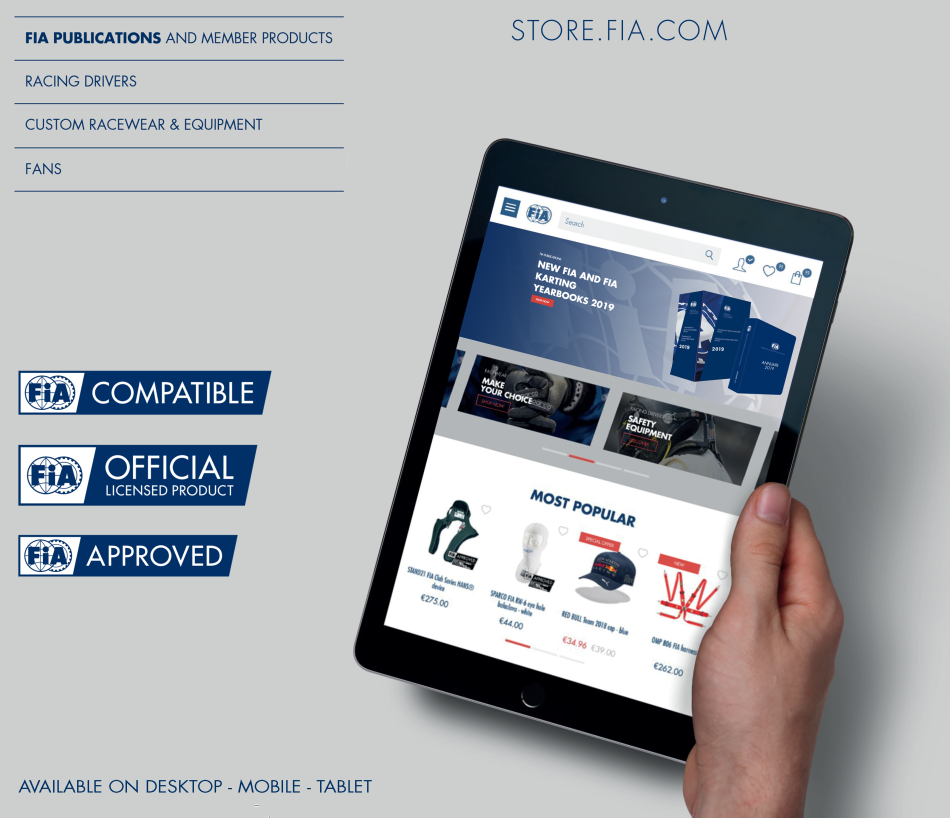 The FIA Webstore brings together a unique collection of the latest technology focused products within the pillars of authority, innovation, safety and fascination.
Find all FIA approved, branded, certifed, licenced and recommended products - everything you could need for driving on the track or the road >> https://store.fia.com/
The FIA anf FIA Karting Yearbooks of Automobile Sport are also available to guide you in the different FIA Championships through sporting codes, technical regulations and the yearly official calendar >> https://store.fia.com/en/officials/publications.html
Create your user account now and benefit from your privileges as FIA Club Member or new customer.