More opportunities to join FIA Rally Star #RallyAtHome Challenge with WRC 9
FIA Rally Star will include an additional five #RallyAtHome Challenges with the aim of further globalising the search for the next generation of talent.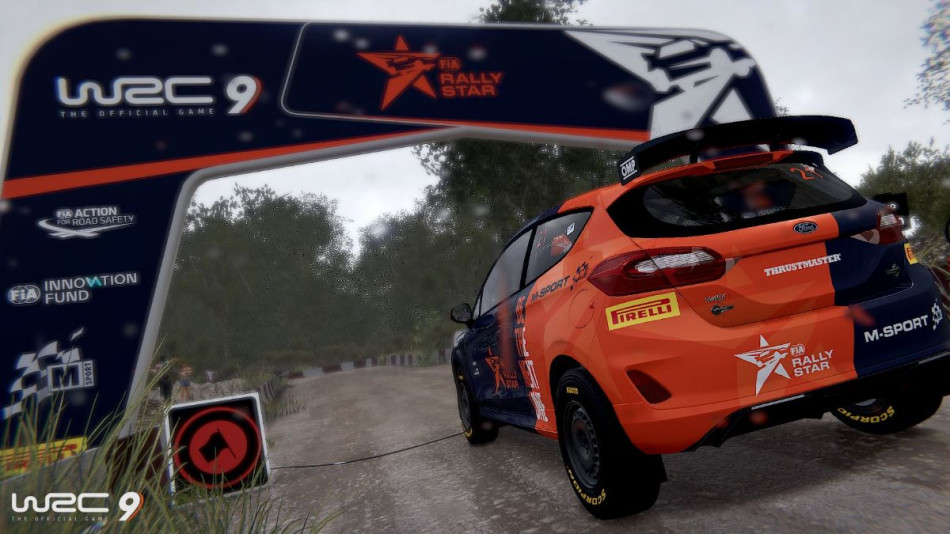 The initial 12 Challenges are now complete, but the winners have come universally from within the European region. For the additional five Challenges, the highest place candidate from every region (North America, South America, Middle East and North Africa, Africa, Asia Pacific and Europe) will win a place in the Continental Finals, providing they are classified in the top 100 finishers in each Challenge.
#RAH13 runs from October 2-10 with plenty of encouragement for drivers from around the world to get involved.
The remaining four Challenges are scheduled:
#RAH14 October 16-24;
#RAH15 November 13-21;
#RAH16 December 4-12;
 #RAH17 December 18-26.
FIA Rally Star project leader Jérôme Roussel said: "We have been overwhelmed by the interest in #RallyAtHome Challenge – it's been incredible and we have 12 very strong winners. But FIA Rally Star is a global talent search and, clearly, we want candidates encouraged, competing and potentially winning from all regions – this is why the decision has been taken to make this small change to the rules.
"We have seen some really strong competition coming from all around the world and I'm sure the next five Challenges will deliver drivers from all four corners of the earth to their respective FIA Rally Star Continental Finals early next year.
"It's an exciting development and one we hope all drivers will take full advantage of."
The 12 winners in detail:
#RAH1 Alejandro Aroca (Spain)
#RAH2 Luc Fournier (France)
#RAH3 Killian Dall'Olmo (France)
#RAH4 Louis Lejeune (France)
#RAH5 Ilari Lamminsivu (Finland)
#RAH6 Rares Dranca (22 y.o. - Romania)
Rallying runs in Dranca's family, with his father competing as both a driver and co-driver. Rares drives two or three rallies per year himself, but admits he spent most of his teenage years at the wheel sim racing.
Currently in his final year of a mechanical engineering course, Dranca is looking forward to the next round of FIA Rally Star.
"It's been a hard battle to win #RallyAtHome Challenge," he said, "but I'm very happy to qualify for the Continental Final. My sim racing career has had some ups and down and sometimes more downs than ups – but I never give up and now I will train with only one goal in mind: to win."
#RAH7 Xavier Ros (19 y.o. - Spain)
Three years ago Xavier decided to take his sim racing to the next level and started competing more seriously. Spotting the FIA Rally Star opportunity on social media, he signed up and gave it a go. Now, after some serious time at the wheel, he's through as winner of #RallyAtHome Challenge seven.
"I had zero experience of driving in rally games," said Ros, "so my expectation was not so high. I have driven more on simulators with single-seaters and GT racing. I saw quite soon that my times were not far from the top, so I decided to take it even more seriously and finally I managed to win one.
"It's incredible to think that I will compete against the best in Europe – but then I take extra motivation from the fact that I am part of them. It's going to be a great challenge."
#RAH8 Kilian Santana (19 y.o. - Spain)
Inspired by his motorsport-loving mother, Santana's sim racing career began three years ago. Focused on rallying, he has scored some great success in Spain and further afield. Having spent time studying auto electrics, he is now focused on furthering his English – something he thinks will help him develop in the world of motorsport.
"The [Continental] Final will be a big test," said Kilian. "But my strengths are that I have good willpower and a lot of mental strength to learn and progress more. I will fight with everything I've got for this prize – to be in there with everybody else is a dream come true for me."
#RAH9 Lukáš Mateja (24 y.o. - Czech Republic)
A father fascinated by Formula 1 and MotoGP led Lukáš into motorsport, but the opportunity to watch local rallies and rallysprints were what turned his head to rallying. A successful sim racer already, he has already won a world title in a rally competition this year.
"I have to thank the FIA for this opportunity," he said. "The organisers of FIA Rally Star are doing an amazing job – I have enjoyed it so much already. I know the Final is going to be tough, there are so many talented drivers out there. I want to go to the event to really enjoy myself, but, of course, I'm going to be doing my best as well."
#RAHC10 John Bebnowicz-Harris (25 y.o. - United Kingdom)
When some of his earliest memories are of the epic British battle between Colin McRae and Richard Burns in 2001, it was somewhat inevitable that Bebnowicz-Harris would pick up a gaming controller and head to the woods. It was university that things got a bit more serious as he eased the stresses of student life by sim racing.
"I finished my studies in 2019," he said, "but I wanted to continue the hobby of sim racing. I entered the WRC's eSports series and finished third and fourth in the 2020 and 2021 series. My proudest moment came when I was interviewed on WRC+ at Ypres [Rally Belgium] earlier this year.
"I really enjoy the competition element of sim racing and decided to give Rally Star #RallyAtHome Challenge a go to see how I fare. The competition was so close – you had to be really careful and minimise the mistakes in the Ford Fiesta Rally3. I enjoyed it and progressing to the Continental Final is the cherry on top of the cake for me."
#RAH11 Romet Jürgenson (21 y.o. - Estonia)
Having spent his early years on a motocross bike racing his father, motorsport and competition have always played a big part in Romet's life. When his uncle took him to watch a rally a few years later, he was captivated and determined to give it a go. Jürgenson has competed in lower levels of Estonian national rallying, but found it difficult to keep up with the rising costs of competing regularly.
So he switched to the virtual world and well remembers seeing the social media around FIA Rally Star.
"I remember seeing [FIA rally director] Yves Matton's tweet about Rally Star," said Jürgenson. "I commented on it saying how amazing it would be. Immediately, I knew this was my chance and I took it. I was quite surprised how competitive I was so early [in the competition] and what's also good is that I didn't make this achievement with all the latest equipment. I made the Final with an older wheel and sometimes the paddle shifts weren't working all of the time!"
#RAH12 Siim Aasmäe (23 y.o. - Estonia)
Motocross offered a great grounding to Siim's motorsport career, but the move from two to four wheels came when his father bought him a Lada rally car. He put the rear-wheel drive machine to good use and scored plenty of podiums. The move up to the top step of the podium came after Aasmäe stripped and rebuilt the Lada to a higher specification. He has since replaced the car with a BMW, which he uses on three or four rallysprints each season.
A recent convert to sim racing, it was the end of 2020 when Siim started.
"I bought a wheel and started playing," said the Aircraft Aviation student. "Not long after, I heard about FIA Rally Star. I knew the people doing the #RallyAtHome Challenge would have a lot of experience, so I started playing and practising everyday. It was difficult at first, the sim didn't feel natural, so I was quite surprised I made it into the top 10 at #RAH2. That boosted my motivation to win and now here I am.
"The Final is the opportunity of a lifetime for me, so I'm taking it extremely seriously. I am doing everything I can to prepare myself mentally and physically for the challenge ahead. The conditions will be same for everybody in the final and I think anybody can win."
#RallyAtHome is the online challenge element of the FIA's Rally Star. Organised and co-ordinated by the FIA, Nacon and KT Racing, publisher and developer of WRC 9, there's a new #RallyAtHome starting every two weeks. While the competitors will always drive an M-Sport-built Rally Star-liveried Fiesta Rally3 on Pirelli tyres, the stage and the weather conditions they will drive in will be decided by the FIA and WRC9 and kept secret until the challenge opens.
Open to all 17 to 26-year-olds #RallyAtHome Challenge requires competitors to create a free account on fiarallystar.com then purchase FIA Rally Star WRC 9 DLC for €9.99. The choice of how to play the game at home (computer or console) is up to the individual gamer.
FIA Rally Star is providing a series of tutorials to help less experienced sim racers, with Swedish driver – and Dall'Olmo's team-mate – Anderson offering guidance for the Challenges.