This page contains archived information and may not display perfectly
Monger scores podium competing with Formula E stars in support of disabled racing drivers
Jean-Eric Vergne and Formula E hold charity e-karting event ahead of the Paris E-Prix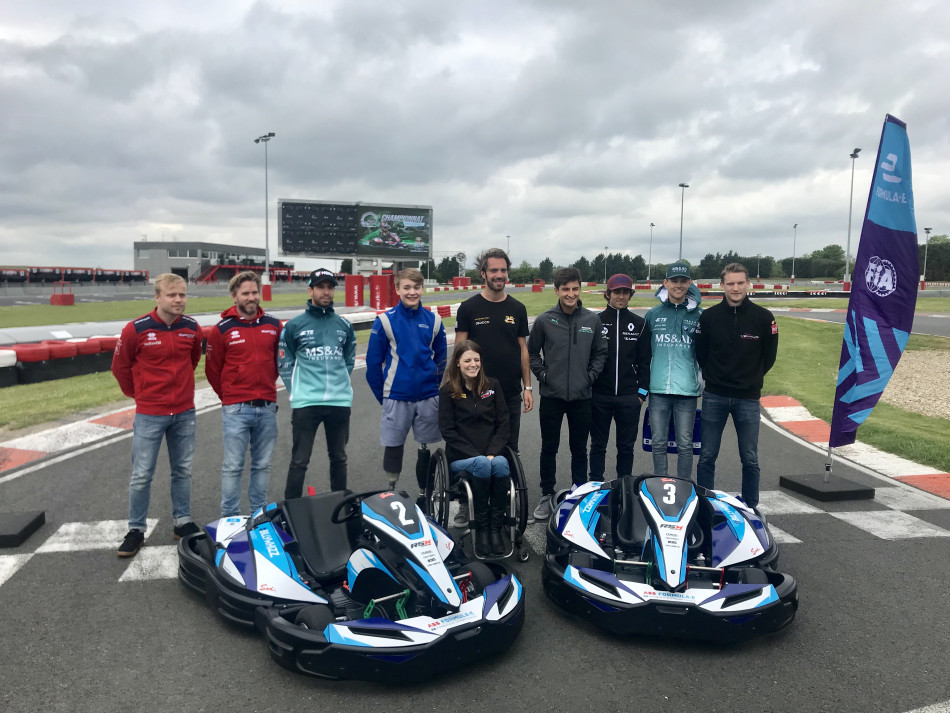 With just days to go until the 2018 Paris E-Prix, a group of ABB FIA Formula E Championship drivers headed down to the RKC track in Paris to try their hand at electric karting alongside rising Formula 3 star Billy Monger. Billy won the FIA President's Award at last December's FIA Prize Giving Ceremony for his remarkable bravery and commitment to motor sport following a crash in Formula 4 that resulted in the loss of both of his legs.
"When I had my accident, I didn't know if I'd be able to drive again, let alone race with the Formula E grid," said Monger, "I know how important motor sport has been in my rehabilitation - not only on the circuit but also off the track, keeping me motivated and stimulated. I think it can help a lot of people. I'm just working my way up the categories but Formula E is obviously something I'm interested in – we'll have to wait and see!"
Leading the event – and also the Formula E driver's championship – was Techeetah's Jean-Eric Vergne, who organized the day with the blessing of the newly-established FIA Disability and Accessibility Commission and its President Nathalie McGloin to raise funds for the charity Spinal Track.
"Days like today are brilliant, as so many disabled people don't think motor sport is for them, simply because they don't see enough people doing it," commented McGloin. "But now they see Billy doing it and his story is remarkable – he's competing again and going on to be a professional racing driver.
"Formula E is one of the great, new fixtures in the race calendar and, above all, it's popular. People have really been embracing it and we want people to embrace drivers of all abilities – so it's great to have the support of the drivers and teams."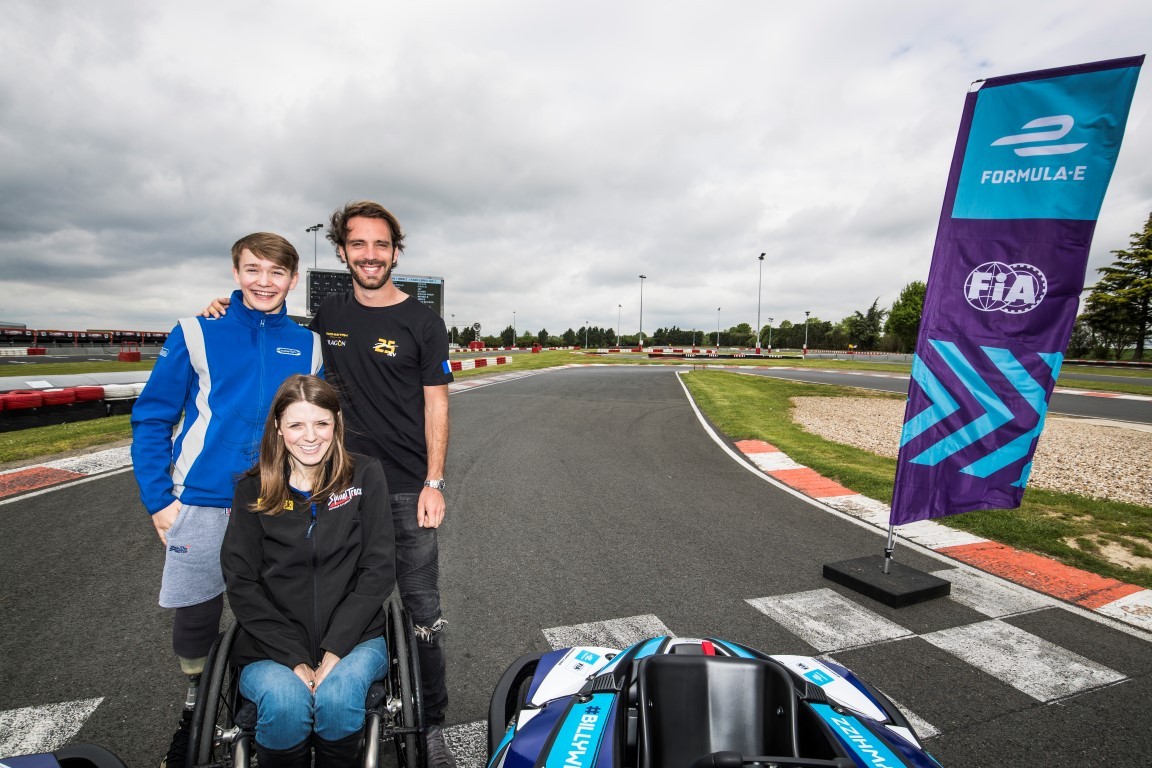 Providing disabled drivers with the chance to get behind the wheel of a racing car, Spinal Track is about getting disabled people to do the same things able-bodied drivers can do. To visit the donation page – click here.
With a full day of karting, it was business as usual for the Formula E drivers, with just as much action as a regular Formula E street race, albeit on a smaller scale. "It was great to be here all together today," said Jean-Eric Vergne, who also celebrated his 28th birthday today. "It was the first time we've had electric karts on the track. Formula E is setting an example as the future of motorsport and soon that will come to karting. We're proving today that we're able to do a karting race with top Formula E drivers."
Hosting the event at RKC – his family track near Paris – Vergne explained why this race was particularly significant to him and other racing drivers. "At my family track, we have always wanted to encourage people into motor sport and catered for handicapped people," he said, looking around at a full grid featuring drivers of all ages and abilities moments before the race. "We've always been involved in that and we've seen a lot of disabled drivers before but no one like Billy, who had such an accident at the beginning of his career. So to see him doing Formula 3 only one year after the accident and getting on the podium is incredible. He's an example to all of the guys his age."
Starting off with three, eight-minute free practice sessions, the drivers mixed into teams with fans and aspiring racing drivers before heading into three rounds of qualifying, each lasting eight minutes. With both the session and the competition starting to heat up, the teams headed into the races, each competing for that all-important first place finish. "It's good training for Saturday," said Mahindra Racing's Felix Rosenqvist with a smile, before congratulating Venturi Formula E's Maro Engel, whose team took home the first place prize with MS & AD Andretti Formula E's Antonio da Felix Costa and his team in second, followed by Monger's team making it onto the podium in third.