This page contains archived information and may not display perfectly
MHF1 - Kubota's Mexican wave!
Katsu Kubota scored a double top in Mexico as he won the two Masters Historic Formula One races in support of the Mexican Grand Prix.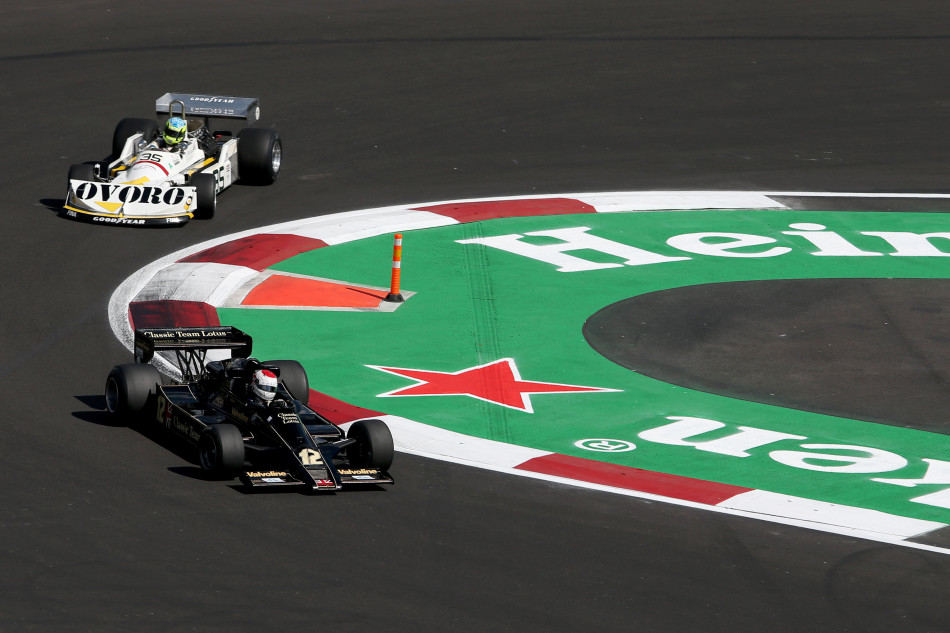 Pole sitter Katsu Kubota (Lotus 78) set off with determination in the opening race, closely followed by Aaron Scott (March 761), while James Davison (Arrows A1) reluctantly started from the pit lane.  As the two leaders extended their advantage, Greg Thornton (Lotus 77) ran third ahead of Irishman James Hagan (Tyrrell 011) at bay.
Hagan's push for a podium was not to be as a charging Charles Nearburg (Williams FW07) was a little over-optimistic about the space for the inside line at Turn 3 and took out Hagan. The safety car was deployed to recover both broken cars and neutralise the race while the cars were recovered.
The safety car period spoilt the fight for the top three as the positions remained unchanged with Kubota triumphant, but on the restart the battle resumed further down the order. Jean Denis Deletraz (Surtees TS19) took chase to Thornton and held onto fourth place. Martin Lauber (Wolf WR6) and Ron Maydon (LEC CRP1) resumed their battle from Austin, while Mike Thurlow (Tyrrell 009) made good progress in the closing laps, gaining two places in the closing laps to finish eighth behind John Delane (Tyrrell 002).
A smaller grid started the second stanza, both Hagan and Nearburg ruled out after their coming together in race one and Davison was aboard Maydon's Lec after the Arrows suffered a cracked engine mounting.
Katsu Kubota (Lotus 78) led the cars from the rolling start and he looked confident throughout defending his lead from start to finish.  Aaron Scott (March 761) was happy to follow the Lotus while staying ahead of hard-charging Greg Thornton (Lotus 78). Thornton was also being challenged by an Jean-Denis Deletraz (Surtees TS19) in the early laps until he hit a kerb and buckled his front upright causing retirement.
John Delane (Tyrrell 002), Mike Thurlow (Tyrrell 009) and Andrew Beaumont (Lotus 81) all had a moment during the fourth lap which scattered them all across the track.  All were unscathed but the safety car was deployed to allow Thurlow and Beaumont to restart and rejoin the race.
Coming from the back row of the grid, Jordon Grogor (in Fred Fatien's Hesketh 308B) and James Davison set about making progress through the pack.  By the end of lap five they were in fourth and fifth, challenging for a podium place.  As the safety car pulled off, Grogor put the hammer down and kept Thornton busy in his mirrors.  But Thornton was also busy trying to get past Scott and managed to squeeze past on lap seven, but Scott seemed to take chase and within a lap he took back the second podium spot.
Martin Lauber (Wolf WR6) and Doug Mockett (Penske PC4) proved that consistent driving takes trophies, as Lauber took second in the Head class and Mockett was third in the Fittipaldi class.